RPW Column: Jeremy Smith & Family Set To Start '20; Sights Set On Brewerton & Thunder Mountain Weekly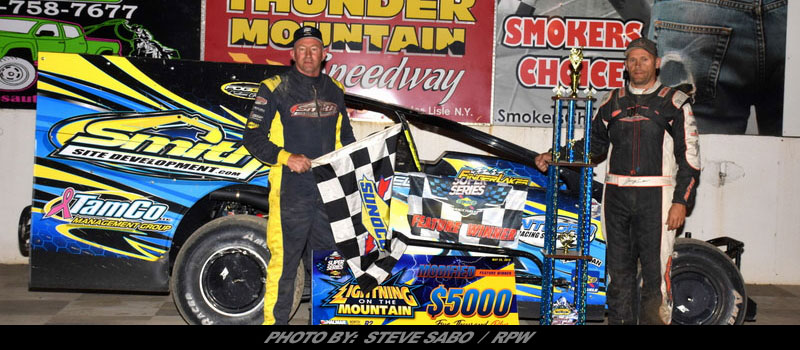 RPW Column By: STEPHEN DURHAM / RPW – TRIANGLE, NY – The dawn of a new race season for Jeremy Smith and his two sons Darren and Matt. They're starting the race season early with the Sunshine Swing at All-Tech Raceway in Lake City, Florida.
Getting to race in February to start the 2020 season off with his family racing is what means the most.
"That's what its all about, I'm more organized on where we're going to stay, who's staying in the camper than I am with the racecar, but thankfully that's what Jared our crew chief is for" with a laugh Smith says, "I'm just real thankful for the support from my family and the crew that helps us get around."
Smith will be bringing all the modifieds down to race at All-Tech Raceway including one for Billy Decker. He looks forward to a third year in Florida but with a new track and challenges.
"Don't know what to really expect with it. There is going to be all sorts of different set-up combinations, some guys might be better, some guys may not be as good, but looking forward to it," Jeremy explained.
With Darren already going to school in Florida at Stetson University, the idea of bringing a fourth modified was simple.
"He(Darren) goes to college down here in Deland and will already be down here, so we'll bring a car down so he can have some fun."
Darren will be strapping into a modified to compete against his dad, but will not accept any winnings from the race due to NCAA rules. Smith is excited to get some seat time while away at school, "It's awesome that he's able to have crew guys to put a car together while Im down here going to college," explains the Stetson quarterback.
And for Matt, he is excited for the opportunity at a brand new track.
"Trying a race track that no one has raced on will be fun to try and figure out, it's an even better deal with it being a Brett Deyo show and him bringing his whole staff down," Matt explained.
For Matt, it starts his second full season of racing as he plans to compete weekly in the crate class at Thunder Mountain Speedway on Saturdays and get to any other big shows during the year.
" Goal in 2019 was to qualify each race, this year I want to win more races and just to keep on learning," explains the young shoe, "Without my crew, my dad, and his team, none of it's possible and I'm really just thankful for it all and hope for a good 2020 season."
After attacking All-Tech Raceway, Jeremy Smith will take his big block and head to Volusia for DIRTcar Nationals. Smith's fulltime schedule for 2020, he has his sights this year on Brewerton for Friday nights and staying close to the shop at Thunder Mountain Speedway for Saturday nights.
"I am a big supporter of Afton Speedway and their operation, but running Hoosiers two nights a week will help me out," explains the Triangle, New York native, "I'll be running with the Short Track Super Series North Region as well."
Smith does say that changing to a big block for Fridays helps open the schedule of racing either with the Brett Deyo races or catching a Super DIRTcar Series race.
" I race for fun, last year I won one night at Afton, next night at Thunder Mountain, then the following weekend I took off to go watch Darren play football," explains Smith.
Racing kicks off at All-Tech Raceway February 6th through February 8th and racing at Volusia kicks off February 11th through February 15th.