RPW Exclusive: Tim McCreadie Prepared For Eastern States & Return To OCFS With New Surface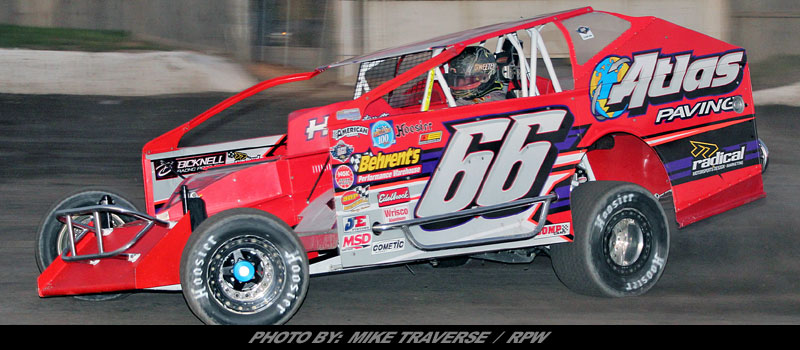 Column By: STEPHEN DURHAM / RPW – MIDDLETOWN, NY – Tim McCreadie, the 2010 Eastern States 200 winner, is back behind the wheel at the House of Power for this year's event.
Taking over the Petruska owned 66 Small and Big Block Modifieds, this will be the first time that the Watertown, NY driver is seeing the brand-new surface that was laid down over the summer.
"It's really racey," McCreadie said. "It's a very line sensitive which is amazing. I went out for hot laps and I kind of probably ran like I've always run here (Orange County), hard through the middle, and not really going high or low."
The veteran driver says while waiting to take his laps he was learning about the surface, waiting in line from two other veterans as they used multiple lanes.
"I was in line while Stewie (Friesen) and (Matt) Sheppard were battling there," he said. "You know, I think as a racer that's amazing. I maneuvered around on this new surface. I went way high, way low and gained spots by doing that and passed cars. Personally, I think it's pretty cool."
McCreadie has been busy on the late model tour this year, finishing second with the Lucas Oil Late Model Series. However, he is glad to be back in a Modified, even though he feels rusty.
"It's weird," he said. "Normally, when you're on a torsion bar rear suspension, it doesn't bother me as much. However, I raced coils once last year at Charlotte and didn't really like the experience. This is taking some getting use to."
T-Mac was out shaking down both of Petruska's cars Thursday night during the Hard Clay Finale at OCFS.
"I haven't messed with the coil stuff or even just what we are doing," he said. "I was just at Oswego trying to stay out of the way but helping and learning. I really want to get faster this weekend so we are able to be competitive."
McCreadie is looking forward to having a successful weekend with the Petruska team as this deal came about rather quickly.
"This whole thing came together through some conversations I had with Ray Tuit (former car owner at OCFS)," he said. "I thought he was talking about me coming down here to drive his car the whole time we were talking. It took a little while to come to fruition. I didn't know if I was going do it because I've veen gone for so long."
However, it was for the potent #66 Petruska car. McCreadie is glad to be part of a great team as it came at the right time. He has some time off while his CME partner, Vic Coffey, attends a family wedding.
"When I agreed to race with Tuit, Vic told me who it really was," he said. "I guess he and the Petruska's have some sort of partnership and that made it easy. Their equipment and the people on the team are first class. I'm excited for this weekend and don't want to let them down."
Tim McCreadie will be behind the wheel for the rest of the weekend at Eastern States starting with Big Block qualifying on Friday.