RPW Exclusive: Teenager Dillon Steuer Off To A Hot Start At House Of Power & The High Banks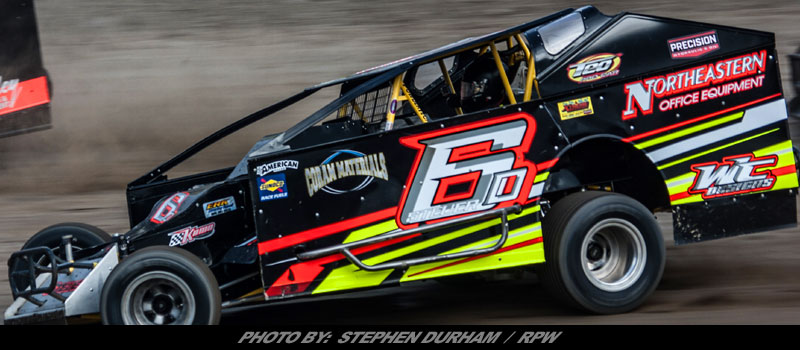 Column by: STEPHEN DURHAM / RPW – BOHEMIA, NY – Down on Long Island, there aren't any dirt tracks, just one lone asphalt modified track, Riverhead Raceway. That is where back in 2017, the 15 year old Bohemia, NY driver Dillon Steuer won the Islip 300 over now NASCAR driver Ryan Preece.
Steuer now 17, travels anywhere from 200 to 350 miles weekly to either Orange County Fairgrounds Speedway(OCFS) or Lebanon Valley Speedway with his 6D Teo Pro Car 358 Small Block modified.
The young hot shoe is off to a hot start in what seems to be a cold and wet spring. Steuer started off his season at OCFS in mid-April, qualifying 3rd fastest overall out of 50 small blocks in attendance. Started 6th after the invert, battled his way up, and battled with truck series star Stewart Friesen and modified star Brian Krummel to come home 3rd in the opening night. Steuer also has a 7th place finish to his credit at the Hard Clay so far this season, and sits 3rd in the points, 20 points out from the lead.
3 weeks ago, the 6D team and Dillon traveled 150 plus miles to the high banks. They were second fastest in warmups, started 12th in the 358 feature, but would get in a jingle on the first lap. This didn't stop the hot shoe though. He would battle back from the back and finish 4th on the night at the high banks. This past week, Steuer would return again, fastest in warmups, started 11th, and would battle his way through the field, passing former champions JR Heffner, Frankie Harper, and Andy Bachetti. Steuer would come home in 3rd.
Was able to catch up with the young gun and asked what has contributed to such a great start at both tracks this season; "We replaced older parts over the winter, lots of mechanical failures last year, been able to take the time each week to find more speed in the car instead of fixing old parts," is how Dillon has felt with some better equipment. "Ive been studying footage of my cars and watching other guys on track, learning to improve myself every lap I take," is what the humbled teenager had to say.
Then asking the young man, what is it like competing with guys at each track like Brett Hearn, Friesen, Bachetti, Heffner, and others that have so much talent and years under them?
"It's pretty cool, I grew up watching them race, and now getting to race with them is amazing! I also believe racing against some of the best has helped myself improve as a driver racing around some great guys, but at the same time even cooler when we run well against the big guys too," is what Steuer explained.
Steuer comes from a racing family in where his dad Chuck Steuer also raced asphalt mods for a while. Was able to catch up with the dad of the young talent and asked what its mean to start off strong at both tracks, "We knew we could run well, we just need improve our maintenance, we came from asphalt mods, and learned a lot of things last year in what goes wrong with these cars, but we are having fun, and Dillon is doing really well."
Dillon has won in a sportsmen car at the Hard Clay but is hungry for his first win 358 win. He came close last season finishing second to the King of the Valley, Kenny Tremont. Was able to ask Steuer does he like asphalt or dirt better and he answered "I like them both a lot, but dirt is usually my favorite, dirt is very difficult however, because the tracks change through the night, and you have to adapt to those changes during the night."
One last question for the hot shoe from Long Island was his goals in racing.
"This year, get our first 358 win, I don't have big dream of going to NASCAR like others, financially, we are at our limit as far as the level of racing we can afford to do. So my main goal is to do the BEST we can do with the stuff we have, I'd love to travel to multiple tracks one day though with a top team in dirt racing." Steuer one goal as of now for wins would to win at the famed Eastern States Weekend or during Super Dirt Week.
Dillon wanted to also at the end, "Couldn't have gotten to where I am today without my dad, all the guys that work on the car, and my sponsors." Sponsors on the Grant Williams owned 6D Teo Pro Car are; Northeastern Office Equipment, Coram Materials, GE Munson Satellite, Precision Hydraulic Oil, Kamo Motorsports, and Jeff Castaldo for the help on the motors. Steuer will be back at Lebanon Valley on May 25th, as Orange County has the week off.
Other young drivers that come to mind with great success at a young in a modified are Max McLaughlin and Tyler Dippel who are only a couple years older than the young Dillon Steuer.