RPW Exclusive: Fonda Speedway Made Saturday Night Memorable For Every Fan In The Stands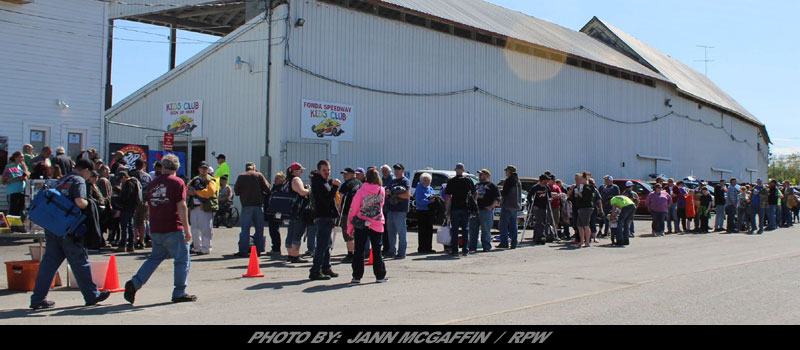 Column By: RAY ROGERS / RPW – FONDA, NY – Saturday's Dollar Night brought fans out in droves to the Fonda Speedway and gave them a night to remember.
Rocky Warner, Tim Hartman Jr. and Luke Horning doubled down with second wins of the season in front of a capacity crowd.
This past weekend, the 'Track of Champions' was the place to be and I had the pleasure of bringing my neighbor to the races for his first time. A few weeks ago, my friend Ray and I were shooting the breeze on the porch and he mentioned that he had never been to the races before. I knew we had to change that. On Saturday we made the trip to Fonda.
We arrived at the Speedway and headed for the Museum where we joined many fans enjoying the sunshine and prepping for a great night of racing. While at the museum, I had the chance to sit and chat with Fonda Super Fan Scott Belknap.
Scott was introduced to racing at an early age. The nephew of Fonda legend Tim Clemons, Belknap spent many of his younger years at The Track of Champions.
"I would save my allowance every week and have my Mom give it to me when I went to the races," he said. "I would buy a Photo Pack every week. That's how I started collecting Racing memorabilia."
Scott's collection has since grown to include several priceless items including a Romano helmet on display in the speedway museum. Scott's passion for racing goes beyond just Saturday nights he also runs several Facebook pages that are dedicated to the history of the Fonda Speedway. He often shares his vast collection of historic photos.
If you are a fan of Fonda's rich history or are looking for a photo of a certain car or driver, join one of the Fonda Speedway memories pages. This gentleman is a wealth of knowledge and is a true asset to the Speedway community. We are lucky to have him around.
After a bit of tailgating with my racing friends and family, we heard the call for hot laps so we made our way to the front stretch where my friend had his first "WOW" experience of the night. Fastest on the watch for hot laps was Luke Horning in the Pro Stocks, EJ McAuliffe in Limited Sportsman, his brother, Adam, in Sportsman and Rocky Warner in Modified.
After some inspiring words from Ed Biittig Sr. and a fantastic rendition of the National Anthem from aspiring artist Jenna Sue, it was time for some racing.
Pro Stocks took to the historic half-mile in front of a huge crowd for three heat races that had Josh Coonradt, Chuckie Dumblewski and Horning claim victories.
Sportsman set the field for their feature event with Kurtis Hohensheldt, Nick Scavia, and Brian Calabrese taking the qualifiers. In Modified action, Korey Wilder got his comeback season going in the right direction by picking up the win in heat #1. Cody Bleau also got things going by winning heat #2 and Warner kept rolling as he won the final heat.
Street Stocks rolled onto the speedway as the first feature of the night and they didn't disappoint. Dave Horning Sr. fought his way to the front and scored win number four on the season. Jason Samrov came home second followed by Massachusetts invader, and newlywed Zach Sorrentino. Justin Taylor, and Cliff Haslun were fourth and fifth, respectively.
The Four Cylinder Cruisers rolled away next for 12 laps of feature action and Ken Hollenbeck continue his winning ways, taking his third win of the short season. Josh Samrov, Cole Lawton, Wayne Russell, and Riley Pedrick would complete the top 5.
EJ McAuliffe put his 234X back in victory lane for his third win of 2019 in Limited Sportsman. Rich Christman had a solid run coming home second, Brenden Gibbons was third with Michael McCallion and Steve Wagoner rounding out the top 5 in this one.
The Pro Stock Feature gave racing's newest fan, my buddy Ray, another WOW moment. This race was full of side-by-side action until a mid-race pileup, in turn one would restack the field.
That allowed Luke Horning the opportunity to pounce, using horsepower to charge to another victory at "the Track of Champions." Luke took his #97 "Silver Fox" to victory lane and Nick Stone, would have to settle for another second place finish. Dumblewski, who started sixth, came home third with Josh Coonradt and Kenny Gates rounding out the top 5.
The mighty Modifieds took center stage for 30-laps of excitement as the crowd came to its feet for the parade lap. Joe "the Entaintiner" Kriss showed the field to the green flag and the thunder once again returned to the Mohawk Valley.
Stewart Friesen started 12th, but by lap 16, assumed the lead and looked to set sail. However, as Stew's luck would have it this season, he suffered mechanical troubles and had to be pushed pit side, not to return.
Bobby Varin would inherit the lead on the restart but 10th place starter, Rocky Warner, began a charge and on the last lap got by Varin for a finish I will not soon forget.
Varin would come home second with Jessica Friesen having a great run to finish third after a rough start to the season. Cody Bleau carried his heat race momentum over for a fourth-place finish and Demetrios Drellos finished fifth.
After the finish, I looked at my buddy and the big fella was speechless. After a few seconds, he looked at me and made one statement.
"Now I know why you come back every week," he said. "That was awesome to watch."
I told him we weren't finished yet.
The Sportsman Feature closed out a super night of action for 25 laps and $1,000 to win. This one started out with a few caution flags but Tim Hartman Jr., who started 11th, had worked his way to the front. He ended up the top man on the night, picking up his second feature win in-a-row at the Fonda Speedway and a nice little payout.
Cody Clark, who led early and looked strong all night long, finished second. Mark Mortensen, having a great season in his DKM Chassis, came to the line third. Defending track champion Chad Edwards was fourth and Nick Scavia was fifth at the checkers.
Once things wrapped up, Ray and I took a cruise through the pits, First stop was at the 44 pit stall of Stewart Friesen, I knew Ray would enjoy the visit as he watched Stew race on television with me the week prior in his NASCAR Truck. Stewart was more than happy to sign an autograph card and get a photo with him and I think that topped the night for Ray.
We then made our way over to the Hartman pit and the driver was just winding down after another great run.
"This Troyer is just amazing," he said. "It'll go wherever I want it to. We have been good right from the start thanks to Mike Parillo and I think we are just getting started."
Hartman is a hungry young driver and I think has made a statement Saturday in the Sportsman division that he may just be the one to beat this season.
After a super evening of racing, Ray and I made our way back to Amsterdam for a nightcap. I stopped over to his place and during our conversation, I asked him what he thought of his first racing experience.
On a scale of 1 to 10, he said I will give it a 7.5 and will definitely be going again. For me, it was a 10. Rocky Warner outrunning the great Bobby Varin…Luke Horning paying tribute to a great man (the Silver Fox, Don Warner) with a big win…seeing my old home filled to the rafters with cheering fans and being part a first timer become a race fan…I would say that is a great night at the races .
If you were unable to make it out to the Fonda Speedway last weekend and are looking for a great way to spend a Saturday night find your local dirt track because that's where it's at. I hope to see you all at the races!
This weekend, the Fonda Speedway is back in action for a special Memorial Day weekend show as the Patriot Sprint Tour makes its annual stop for the Earl Halaquist Memorial plus Modifieds, Sportsman, Limited Sportsman, Pro Stock & Street Stocks.