RPW Column: Unfinished Business At Fonda Last Saturday…Before Getting Down To Business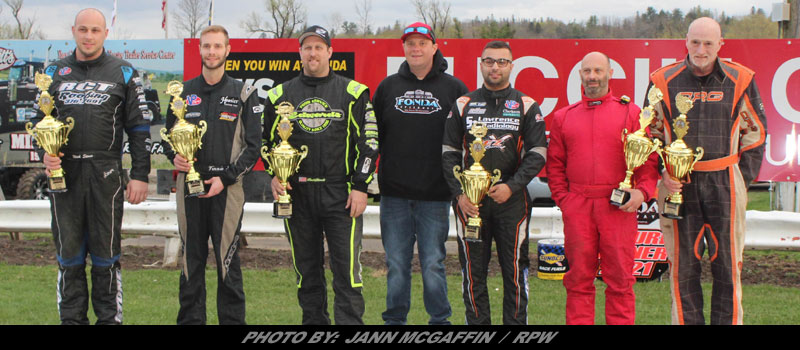 Column By: RAY ROGERS / RPW – FONDA, NY – The Fonda Speedway launched its 2021 season on Saturday with a full card of racing, some unfinished business, and a tribute to a true champion.
The Track of Champions kicked off its 70th season with some unfinished business from 2020. Due to Covid restrictions, the speedway was unable to hold its 2020 season banquet. That meant the first order of business was a well-deserved hardware handout for last season's track champions.
John Napoli claimed his first championship trophy in the 4-Cylinder Dual Cam division and Ken Hollenback claimed his seventh Single Cam title. Jason Samrov was not at the track Saturday, but will receive his second track championship trophy.
Nick Stone grabbed another Pro Stock title after a dominating 2020 with Brett Mortensen taking the Limited Sportsman championship. Lunchbox Chad Edwards was happy to claim another crown for car owner John Kollar.
Mike Maresca put his name in Fonda's History book by taking the Modified track championship. Maresca went winless on the season yet still out-scored a stellar field of Big Blocks.
Before I put 2020 in the record books, I would like to thank Brett Deyo and his staff. Without their efforts last season, we would be celebrating Fondas 69th season this year instead of its 70th. Their passion and love for our sports kept the wheels turning through a tough season, to say the least and did not go unnoticed.
Brett, you and your team are the unspoken 2020 track champions in my book.
On April 1st the racing community lost one of its greatest…Jack Johnson. As everyone knows, Fonda was a special place for the Jumper.
On Saturday, his daughter, Natalie (Bachetti) and son, Ronnie, were on hand to share some special memories of their late father. They reminded us all that Jack put his pants on just like the rest of us…one leg at a time.
Ronnie also took the time to present The Fonda Speedway Museum with some special items, including Jack's 1979 Syracuse trophy that will be on display at the Museum this season.
Stewart Friesen started his race day in another zip code and it showed as he broke the track record in hot laps, laying down an impressive lap of 17.74. That bested the former record set by Anthony Perrego last fall.
Friesen would claim his first heat win of the season and go on to win the night's 30 lap Modified feature. The Sprakers, NY driver currently has 69 career wins in ten seasons at the Track of Champions, placing him fourth among all-time winners.
Defending Sportsman track champion Chad Edwards started off his season coming across the line first. However, he went to Checkerboard Square on the hook.
Edwards suffered mechanical issues early on the day but made it work for the feature win on Saturday night.
The Pro Stocks kicked off their season with second-generation racer Beau Ballard taking home the checkers. Limited Sportsman went to Jeremy Tyrell with Ken Hollenback putting another notch next to his name, claiming another 4-Cylinder Single Cam feature win. Dual Cam went to Tyler White.
Well, Folks as of right now, the weather for the weekend is looking promising. Start making plans to head to the Fonda Speedway for a Sail Panel Saturday as The Track of champions holds the 40-lap Montgomery County Open.
With $ 12,000 on the line and a stellar payout through the field, this event will surely draw some of the best drivers the Short Track Super Series has to offer along with many of Fonda's regulars. All of them will be looking to take the top prize along with a guaranteed starting spot for the Fonda 200.
Also on the card for Saturday is the Sportsman, Limited Sportsman, Pro Stocks and 4-Cylinders. The Mohawk Valley Vintage Dirt Modified Series also gets their season rolling this weekend at the track.
Grandstand Admission for this weekend's stacked card of racing is $20 (Adults); $18 Seniors (ages 65 and up); Kids 11 and under FREE, Infield viewing is $100 (includes four passes). Pit Admission for this weekend is $35 (Fonda Members); $40 (Non-Members).
Well race fans, the grandstands are open so do yourself a favor. Get vaccinated and get to the track. I look forward to seeing you there!