RPW Exclusive: As The Second Half Rolls In, Things Are Heating Up At Fonda Speedway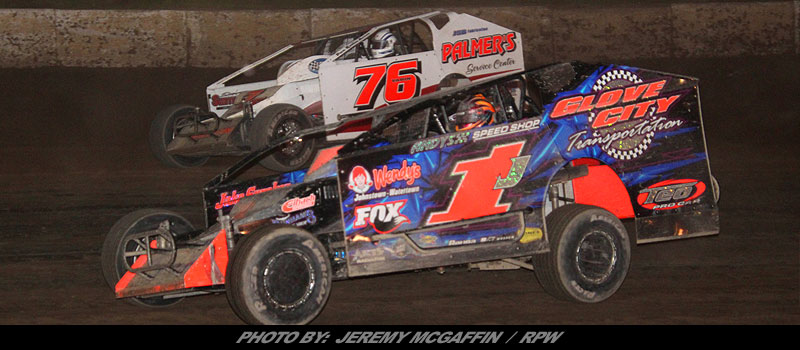 Column By: RAY ROGERS / RPW – FONDA, NY – Things are beginning to heat up in the Mohawk Valley as we head into the second half of the schedule at Fonda.
After eight scheduled events, points racing comes into play for the front runners in every division at the Track of Champions.
Rocky Warner sits atop of the Modified points with 414 points. Warner has taken the Jake Spraker-owned Pro Power Teo Pro Car to two victories this season and has four top-five finishes. Rocky's sophomore Modified season is off to a great start and he definitely has some teams in the pits scratching their heads thinking Rocky means business this year.
Bobby Varin currently sits second with a victory and six top five's (398 points). Those of us who have been around Fonda for a while have seen this before. Varin sits in striking distance, patiently stalking the field each week.
Stewart Friesen currently rides third in points on the strength of two wins and also has six top five finishes. Friesen will miss this weekends event at Fonda due to his NASCAR Truck Series commitment. I am sure everyone in the stands will be pulling for him at Iowa. I know I will be.
Danny Varin sits 10 points behind Friesen in fourth. He also has a victory at Fonda this season and has been hit or miss this season. However, just like his father, Danny is always a threat to strike on any given night.
Dave Constantino rounds out the top five in Modified points. "Damn Kid Dave" as I like to call him has shown he not only builds winning race cars, he knows how to steer one, scoring a big win early this season.
The Sportsman point standings show Tim Hartman Jr. at the top of the list with 362 markers to his credit. Hartman leads the way with solid finishes and a single win to his credit. However, his consistency has made the difference.
I don't believe Tim has shown his hand just yet and will be the car to beat heading to the home stretch of the season.
Defending Sportsman track champion Chad Edwards is second with 330 points. Edwards has yet to score a victory this season…not for a lack of trying. Tthe Spencer #37 has fought his way to the front each week but has just come up short on luck. Watch for Chad to get things going as he looks to defend right to the end this year.
Cody Clark is third with 224 markers. Clark avoided a major set back just two weeks ago when he thought they lost their engine. Luckily, after further investigation and a tune up, he found himself in victory lane last Saturday.
Cody and his father, Dave, have been footing the bills this season, but I think with the right funding, this young man could be a contender for the top spot this season.
The 234 of Adam McAuliffe sits just 10 markers behind Clark in fourth place (314). McAuliffe also has a victory to his credit this season but seems to be marred in traffic. Given a decent starting spot, the elder McAuliffe knows how to get it done. Watch for the 234 coming to the home stretch of the season. Adam would love to add his name to the record books as a Fonda champion.
Brian Calabrese finds himself in the top Five in points after a bit of a slow start this season. However, it seems Calabrese has really come alive as of late, scoring back-to-back wins the past two weeks.
Although Brian is a relative newcomer to Sportsman racing, it appears he's found his stride. The 2018 Northeast Crate Nationals (at Albany-Saratoga) Champ could be the one to really shake things up this year.
Pro-Stocks? Luke Horning? Need I say more?
"Cousin Luke" sits atop the standing with a comfortable lead (396 total points) on the strength of three big wins. But those wins have not come easy. Horning has earned every lap led this season and at this point, the 97 is the Pro Stock to beat this year at the Track of Champions.
Josh Coonradt's 00x has worked his way to the second spot with 348 points. Coonradt has yet to score a win in 2019 but has given the fans a show each week, charging to the front. At times, racing door-to-door with the best Fonda has to offer.
Josh dominated the Street Stock division just a few short years ago and I believe if he keeps up his pace, he'll be out front regularly in his Pro Stock at Fonda.
Nick Stone quietly sits third in points, just six behind Coonradt (342). Stone also hasn't visited Checkered Board Square with his coil car this year, but I would never count him out. I believe once Nick gets the set up just right he will no longer be door-to-door in the corners but rather out front, running away.
Fan-favorite Chuck Dumblewski is fourth with 337, but the race to the finish is far from over. Chucky has been in the hunt each week. The Franks Towing, Amsterdam NAPA #7D could easily slip into second with a few wins and some good luck on his side.
Kenny Gates rounds out the top five in points. The perennial track champion has scored two wins this season, one coming in the opening weeks and the other on May 25th.
Gates has had an up and down season so far, however knowing the Gates Racing team, they are hard at work in the shop preparing for the next race.
In the Limited Sportsman division, EJ McAuliffe sits in the top spot with three wins and 388 points. Rich Christman is second with two wins just 18 points back and third is Brendan Gibbons (332). Brett Mortensen (310) and John Young (277) round out the top five.
The Street Stock point standings, as of June 8th, have Jason Samrov on top with one win (378). Michael Arnold is second with one win and 356 points. Cliff Haslin, Dave Horning Sr. and Stephen Young are third through fifth, respectively.
Things are really beginning to heat up as the Track of Champions head into the second half of the schedule. Not only with great point races taking shape in every division but some fantastic weekly action coming up.
This weekend is a fan-favorite event, honoring a great friend of racing, Bill Ag. The annual Bill Ag Memorial Modified Match Race takes place plus the Sportsman will run for $1,000-to-win. The Limited Sportsman, Pro Stocks & Street Stocks are also in action and some great Father's Day giveaways for the Dads in the stands.
On June 22, Dodson Construction presents Graduation Night plus the return of Mohawk Valley Vintage Dirt Modified Series for the Jack Cottrell Classic…a tribute to "the Rock City Falls Rocket." A full card will be run with the Modifieds, Sportsman, Pro Stocks "Best of 8 Series" plus Street Stocks, and 4-Cylinder Cruisers.
The following week, June 29th, is another one fans and Pro Stocks have circled…the 14th annual Hondo Classic. Modifieds will also be on hand along with Sportsman ($1,000-to-win), Limited Sportsman & Street Stocks.
Then on Wednesday, July 3rd, one of Fonda's marquee events of the year is set as the Short Track Super Series plants the flag at the Track of Champions for the Firecracker 50. This is one race Modified drivers and fans alike have been chattering about. The best of the best will be at the track, competing for a cool $10,000 first place prize and the prestige of saying 'I won the inaugural Short Track Super Series Race at Fonda.'
This event will also be recorded for a broadcast later in the year on MAVTV so let's fill the stands and show the country we support Dirt track racing here in upstate New York.
With the season really heating up, it's a great time to bring some friends to the races. With the way the schedule is for the rest of the season, I don't think you'll have trouble convincing them to come back.
Grab a buddy and get out to the races. I hope to see ya there.