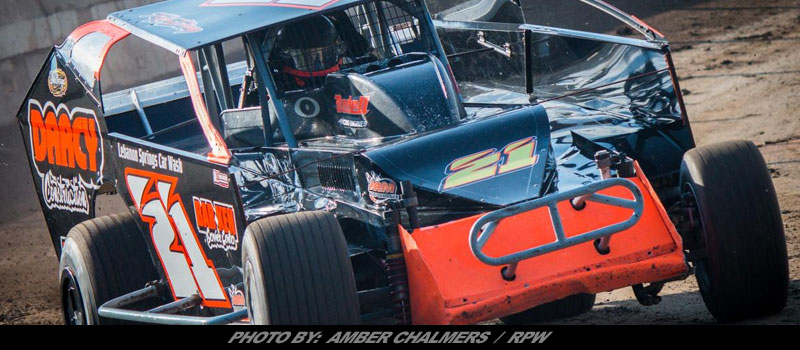 Column By: BOBBY CHALMERS / RPW – NEW LEBANON, NY – Sometimes, you have to do the responsible thing and put work ahead of a hobby.  That is what young Ryan Darcy did a few years ago when he stepped out of the driver's seat and "retired."  Well, that "retirement" was short-lived as the New Lebanon, NY driver will make his return in 2019.
Darcy and his family have purchased a 2016 DKM Fabrication Cyclone Chassis and are looking to hit the road this coming season.  If things go according to plan, you may see the team run a mixture of Short Track Super Series (STSS) and King of Dirt Series (KOD) events.
"Our schedule all depends on how work and everything is going during the summer," Darcy said.  "Obviously, the business is our top priority."
The business he is referring to is MRB Darcy Dirtwork, a company established in 2017.  MRB Darcy is family-owned and operated with a combined 35 plus years experience in excavation, site work, logging & land clearing, landscaping, concrete, and more.  Darcy had put his hobby on hold to look at his future, but now that business is doing well, it's time to dabble again.
"Both Dad (Mike Darcy) and I missed it," he said.  "When we hung it up the first time, it was for a purpose.  I think we both always planned to go back at some point."
However, after they stepped away, the Darcy's liquidated a lot of their equipment including their car, spec-head 358-Modified motor, trailer and more, so it was like they had to start over from scratch.
"We looked at buying a new car, but when we bought the one in August, we planned on making it to Eastern States," he said.  "The guys at DKM were too backed up to get us a new one by late October.  However, due to a hold up in the motor department. we were unable to go to anyway."
So the car they purchased has a good history behind it, and is one they feel confident in running.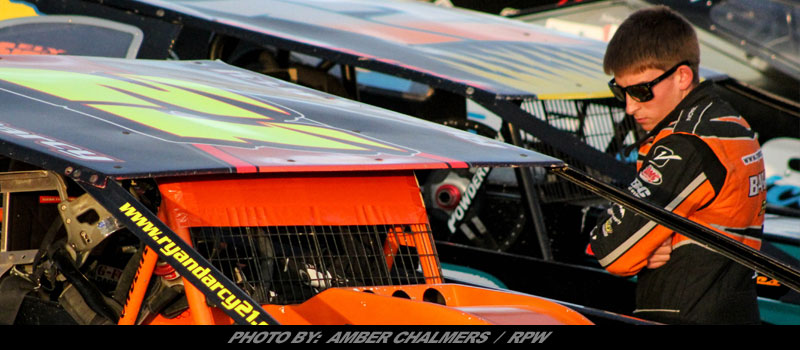 "Eric (Mack, partner in DKM) said it was originally a car Stewart Friesen had," he said.  "Then, I believe Elmo Reckner ran it for a handful of races.  That's who we got it from."
The main sticking point at this time is the powerplant that the team will run.  As stated, they sold their spec-head Small Block engine, but still have a strong piece under the bench.
"That detail is still kind of up in the air at this point," he said.  "We're trying to decide if we're going to put a spec head motor back together right away or if we're going to put our steel-head Mopar back together and run that."
Whatever they decide, the team will not stay at one weekly track.  In turn, they are hitting the road, just as they did in 2016 when they traveled to many of Brett Deyo's Short Track Super Series events.  They enjoy visiting new tracks and Darcy feels he gets to be a better driver seeing new places with changing conditions.  This will be good as he gets back into the swing of things.
"Our plans as of now are to run a mix of STSS and KOD events," he said.  We won't have a home track or do any weekly point racing.  We may run some at Fonda and other tracks.  We've got some experience on American Racers from the time we spent with Deyo's series on the road, but I'm sure we're going to be pretty rusty from taking two years off.  We may go to different places so we can shake the cobwebs off."
The bottom line for Darcy, even with the comeback to the sport that he loves, is that his business comes first, which proves he's got his head on straight.
"If we get the race car going, it'll be good to be back behind the wheel," he said.  "I've missed it.  Dad's missed it.  With our weekends away from the track over the last two years, I've gotten to do other things, but Dad's gone to the track almost every week.  We've been itching to get back, but if it's a job that needs to be done, or hitting a race, work comes first."
It'll be nice to see the Darcy family back in the racing game.  They love it and have missed it greatly.  However, it's nice to see this "family" has their eyes on the bigger picture and are keeping things in check.
A driver never officially "retires."  Once you strap in, it's in your blood.  The drive and will to succeed never goes away.  Just ask Denny Soltis…70+ years of age and still winning.