Column By: BOBBY CHALMERS / RPW – QUEENSBURY, NY – If you were to look up the word 'excited' in the English Dictionary, odds are you'd see a photo of Demetrios Drellos. The definition would be 'because he's heading out on the road to follow the Super DIRTcar Series for the first time in his career.'
Drellos, who resides in Queensbury, NY just outside of Lake George, is taking his family-owned team out on the road in 2019, and is ready for the challenges that lie ahead.
"I'm extremely excited and so is everyone on the team," Drellos said. "It's going to be a lot of work, but it's going to be a lot of fun as well. I can't wait for the DIRTcar Nationals in Florida, even though the races down in Volusia are not for points. I just want to get going."
In past years, Drellos has run a weekly track for points to keep himself sharp. He's run the Albany-Saratoga Speedway for several seasons, and is a winner at the 'Great Race Place.' However, this season he won't be running at the Malta oval.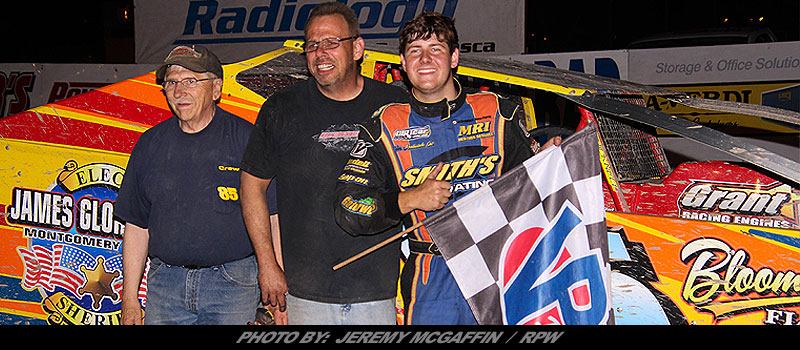 "Unfortunately, we won't be running there," he said. "I need both of my Big Block engines for the Super DIRTcar Series. We want to give the tour 110% focus and effort so we can be as competitive as possible at every track we show up at."
Drellos is lucky that he can do that. Since 2018, DIRTcar officials have eliminated the need for home track points towards the overall Series total. That allows teams, like this one, to concentrate on the tour if they see fit.
"We're very lucky that this is an option," he said. "I can understand why they did away with them for the Big Blocks because the Series is a ton of traveling as it is. Having a home track added in must've been insane."
Last season, Demetrios joined the Big Block ranks at the Fonda Speedway, teaming up with Erik and Bill Nelson to drive their #85 machine. He was able to win a feature at the 'Track of Champions' and finished 10th in points.
For this season, when the tour doesn't conflict, Drellos will return to Fonda, although with his own #111 machine powered by the team's 358-Modified engine.
"The Nelsons are wonderful people and were great car owners," he said. "Things worked perfectly with them and we parted ways on great terms. They just want someone who can commit to them every week and I totally understand that."
So if he's running his own stuff, why return to Fonda?
"The racing is fantastic," he said. "My 358 will be competitive there and my Big Block program won't be bothered by racing weekly. I can dedicate that to only Series races. That's not to mention the payout at Fonda for this year looks excellent. There's a lot of great things Brett (Deyo) is doing there."
As stated before, Drellos will start his season at the DIRTcar Nationals in Florida during Speedweeks this February. He'll be utilizing a Bicknell chassis that he began running last August, powered by a 'Billy The Kid' motor. He has a brand new Bicknell he's preparing for action, but that car won't be ready until the Spring.
With all of the traveling this team will do, Drellos knows there will be tracks he's never even seen before, let alone raced at. He gets that he'll be behind the eight-ball at some places to get up to speed, but is ready for the task.
Is there one track he's most concerned about?
"If I had to name one, I think it would be Eldora," he said. "That's not because of the distance. It's mainly because of the fact that it's at the end of July. July's a very busy month for the Series. It'll be a few days on the road after the Weedsport race on the 28th followed by another event officials haven't yet announced on the 30th. Then we have Eldora on the 31st. It'll definitely be a busy end of the month."
Ever since Slingshots, Demetrios Drellos has lived for this moment. He's fantasized about running against the best of the best on the Super DIRTcar Series, and now he'll have the chance. He's putting a big effort together so that he can get the best results possible, and maybe, just maybe, you'll see the #111 in victory lane on tour in 2019.