RPW Column: Accomplishing A Childhood Dream, Bobby Hackel Gets First Career Big Block Win At Lebanon Valley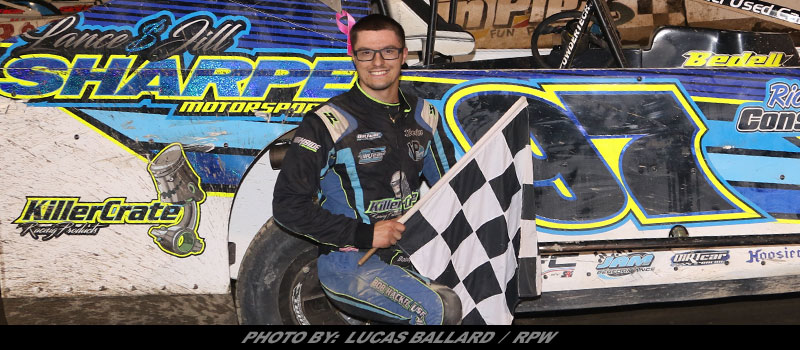 Column By: BOBBY CHALMERS / RPW – WEST LEBANON, NY – He's wanted it. He's craved it. He's deserved it, and Saturday night at Lebanon Valley Speedway, Bobby Hackel finally got it.
Hackel can now say he's a winner in the DIRTcar Big Block Modified ranks at the "Valley of Speed" after making the pass for the lead on Olden Dwyer near the one-third mark of Saturday night's Modified feature and never looking back.
The fourth-generation driver held on the rest of the way to take his career first Modified win on the high banks.
"Man, without Lance and Jill (Sharpe) I wouldn't be here right now," Hackel said. "Without them and Pete (Chuckta) at PMC, I wouldn't be here at Lebanon Valley. I've wanted to be back here for years and I didn't want to come back until I could do it right. These guys gave me the tools."
Hackel has worked hard all season to try and accomplish this very thing…become a Modified winner. On Saturday, everything aligned perfectly. A fourth place starting spot played into his favor and a long green flag run allowed him to work to the front and get a lead that he never relinquished.
"Right from the get-go, we felt like we had a pretty good car," he said. "We kind of just did our normal thing we've been doing week in and week out with slight changes. Pete's been getting me real close with this 2021 PMC and finally everything went our way."
One week removed from when Hackel felt like it could have been his night, a rear end issue sidelined him while charging to the front. Saturday, however, was his time.
"I think last week we had one taken from us because we were real fast too," he said. "However, none of that matters as we're here in victory lane. I have to also thank my grandfather and my dad for everything they've done for me and how hard it's been to get here. I just have to thank every single person who's been a part of this."
Now, Hackel has finally achieved a dream.
"This is all I've ever wanted to do since I was in those grandstands watching my dad and my grandfather," he said. "I wanted to win a Big Block race here at Lebanon Valley and we've finally done it."
Second place on the night was LJ Lombardo who helped give PMC a 1-2 finish. Third was Kyle Armstrong followed by your 2021 Modified champion, Andy Bachetti, and third place man in points Brett Haas.
For Bachetti, it was a repeat of his 2020 title which was shortened considerably by the COVID pandemic. This season, he had to hold off a hard battle from both Marc Johnson and Haas but he was able to get it done.
Not only was it a great night for PMC in the Big Block ranks, it was as well in the 358-Modifieds as Frank Harper led from the drop of the green and never faced any challenges himself to take his first win of the 2021 season.
"Everything went our way tonight," he said. "The track was great. Kudos to the track crew for getting the surface back in great shape after the rain delay. It was a very fast track tonight."
After a spell of tough luck, you could see the relief in Harper's face that he was able to get back to victory lane.
"This is for everyone that's helped out this week," he said. "We've had a couple long weeks getting wrecked the last two races. This is awesome to get this win."
He was also very quick to thank everyone that helped to get him to victory lane again.
"I've got some great sponsors and some great crew," he said. "Paul Wehnau from Snap-On, Boomer's been with me forever, Billy The Kid Engines were pretty strong tonight and my entire team. This is because of them."
Andy Bachetti was able to bring his Small Block home in the runner-up position with Alan Houghtaling third, last week's winner Joey Coppola fourth and Brian Peterson completing the top five.
Two races. That's all it took for Tim Hartman Jr. to get his #22 to victory lane in the Sportsman class in 2021 at Lebanon Valley.
After starting in 17th position, after several caution flags, things began to fall Hartman's way. He took the lead from Walter Hammond Jr. on lap nine an never looked back, making him .500 on the year (one out of two) on the high banks.
"This was certainly a race of attrition," Hartman said. "A lot of guys made it easy to pass because they were having trouble and what not but sometimes, you take what you can get."
There's no way you can take away from just how quick of a Parillo Services Troyer machine Hartman had on Saturday night, however.
"Luckily, tonight, we had a really good racecar," he said. "I was able to get in front of guys like John (Virgilio), Rob (Maxon) and the fast guys. I knew I just had to beat them to the front and then I could try to defend."
In his only other start at the Valley in 2021 last Saturday, Hartman drove from mid-pack again to a solid top five. This time around, they were able to fine-tune on their setup to get to victory lane.
"We learned a few things last week here and we brought the car home, put the car on the scales and saw some places we'd like to improve," he said. "Obviously, it worked and we did just that. We're fortunate now to be able to carry a good set up towards the end of the season and hopefully we can get another one."
Maxon was able to bring his #96 home in second after starting 14th with Virgilio in third, Whitey Slavin in fourth for his third straight top five finish and early leader Hammond completing the top five.
Steven LaRochelle scored his third victory of the 2021 season at Lebanon Valley on Saturday night, taking the lead away from Shawn Perez on lap five and checking out on the rest of the field.
Point leader Chad Jeseo began to chase LaRochelle down in the closing stages but ran out of laps as the second generation driver scored is 10th career Pro Stock win.
"This thing was on a rail tonight," LaRochelle said. "It was quick from hot laps, to the heat and then in the feature. I got out to an early lead, luckily, that probably helped us as I think part of my exhaust broke. It started skipping and popping badly but we were able to get the job done."
Jeseo was closing fast on the #176 at the end of the race but just couldn't get there in time, having to settle for second. Perez held on for third with Nick Hilt fourth and Tommy Dean rounding out of the top five.
Clifford Booth, Jeff Meltz Sr. and Chris Stalker each took Pure Stock victories.
John Flach (Vintage Modified), Merv Blackwell (Vintage Sportsman), Mike Brown (Vintage Mystique) and Chuck Scofield (Vintage Antique) were all winners in the Mohawk Valley Vintage Dirt Modified Series events held on Saturday.
MODIFIED FEATURE RESULTS ( 30 LAPS) 1) Bobby Hackel IV* 97 2) L.J Lombardo*** 35 3) Kyle Armstrong, 11A 4) Andy Bachetti**** 4 5) Brett Haas, 55H 6) Kyle Sheldon, 42S 7) Marc Johnson** 3J 8) J.R. Heffner* 74 9) Ryan Darcy* 21 10) Brian Berger, 60 11) Eddie Marshall* 98 12) Chris Curtis 35B 13) Kolby Schroder* 99 14) Paul Gilardi, 87X 15) Kenny Tremont Jr* 115 16) Chase Dowling 9 17) Olden Dwyer, 88JR 18) Wayne Jelley, 45X 19) Mike King, 55K 20) John Ruchel 7 21) Josh Marcus, 91M 22) Kenny Aanonsen Jr 42A 23) Brandon Lane 33
SMALL BLOCK MODIFIED FEATURE RESULTS (24 LAPS) 1) Frank Harper* 25 2) Andy Bachetti*** 4 3) Alan Houghtaling, 250 4) Joey Coppola* 94 5) Brian Peterson 82 6) Ryan Larkin** 39 7) Montgomery Tremont 115 8) Ryan Charland, 10C 9) Mike Sabia 7S 10) Jason Herrington* 1 11) Ray Hall Jr, 72 12) Olden Dwyer** 88JR 13) John Lutes JR. 21L 14) Brian Sandstedt, 12S 15) Sean Mandel 66P 16) Chris Curtis 35C
SPORTSMAN FEATURE RESULTS (20 LAPS) 1) Tim Hartman* 22H 2) Rob Maxon* 96 3) John Virgilio*** 14 4) Whitey Slavin* 5 5) Walter Hammond JR., 88 6) Shane Powell, 33S 7) Micheal Sabia* 7S 8) Kevin Ames 43 9) Karl Barnes, 307 10) Jeff Reis 21J 11) Matt Burke, 12 11) Jimmy VanZandt 313 12) Pete Carlotto, 12C 13) Joe Mennitte 112 14) Keith Patnode, 2X 15) Dave Fachini 122 16) Chris Lynch*** 74 17) Brady Cordova 3 18) John Miller 88 19) Bob Fachini 728 20) Harold Robitaille O3 21) Pete Lorenzo 3G 22) Nikki Ouellette, 16 23) Dylan Gibbson 22G 24) Joey Scarborough 11VT 25) Bill August 50 26) Walter J. Hammond 98H 27) Hunter Ordway 28 28) Ryan Heath 6R 29) Robbie Colburn, 18 30) Rob Hallaback, 2H 31) Frank Twing JR. 1T 32) Jeff Gallup 4MA
FEATURE RESULTS (20 LAPS) 1) Steven LaRochelle*** 178 2) Chad Jeseo,*** 25 3) Shawn Perez, O9 4) Nick Hilt*** 17 5) Tom Dean, 413 6) Jason Meltz** 51 7) Dave Stickles* 55 8) Zach Sorrentino, 54S 9) Doug Olds 73 10) Zach Seyerlein* 33 11) Tom O'Connor 52 11) Don Collins 149 12) Dominique Hilt 17H 13) Brian Keough 311 14) Johnny Rivers* 14J
PURE STOCK # 1 FEATURE RESULTS (8 LAPS) 1) Clifford Booth* 17 2) Rocco Procopio**** 62 3) Jeff Meltz JR.* 15X 4) Colby Kokosa** OOK 5) Scott Morris, 84 6) Chris Brown, OO9 7) Mike Dianda 315 8) John Devine*** 24 9) Jeremy Dodge 33
PURE STOCK # 2 FEATURE RESULTS (8 LAPS) 1) Jeff Meltz SR.***** 5X 2) Dave Striebel JR.** 73 3) Jim Dellea, 77 4) Peter Huntoon, 3 5) Katarina Foster 10 6) Shawn Perez JR. O9 7) Craig Coons, 133C 8) Dylan Fachini*** 35
PURE STOCK # 3 FEATURE RESULTS (8 LAPS) 1) Chris Stalker****** 177 2) Brian Walsh*** 43 3) Dave Striebel* 273 4) Keri Vandenburg* 89 5) Chris Calabro 3C 6) Janai St. Pierre** 18 7) Rob Partridge***** 22 8) Franklin Smith, 76