RPW Column: Score One For The Vets; Eddie Marshall Ends Two-Year Drought With Win Saturday At Lebanon Valley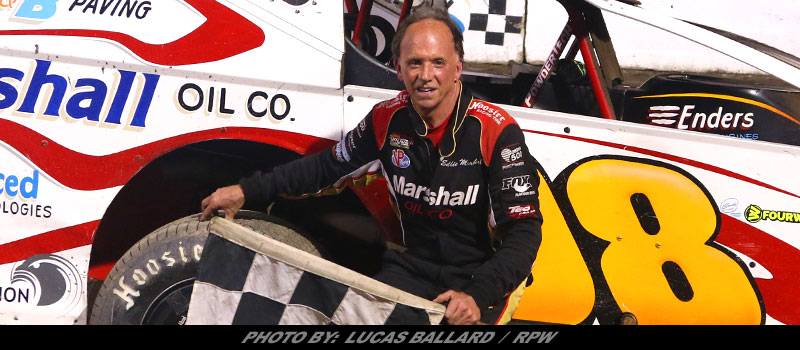 Column By: BOBBY CHALMERS / RPW – WEST LEBANON, NY – Finally! After two long years to this very weekend, veteran Eddie Marshall is a Modified winner once again at the Lebanon Valley Speedway.
Marshall used a lap 13 power move around early-race leader Olden Dwyer to secure the lead and then held off a ferocious challenge by high point title contender Marc Johnson to secure the well-deserved victory.
"The car was really good tonight," Marshall said. "Certainly starting in the second row helped a lot and from the drop of the green, I actually struggled a little bit. For a little time I wasn't sure what we were going to have but the car came to us and it got better."
It was the battle with Johnson that had the fans on their feet and really gave Marshall something to worry about.
"I knew Marc was going to give me a tussle," he said. "He's been really strong all year but I knew he'd run me clean if he was there which I'm sure he was."
Saturday night, Marshall became just the second non-Bicknell chassis driver to grace victory lane at the Valley in the 2021 season, joining PMC's LJ Lombardo (three wins) and was quick to give credit to the hard work of Teo Pro Car.
"I know Bobby and Matt Hearn and all the guys at Teo have been working really hard for us," he said. "We're constantly working at things trying to make this car better. Tonight it was pretty good and hopefully we can keep this rolling."
While this season has been a struggle at times, Marshall has felt that his car was close to where it needed to be but needed everything to align to get the checkers. Saturday night, everything did.
"We've actually had some other nights where we felt we were better but just didn't have things go our way," he said. "We've been a little inconsistent at times just like a lot of the competitors out here have been. We came here a little different tonight on setup and it seemed to help. Hopefully, we have a package now that we can work with."
Being nearly two years to the day since his last win, Eddie was smiling from ear-to-ear and relishing in the moment. He understands just how hard it is to win these days on the high banks.
"This definitely feels good," he said. "You never know when your last is going to be, partially when you get older, so we're happy to get this one."
Marc Johnson came home in the runner-up spot but had a shot at the leader late in the going of the 30-lap event. With just five laps remaining, Johnson pulled even with the leader as the two exited the second turn.
However, Marshall used Josh Marcus' lapped car as a pick to perfection to keep the lead and then motored away from the Scott-Hamlin-owned machine.
Brett Haas had another strong effort in his #55, bringing it home in the third position and gaining points on leader Andy Bachetti. LJ Lombardo and recent feature event winner Kolby Schroder completed the top five.
Probably one of the biggest moments of the event happened on a lap 12 restart when Bachetti got a bump from Kyle Sheldon as the cars entered turn one, causing the #4 to spin.
It was then that Bachetti's machine was hit in the passenger side door by the #60 of Brian Berger. Berger's car sustained severe front end damage and he was done for the evening.
However, Bachetti's team went to work, stripping every body part and brace that was bent on the machine to get him back on the track to gain as many points as possible.
He returned to the track and drove like a man on a mission, on some laps being the fastest car on the speedway. At the end, he got back to tenth and now leads Johnson by 12 and Haas by 22 entering what will be the "unofficial" final night of points.
The September 4th Mr. DIRT Track USA Super DIRTcar Series race at the Valley is show-up points for all competitors so it'll all come down to next week to see who will be this year's 2021 Modified Champion.
Young Joey Coppola has grabbed victories in the Sportsman division at Lebanon Valley. This year, he made the move to the 358-Modified class, and for a portion of the season was running both.
A handful of weeks ago, his team decided to forgo the Sportsman effort to focus all their time on the Small Block program and on Saturday night, it paid off as the youngster parked his #94 in victory lane.
Coppola used a hood starting spot to his advantage but he knows that isn't always a good thing, especially with the caliber of drivers in the division.
"It's super hard to start up front, in my opinion," Coppola said. "You don't know how hard to pace yourself. You don't know if the top or the bottom is the right line. I'm a bottom feeder but if I have to go up top, I will and tonight I found that there was bite on the bottom and I just stuck there."
At the end of the 24-lap main event, Coppola had checked out, winning by nearly a full straightway and he knows just how big this was for himself and his team.
"I just stuck to the bottom," he said. "I just kept hitting my marks and tried not to mess up but this is for my dad and my entire crew. They've been working so hard to get to this moment and now we're here. This is just amazing."
Michael Sabia brought his #7 home in the runner-up spot with Bachetti, Brian Sandstedt and Olden Dwyer completing the top five.
It was an almost perfect night for Sabia as he not only finished in second in the Small Block main but was also able to park his Sportsman machine in victory lane in their 20-lap feature.
Sabia took the lead from Dylan Gibson on a lap five restart and set sail, defending against all challengers to take the victory, his first of the 2021 season and another on the night for Teo Pro Car.
"We really needed these finishes," Sabia said. "We've had a rough year up here at Lebanon between motor issues, chassis issues, rear ends and such. Every week, it's a different disaster we've had to deal with at the shop. Tonight, we finally got everything together and we really needed this."
Michael was able to rely on some past experiences to his advantage when it comes to the speedway's surface.
"The track was a little bit heavy," he said. "That's what I use to like back in the day here and we're on coils now with our cars. We had to figure out how to get this thing going and we had some good momentum going on the top with the Small Block. That worked the same with this car as well and through the middle in turns three and four so it all paid off tonight."
Last week's winner Whitey Slavin backed up his good run of a week ago with another solid finish in second. Multi-time 2021 winner Chris Lynch was third with Peter Carlotto and invader Tim Hartman Jr., who drove from 15th on the starting grid, completing the top five.
The Pro Stock feature looked like it was going to be another victory for the 178 of Steve LaRochelle. The two-time winner on the 2021 season got the lead on lap 6 off of turn two after slight contact with leader Shawn Perez and looked to be on his way to victory.
However a bobble on lap 14 allowed Nick Hilt to drive by and take the lead. One lap later, Larochelle's car was nosed into the turn two wall. His night was done.
From that point on, nobody held the top spot other than Hilt who drove to his third victory of the 2021 season.
"Tonight was tough that's for sure," Hilt said. "We started deep but were able to get to the front and make it happen."
Over the course of the final 7 laps, Hilt had to deal with the point leader, Chad Jeseo, breath down his neck.
"It was fun running with Chad," he said. "We've got basically the same car as him and luckily I got to the lead first and that helps a lot when you race against him."
The 2021 campaign has been a pretty good one for Hilt who now has three wins on the season and is sitting third in points. It's been almost a career year for the Averill Park, NY driver.
"I've never been able to get three wins in a season in the Pro Stocks," he said. "This has definitely been on of the better years."
Rob Partridge, Dylan Fachini and Dave Striebel Sr. took home wins in the three Pure Stock features with Dave Striebel Jr. taking home the six-lap Pure Stock Dash.
MODIFIED FEATURE RESULTS ( 30 LAPS)
1) Eddie Marshall* 98
2) Marc Johnson** 3J
3) Brett Haas, 55H
4) L.J Lombardo*** 35
5) Kolby Schroder* 99
6) Kyle Armstrong, 11A
7) Ronnie Johnson 2RJ
8) John Virgilio 9V
9) Mike King, 55K
10) Andy Bachetti**** 4
11) Wayne Jelley, 45X
12) Kyle Sheldon, 42S
13) Paul Gilardi, 87X
14) Kenny Tremont Jr* 115
15) J.R. Heffner* 74
16) Josh Marcus, 91M
17) Olden Dwyer, 88JR
18) Bobby Hackel IV 97
19) Brian Berger, 60
20) Brandon Lane 33
21) John Ruchel 7
22) Chris Curtis 35B
23) Ryan Darcy* 21
SMALL BLOCK MODIFIED FEATURE RESULTS (24 LAPS)
1) Joey Coppola* 94
2) Mike Sabia 7S
3) Andy Bachetti*** 4
4) Brian Sandstedt, 12S
5) Olden Dwyer** 88JR
6) Kim Lavoy* 3
7) Chris Curtis 35C
8) Ryan Larkin** 39
9) Ray Hall Jr, 72
10) Frank Harper, 25
11) Alan Houghtaling, 250
12) Ryan Charland, 10C
13) John Lutes JR. 21L
14) Kevin Petrucci 24
15) Montgomery Tremont 115
16) Jason Herrington* 1
17) Brian Petrerson 82
SPORTSMAN FEATURE RESULTS (20 LAPS)
1) Micheal Sabia* 7S
2) Whitey Slavin* 5
3) Chris Lynch*** 74
4) Pete Carlotto, 12C
5) Tim Hartman 22H
6) Rob Maxon* 96
7) Dylan Gibbson 22G
8) Walter J. Hammond 98H
9) Robbie Colburn, 18
10) Jeff Reis 21J
11) Angelo Dicarlo, 81D
11) Jeff Watson, 22
12) Joey Scarborough 11VT
13) Kevin Ames 43
14) Dave Fachini 122
15) Jimmy VanZandt 313
16) Karl Barnes, 307
17) John Santolin 6
18) John Virgilio*** 29
19) Jared Powell 18P
20) Walter Hammond JR., 88
21) Kevin Ward, 98
22) Pete Lorenzo 3G
23) Gary O Brein 57B
24) Shane Powell, 33S
25) Bob Fachini 728
26) Hunter Ordway 28
27) Matt Burke, 12
28) John Stowell, 8JS
29) Bill August 50
30) Harold Robitaille O3
PRO STOCK FEATURE RESULTS (20 LAPS)
1) Nick Hilt*** 17
2) Chad Jeseo,*** 25
3) Jason Meltz** 51
4) Zach Seyerlein* 33
5) Dave Stickles* 55
6) Tom Dean, 413
7) Zach Sorrentino, 54S
8) Brian Keough 311
9) Frank Twing 1
10) Johnny Rivers* 14J
11) Dominique Hilt 17H
11) Shawn Perez, O9
12) Steven LaRochelle** 178
13) Gary Silkey 75
PURE STOCK # 1 FEATURE RESULTS (8 LAPS)
1) Rob Partridge***** 22
2) Rocco Procopio**** 62
3) Clifford Booth, 17
4) Scott Morris, 84
5) Katarina Foster 10
6) Keri Vandenburg* 89
7) Janai St. Pierre** 18
8) Jeff Meltz SR.**** 5X
9) Lucas Ballard 54L
PURE STOCK # 2 FEATURE RESULTS (8 LAPS)
1) Dylan Fachini*** 35
2) Dave Striebel JR.** 73
3) Colby Kokosa** OOK
4) Peter Huntoon, 3
5) Ryan Brown* O10
6) Chris Brown, OO9
7) Franklin Smith, 76
PURE STOCK # 3 FEATURE RESULTS (8 LAPS)
1) Dave Striebel* 273
2) Chris Stalker***** 177
3) John Devine*** 24
4) Craig Coons, 133C
5) Brian Walsh*** 43
6) Mike Dianda 315
7) Shawn Perez JR. O9
8) Adam Schneider 4