Column By: BOBBY CHALMERS / RPW – EDWARDS, NY – One driver who didn't want to see the 2018 Super DIRTcar Series season end was veteran campaigner Tim Fuller…and for good reason.  He was winning.
Fuller, the 2005 Super DIRTcar Series Champion, racked up three big series wins this past season driving the St. Lawrence Radiology #19 Bicknell machine.  The amazing part, however, is the wins came from mid-September on.
The first checkered flag came at his Friday night home, the Mohawk International Raceway on September 15th.  He then went on to win the Jack at the Fonda Speedway, his Saturday night home, the following weekend.  His final triumph came when the tour hit the Dirt Track At Charlotte when he was able to drive around the 9s of Matt Sheppard to capture the final victory of the season.  Not a bad way to close out a year.
"Things really started to come together for us in September," Fuller said.  "It actually got better when we came off the tour.  I couldn't keep up with it anymore.  I just had to be more selective with the shows we ran."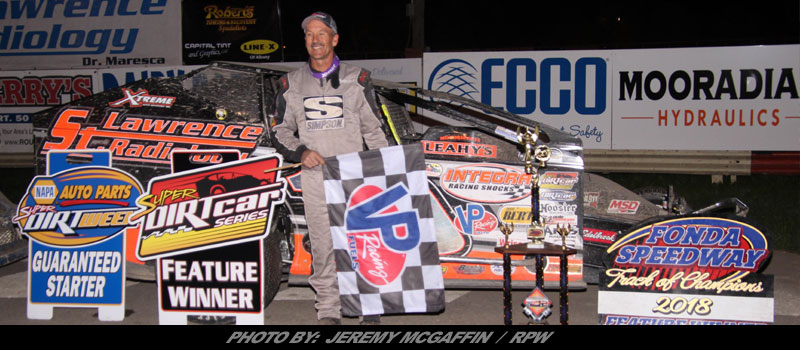 While series wins at his home tracks were great, it was the win at the World Finals that was special to Fuller…namely because of who he had to pass to get the victory.
"Anytime you can pass that 9s car (Matt Sheppard) is fun," Fuller said with a laugh.  "He had another good year this year and he's raised the bar for everybody.  There has been people like him in the past and he's still at the top of his game right now.  To be able to pass him down there with the way he's been running was good and it was a great way to end the year."
The momentum Fuller showcased in the fall of 2018 is something he hopes can propel him into a strong start this coming season.
"Fortunately, I think we've got something we can work with in the spring," he said.  "We'll try again and see if we can keep this momentum going."
Tim Fuller has been a champion.  He's been a winner.  He's won in Modifieds and Late Models.  He's got amazing equipment behind him and there's no doubt you'll see him in victory lane in 2019…absolutely none.
Stay tuned to Race Pro Weekly for all your Dirt and Asphalt racing news!