RPW Column: Remembering Russ Blake; "The Silver Fox" Was More Than Just A Racer

Column By: BOBBY CHALMERS / RPW – PITTSFIELD, MA – Many will remember 2001 Lebanon Valley Speedway Hall of Fame Inductee Russ Blake as just that…a Hall of Famer. Most will remember him as a racing legend that lived just over the mountain in the Berkshires of Western Massachusetts who left his mark on the High Banks.
However, for me, I'll remember Russ as someone who helped power one of my best friends to his crowning achievement in racing. I'll remember him as someone who constructed the engine we had between the framerails of my first racecar and the father to one of a life-long friends who happened to be one of my fiercest competitors.
Unexpectedly, Russ passed away on February 5th at the age of 79.  My deepest condolences to his family and friends.
My first memory of Russ was back in the mid-1980s. Anytime my mom or dad would drive by Duteau's Collision on Commercial Street in my hometown of Adams, MA, I remember seeing his brown and gold #47 Big Block Modified on display from time to time inside the building. His car was sponsored by the body shop.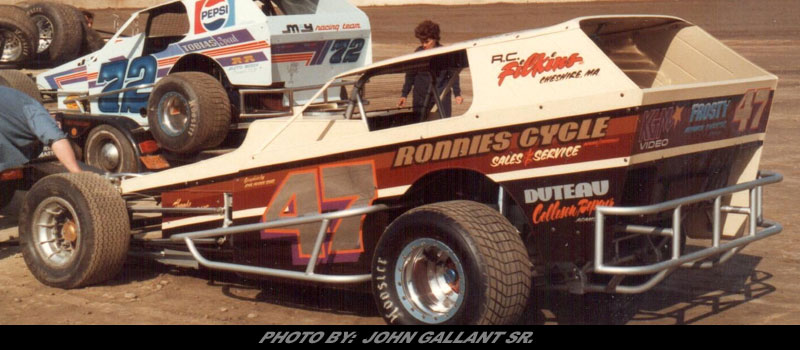 You could see the car from the street through the big glass picture window right out front…and I loved it. Trust me. It was something you didn't see every day in Adams.
I also remember that back in those days too, you'd be hard pressed to find video tapes of any races from the Valley. It sure wasn't like today. You couldn't buy a race DVD the following week or even watch it live on pay-per-view.
Russ' Big Block, at the time, was sponsored by a video company, KGM Video. KGM ended up filming the biggest event at the Valley in 1984, and it just happened to be a race that my Mom & Dad's racecar, driven by Stanley Wetmore, was entered in.
That event was the Lebanon Valley 200 and of course, we had to get a copy. Getting to watch this race, any time I wanted, was very cool to me as a young boy who had dreams of making to the driver's seat.
To my surprise, though, the best part of the VHS tape wasn't just the cars going around in circles. It was the special touch that many take for granted today.
Russ and the people from KGM put an actual camera inside the #47 Modified, giving fans an amazing in-car look at what it took to drive a Dirt Modified in those days.
I was in awe, watching Russ' hand working back and forth on the steering wheel as he battled the likes of Tommy Corellis, Gary Waters, Brett Hearn and Eddie Marshall.
Keep this in mind, though. In 1984, the tiny Go-Pro camera was a LONG WAY from being invented. The tandem used an actual camcorder. To this day, I can remember quite vividly watching Russ' white gloves clean the camera's lens of dirt and mud during cautions.
Over the years that followed, I got to know the Blake family. I got to know Russ' wife Mary and their children, Russell, Michelle and Ron. However, it wasn't until around 1992 that I really started to become friends with them.
That was the year that my family began helping our good friend Rick Moffett with his Sportsman car at Lebanon. Being from the Berkshires, Russ helped Rick with his engine and a lot of setup advice…just as he had done for several others that passed through his speed shop in Pittsfield.
I got my first taste of life in the pit area of Lebanon Valley during those years, wrenching on Rick's #71 machine. There were many late nights working on that former Kenny Tremont-driven, Dave Lape-created Champ Car inside the walls of Russ' shop.
This was during a time when the idea of scaling a racecar wasn't as 'technical' as it is today. I can remember Russ only having two big grain scales to weigh cars. Not having four of them to weigh a car completely at once, Russ had two wooden blocks that we had to put under the opposite end of the car.
Once we got the weight, for example, from the rear, we had to swap things around, putting the blocks under the back tires and the scales under the front. Then, we could calculate the totals
Man, how times have changed. However, it was a time I'll never forget. Not only was I getting to live out a dream, working on racecars, but I was also learning a lot about this sport from someone I grew up watching.
Every time Russ would explain something to Rick, like how to run a specific line or what adjustment to make on the car, I was right there, soaking up everything I could.
All of that help and advice that he gave Rick really started to show up late in 1993. For three consecutive weeks, The ABC Septic #71 finished second, then third, and then, finally, at the top of the heap. Rick Moffett captured his first career win on August 28th and that propelled him to a top 10 finish in points that year.
I can still see Rick's smile, beaming from ear-to-ear, as flash bulbs clicked away in victory lane. While he stood with the checkered flag in one hand and his trophy in the other, there was Russ and his wife, Mary. The two of them were standing right alongside Rick and the crew, sporting smiles just as large.
A few years later, when my own racing career behind the wheel was looking to begin, my parents purchased Rick's winning motor that Russ had built. We put it in my first racecar and Russ helped us out as well. For that I will be eternally grateful.
It was then that I began competing against a driver that has become a life-long friend of mine, Russ' son, Ron.
Driver 44 and I had plenty of door-to-door battles over the years. Some of those contests were ones that I finished higher then he did. Some of them, though, saw Ronnie come out on top.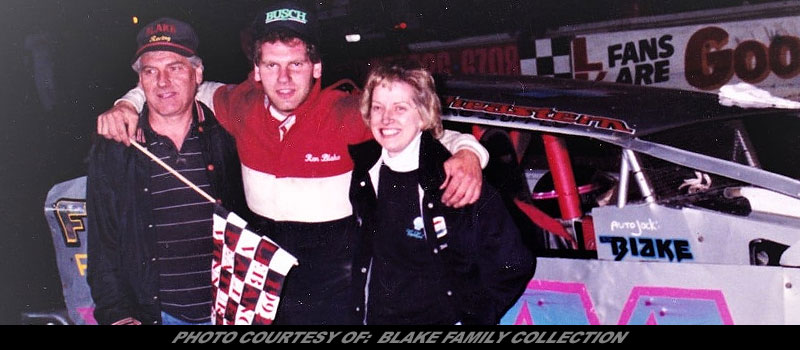 Every time Ron got in front of the microphone, though, either for an interview or in victory lane, the first person he thanked was his Dad. That's the type of stuff I'll remember most about their relationship.
The prime of Russ Blake's racing career was well before my time. He recorded just three career Modified wins at the Valley. His first was in 1972 and last coming in July of 1984.
However, I feel like I really got to see the true man that was Russ Blake. I didn't just see the race car driver. I didn't see just the engine builder or the parts guy. I got to see the family man.
I got to see the person who was so very proud of his family…was proud of the life he'd built. Now, I'm sure he's looking down and loving that his legacy will forever be etched in the minds, and hearts, of many who knew him…not just the record books.
My deepest condolences to Russ' family and friends on his passing. God Speed, Russ. Give Mary a hug from all of us "One Mo Time!"