RPW Column: Full-Time Racer Dream Comes True For LJ Lombardo; Will Compete Weekly At Albany-Saratoga & Lebanon Valley In '21

Column By: BOBBY CHALMERS / RPW – DANBURY, CT – There's plenty of people in this world that have dreamt of being a full-time sports star. Either football, or baseball, or basketball, making a living in the sport you love is the ultimate fairytale.
Well, 2021 is as good of a time as any for LJ Lombardo to make his dream of racing and working on cars come true.
Up until Friday, February 19th, Lombardo had been working as a heavy truck and equipment mechanic. The following day, he took the plunge and now has a sole focus of getting his racecars into victory lane while also making enough money to put food on his table.
"I'm excited and nervous all in one," Lombardo said. "It's one thing to have a Big Block Modified ride and have the pressure of performing to keep your partners and owners happy. It's another thing to do that plus try and make enough money to live."
This is something Lombardo has wanted to do since he was that little kid who lied about his age to race against his brother in go-karts. He flirted with the chance a few years back while driving Bill Pascual's Modifieds, but now, he's older, and with the pandemic gripping the world, it's as good of a time as any.
"I'm very excited to have this opportunity," he said. "My team and I have worked our tails off to get to where we are right at this point. It's just a dream come true to have these people believe in me enough to give me this shot."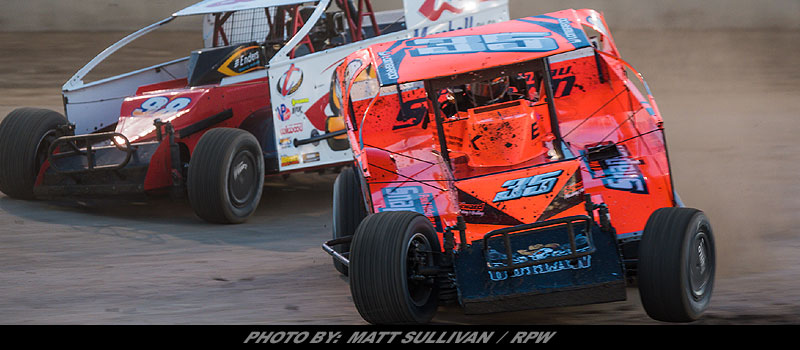 What made him decide to take the leap?
"The way I look at it, the professional racecar drivers I compete against wake up every morning and their primary objective is to find ways to make their cars faster," he said. "It's so hard to compete at this level when you don't do that."
LJ believes that not all successful drivers are full-time, but it helps.
"Don't get me wrong, I know a lot of really good guys I compete against have regular day jobs," he said. "To compete at this level, with the amount of races we have scheduled, it's impossible to do without a full-time guy in the shop as well."
Unfortunately, that wasn't the easiest thing to do right now, so Lombardo has improvised.
"With our location in Connecticut, it's hard to find full-time help," he said. "Everyone lives so far away from our shop. Between the teams I am going to race for, we all came up with the agreement that I'll be the full-time guy in the shop this year and see where things go."
Now Lombardo will set out to race as much as he possibly can. With that, fans will see him as a regular competitor again at Lebanon Valley Speedway on Saturday nights. However, he'll start his weekends a half-hour drive from the Valley on Friday nights at the 'Great Race Place.'
"We're going to run the full schedule this year at Albany-Saratoga with our Big Block program in addition to Lebanon Valley," he said. "We have a new PMC on the way for the Valley and hooked up with another car owner for Malta, and we're going to utilize one of our PMC's as well as a new Bicknell that they purchased this off-season."
Both operations will use powerplants put together in Billy the Kid's shop in Torrington, CT.
Lombardo has been a regular at the Malta, NY oval in the past, but feels this time, he has a good opportunity to really be successful.
"We've teamed up with a long-time friend that used to own my engines when I ran Malta back in 2016, Tony Garcia," he said. "Tony stepped up this year and purchased his first Modified. We're going to supply the engine and the rest of the running gear to make the whole team work."
Now, many may ask about the Bicknell in Lombardo's stable. For the last few years, he's been a mainstay in Pete Chuckta's equipment and that is not going to change.
"I'm still fully committed to working with PMC with our Lebanon Valley program," he said. "This is just a situation where the team wanted to go with a different manufacturer for our slick track program."
The new Garcia / Lombardo pairing plans to run as much as possible early in the year before Albany-Saratoga opens. This is an attempt to learn as much as they can about the new Bicknell, but LJ still has his eyes squarely set on bigger things.
"We thought about things, but aren't going to sign up for the Super DIRTcar Series just yet," he said. "We want to get our program built up more before we tackle that. However, we're going to hit as many of those events as we can…anywhere that is somewhat close to us."
Now, if you thought Lombardo was sticking only to Big Block Modified competition in 2021, think again. He's going to also slide a 602 GM Crate into one of his PMC cars and run as many events as he's allowed to. That will all kick off in March for the Short Track Super Series event at Georgetown.
"We're going to dabble a little bit with the American Racer tire races with the Sportsman car," he said. "We're committed to PMC with the crate deal too. Hopefully we can learn some with this deal as well that will help the Big Block program."
Lombardo will run as many Sportsman events as possible at places like Glen Ridge Motorsports Park and on the Short Track Super Series. What other type of events doe he have on his 2021 schedule?
"Between Malta and Lebanon Valley and as many races as Glen Ridge will allow a Modified driver to run in Sportsman, that will be our weekly commitments as of right now," he said. "We also have the Thursday night shows at Orange County Fair Speedway and tour races that are close by on our schedule. There's a lot going on for us this year."
Boy, Lombardo has crammed a lot into his first season as a full-time racer.
"Our schedule will have us bouncing around a bit at first," he said. "We haven't raced this much since 2016 but I know our team is ready for it. We have a great group of guys that put a bunch of work into this operation."
For this season, what does Lombardo feel will make it a successful one for he and his team?
"It'll be a success if we get wins and are running up front," he said. "We're throwing everything we have at this season to be successful. We want to be a contender each and every time we hit the track and will work on everything we have a hundred times harder to make that happen."
What does LJ feel will be some of the challenges he's going to face?
"Honestly, I think the struggle we'll be facing is going to be crew help at the track," he said. "We are on the hunt to find crew guys that want to help out at the races. It's so hard to find guys to hit the mid-week shows or even Friday night at Malta. We're searching for help now."
The 2021 season is going to be a busy one for LJ Lombardo. However, it's exactly the type of situation he thrives on. He feels he's ready but still has a lot to learn. The proof will be in the results.
If his past few seasons are any indication, 2021 will be no different. Fans will see Lombardo up front contending for wins.
LJ's Final Thoughts, In His Own Words
"We're starting the year with our same core group of guys. My father, Lew, has gotten heavily involved in the last few months which is awesome.
When it comes to sponsors, we are welcoming a few new people on board as well as several of our returning partners from last season. Paul Wehnau from Snap-On tools has been phenomenal to me and our team and will be the primary on all of our equipment. TC Facility Services, Stoptech, Gorsuch Performance Solutions, Garcia Motorsports, PMC Race Cars, Performance Engines by Billy the Kid and Fyne Line Building are all back on board for '21.
We want to welcome Beer Time as well as Collector Car Service & Sales to our program as well as all of our great product sponsors that help out.
I also have to thank my team and my family for their support. NONE of this would be possible without each and every one of them. You guys really have helped to make my dreams come true."