Column By: BOBBY CHALMERS / RPW – BALDWINSVILLE, NY – During the off-season, most track General Managers will tell you how great things were last season and what big plans they have for the new year. However, in the case of Brewerton & Fulton Speedway's GM Cory Reed, he doesn't really have to. The proof is plain to see.
All you have to do is look at any piece of video or photo from either track. The pits are always packed and so are the grandstands.
2018 was a great year for the Brewerton Speedway. Tight point races and great action week in and week out were a mainstay at the D-Shaped Dirt Demon.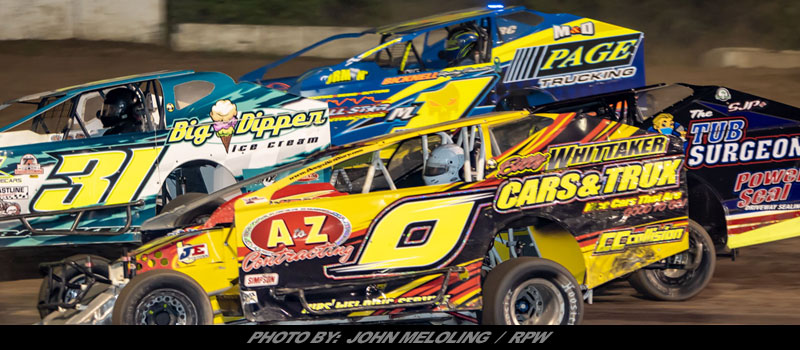 "Brewerton was very competitive last season," Reed said. "The point races for both Modified and Sportsman literally came down to the last lap of their main events on the final night. It was intense."
Reed says the key to the success of the Brewerton, NY oval is stability.
"All of our classes remained stable or grew last season," he said. We had to run twin features for Sportsman every week. We make sure everyone runs a main event. That's what's got it to this point. No one goes home without qualifying. That's how it works at our tracks and the teams understand we're trying to make it enjoyable for all."
That's not a bad problem to have, and the large field of Sportsman cars is also a "problem" at Fulton as well, sometimes forcing officials to run three feature events.
"The Sportsman at Fulton had around 55 cars last year on average," he said. "We think it should be the same this year and we're very happy about that, as well as the growth of the 358-Modified class there."
Last season, officials made the decision to change the headline class there to the 358-Modifieds instead of the Big Blocks. The change had its critics, but after year one, Reed said they are very happy with the results and optimistic things will continue to develop.
"The growth of the 358's is so very important for us and you can see it's happening," he said. "It really exceeded our expectations and we see a high ceiling for this project moving forward."
What was the biggest obstacle they faced with making the change? Did they overcome it last year?
"I felt like it was seeing if we could develop enough teams to run without losing our Big Block core," he said. "I think we were able to develop a bunch of new racers while still maintaining our Big Block base at Brewerton. We already know of four or five new 358's joining the mix for 2019. I can see between 20 and 22 cars weekly, hopefully more, with no trouble."
Over the past three years, speedway officials have been making improvements to both facilities to help make the fan experience better and still produce great racing. The grandstands and catchfence were just a few of the new projects implemented at Brewerton while renovations to the bleachers at Fulton were completed in time for the big Outlaw 200 Weekend last fall.
Owners John and Laura Wight along with Reed and the rest of the officials at both speedways work hard to produce the best product possible each and every week for competitors and fans alike.
"Things were very strong last year at both tracks and will be in 2019," Reed said. "Our weekly shows will be great and we've got some amazing events planned. From all indications, talking with competitors, we have a solid field of cars assembling as well."
Even with their special events planned, it's the weekly schedule that Reed is very excited to see.
"We've found great success in running 360 Sprints and Big Blocks on the same card so that'll happen three times this summer at Brewerton," he said. "We only have the one Super DIRTcar Series race (the Dual at the Demon) in September. Really our card the rest of the summer is a hard-core Friday night show."
Reed knows to be able to attract fans for those big special events, like the Dual or even the Hurricane 100 in October, you need to have a good foundation from your weekly attendees.
"There can be no specials without solid weekly support," he said. "That doesn't matter which track. We believe that's key. The Hurricane is obviously our biggest event of the year. This is our 26th time running it in 2019 and it's a big part of Super DIRT Week. It's one of the most popular events of the calendar for lots of fans as well as race teams and we're proud of the event's history."
That same philosophy goes for the high banks at Fulton as well. The weekly action is what drives the ability to have so many special events.
"We have a deep schedule for Fulton," he said. "We're going to have a good field of 358's, a strong Sportsman count and a lot of great competitors in our other classes. The Highbank Holdup continues to mature as our opening event (two-days) and the Outlaw Weekend (34th Annual) will continue as a mix of Big and Small Blocks."
One change on the schedule for 2019 is the elimination of the World of Outlaws Sprint Car event during Super DIRT Week. While they won't be at the track this year, Reed feels their time away is only temporary.
"That's an event that's simply on hiatus right now," he said. "I expect the Outlaws could return in a couple of years. However, our replacement event on that night will be announced soon and it should be a great event."
What could we see that night?
"The "Win & Your In" concept (a guaranteed spot in the Big Block Championship at Super DIRT Week) will remain to some level but we plan to make it a much bigger Modified race that night," he said. "The 360 Sprints were always a strong satellite class for Super DIRT Week back when it was at the Syracuse Mile, so we should see a great field that night too. More details to come."
It was recently announced that the Empire Super Sprints will sanction a $3,000-to-win event on that night at the speedway to go along with their race at Utica-Rome on Tuesday of DIRT Week.
In the end, what are Cory's goals and objectives he hopes to achieve this season?
"I would love to see our combined base of Big Block and 358-Modified teams continue to build," he said. "I'd also like to see our weekly support classes, besides the Sportsman, continue to grow. That will make things great at both tracks."
With the way everything is going for Cory and the rest of the team at both Brewerton and Fulton, I have doubt that they will continue to be two of the premier racing facilities not only in Central New York but in the Northeast.