Column By: BOBBY CHALMERS / RPW – ARLINGTON, VT – Since he was a little boy, young Ricky Davis has idolized Modified drivers like Kenny Tremont and Keith Flach. He's looked up to them for guidance as he moved up through the ranks in the sport of auto racing. Well, in 2019, he'll get to rub wheels with them on a weekly basis.
Sure, Ricky's run against Kenny in the 358-Modifieds at the Lebanon Valley Speedway and other tracks. He's even the most recent winner in the Small Block class at the 'Valley of Speed.' However, this coming season, he'll be fulfilling a dream. Davis and his team have secured a Big Block engine and will make the jump to the premier class at Lebanon.
"I'm so excited," Davis said. "It's going to be a fun year and a little hectic because we are going to try to run the Small Block as well."
Davis' main sponsor from last season, Mac Tools distributor Dave Prime Jr, purchased a motor from Elmo Reckner to get Davis into the Big Blocks, and for that, the young Arlington, VT driver is extremely grateful.
"Dave's really stepped up big for us and wants to do this," he said. "I can't thank him enough. It's going to be an experimental year for us, but we'll see how it goes."
Adding another driver to the field of Big Block competitors is something Lebanon Valley's promoter, Howard Commander, is happy about, especially seeing a new face move up from a lower division.
"Having a young driver like Ricky and his sponsor want to move up to the Big Blocks at Lebanon Valley is great," Commander said. "The engine they bought from Elmo will get their feet wet with the class and get Ricky use to the power of the Big Block."
According to Commander, Ricky's sponsor has eyes on doing more as well for the young racer.
"Dave (Prime) has expressed interest in purchasing one of the new motors we were working on last season for Ricky to run," he said. "He wants to get all of his money lined up so he can do so, but the engine they've got will allow them to run right now. I think they'll do well next year."
The new engine that Commander is referring to is a joint effort between the track and long time engine builder Mike Petrucci. During the 2018 season, Petrucci put together a piece that the Valley is hoping will be an affordable option for teams. They feel this will help drivers move to the Modifieds or stay competitive in the class.
Kenny Tremont, Brett Hearn, Andy Bachetti and a host of other drivers tested the engine last season to give input on how they felt it was, or could be improved.
"The engine will cost way less than the current motors," Commander said. "We hope that will help the longevity of the class. We're still working on things with it and developing the rules for it. We'll announce more at a later date."
For now, that's okay with Davis. He's just excited to get the opportunity to run a Big Block Modified at Lebanon Valley Speedway.
"I think we've learned a lot the last three years, running competitive in the Small Blocks," Davis said. "Dave's financial support has been what our program needed. We're ahead of schedule in the shop right now and the Big Block is coming along nicely. I can't wait."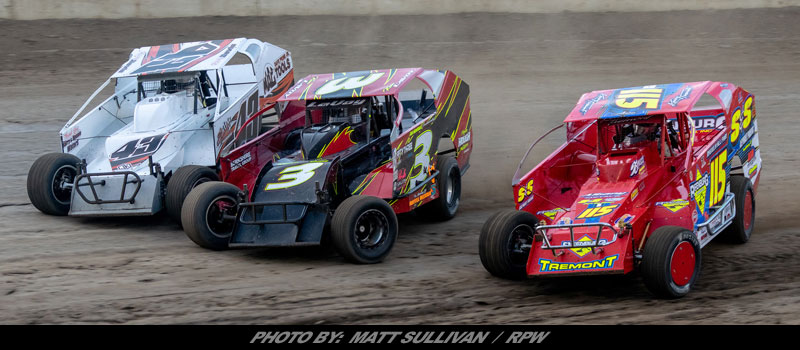 With the jump to the top class, Ricky knows he's got some learning to do, but he's up to the challenge.
"There will be a learning curve for sure," he said. "We'll take it one lap at a time and learn as we go, but my team is amazing and the support from my family and our sponsors is too. I can't thank everyone enough who's gotten me here. It really is a dream come true."
There's still one mountain that's staring Davis in the face as he prepares for his rookie season in the Big Blocks.
"The biggest challenge for us will be a financial one," he said. "If we have one major problem, we'll have to sit out for a while and regroup. Although Dave Prime has come through huge for us, we still don't have the budget some of the bigger teams have."
Though it's a hurdle he sees, Ricky is ready for the task at hand.
"I think that could be our biggest obstacle," he said. "However, we were very lucky with the Small Block last season. We never had to do anything major like chassis repair or replace any bumpers or side bars. That car doesn't need much to be ready, so I think that'll help us get stronger for this year."
Ricky Davis and his team are ready to get the new season going, but all involved have an eye on the future. The sky is the limit for this team and their major sponsor is working to invest in their longevity in the sport.
Young drivers like Ricky are exactly what the Modified division needs, and hopefully more will join him.
Note: More information and news about the new, affordable Lebanon Valley Big Block engine will be forthcoming through a series of columns over the next few weeks here in Race Pro Weekly.