Column By: BOBBY CHALMERS / RPW – SUSSEX, NJ – Even with grabbing two wins on the Super DIRTcar Series, 2018 was filled with inconsistencies for eight-time tour champion Brett Hearn.
The two Series wins came at the Outlaw Speedway on July 10th and then at the World Finals in Charlotte on November 3rd. However, it was the rest of the races that were a challenge to Hearn, who picked up seven top 5's and 14 top 10's in 24 starts along the way.
"It was definitely a year for us, filled with inconsistency," Hearn said. "We had some great runs but also some really bad runs. As we worked to get our stuff better, we were experimenting and you saw everybody doing that too."
As 2018 began, teams were looking for that competitive advantage with their cars and Hearn's team was no exception. As the racecars evolved, so did set-ups which forced Brett and company adjust what they had done for years.
"The landscape changed this year in terms of the technology with these cars," he said. "Everyone was scrambling to find what was best, including Matt (Sheppard) at times. We were all trying to get better and better."
Unlike an early season practice session, or the five nights of the DIRTcar Nationals in Florida where you can test for a good amount of time, race nights don't give you that luxury, and Hearn recognized that this past season.
"When you try and experiment, especially on the tour, there's no time to play around," he said. "You've got to come off the trailer, be fast, qualify well and have a good heat race. When you do that it's really easy, but that doesn't leave much time to mess around with set-ups. Sometimes, when you do, it's easy to get off your game plan. At times, everybody's done that, especially this year."
Also, in 2018, Hearn again entered the promotion ring once again with the Big Show X at the Albany-Saratoga Speedway. It was another magnificent night with a large crowd in the stands and a packed pit area.
"That's a really fun event that I put together with Lyle (DeVore) and Marcy (Mangino) and it's really gotten a lot of momentum," he said. "Always a huge crowd. This year, we had cars parked all the way down to the corner and to the light. That's the first time that's ever happened."
The event is a part of the Super DIRTcar Series schedule, and last year, it paid $10,000-to-win. DIRTcar even offered a guaranteed spot for the Big Block race at Super DIRT Week to the winner.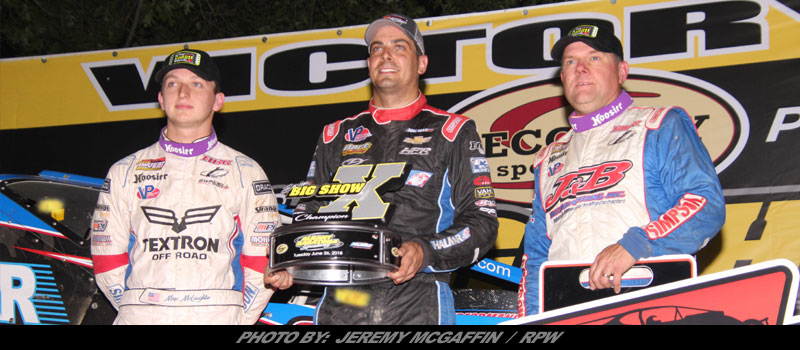 "The crowd size and success of the show really says a lot about the Series," he said. "That just proves that the fans know the best drivers are coming to town and that Lyle preps a great race track for us."
It also doesn't hurt that Albany-Saratoga has become one of the premier Friday night facilities to race at in the Northeast.
"A lot of the success of Malta has to do with the word of mouth," he said. "You go there and you're going to have a great track to race on. People like that, and they like our event. Now I just want to make it better."
The Big Show will take place again in 2019, for the eleventh year. It's set for Tuesday, June 25th.
Hearn had another banner year at his two weekly home tracks, Albany-Saratoga and the Lebanon Valley Speedway. He took home the championship at both tracks on the strength of consistency with a few victories sprinkled in.
It is unclear what Hearn's plans are for 2019, so stay tuned Race Pro Weekly for all the latest when he makes any announcements.