RPW Exclusive: Peter Britten's Looking For More On The Super DIRTcar Series In '19; Still Working On Weekly Plans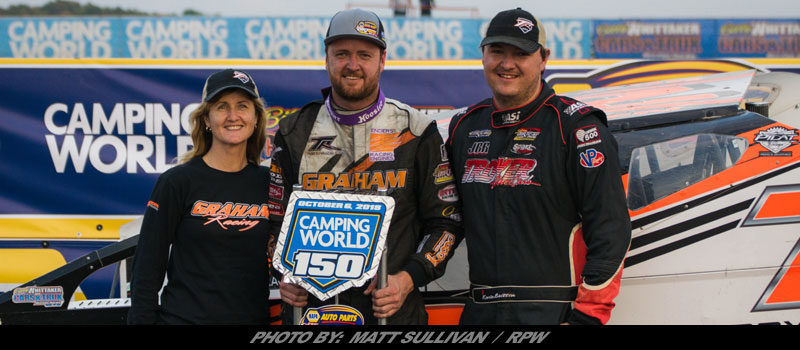 Column By: BOBBY CHALMERS / RPW – WEEDSPORT, NY – When the racing season ends, every driver feel like they could have improved. In the words of 'Batman,' Peter Britten, his year on the Super DIRTcar Series could have been better…well, that is, unless he was Matt Sheppard who was Champion yet again.
While Britten and his Graham Racing #21a team didn't win on the series in 2018, they did take home 17 top 10 finishes with a best run of third in the Billy Whittaker Cars 200 during Super DIRT Week at the Oswego Speedway. There's just something about putting clay on the 'Steel Palace' that suits Peter's driving style. Hell, he nearly won that event back in 2017 as well.
"I'm definitely one who would like to see them put dirt down on Oswego for good," Britten said. "I'd run there weekly if they did."
Britten sure has figured out something with that speedway. Not only has he had success with the Big Block there, this past October, he also took home the Salute the Troops 150 358-Modified Championship during SDW.
"Some things just click every now and again," he said. "Obviously, it's a different race there. You can prepare a little differently for it and can use the practice sessions during the week to your advantage to tweak on your race car."
Since hooking up with Ray Graham, whose teams have had success on the Oswego asphalt in the past, Britten has really taken to the facility.
"Our team just loves that event," he said. "It's unlike any other race and you give our team a chance to get better, we get better there it seems like. It works well for us, and hopefully Dirt Week stays there."
On the Super DIRTcar Series tour, Britten had success, finishing seventh in points and had four top 5's to go along with his 17 top 10's. However, victory lane eluded him. Even without a win, he really enjoys being out on tour and racing from track to track.
"It wasn't a bad year for us, but you can always be better unless you with the title," he said. "There's a great bunch of guys we race with. This is a great series and everyone is respectful. You can race hard all year long and not really tear up too much equipment. That says a lot for the guys we race with, and even when we go to tracks, the locals are respectful too."
Now on to 2019, Britten isn't sure where he'll run regularly, or even if he'll run a weekly track. Those negotiations are still ongoing between he and his team, but you'll still be able to see his Enders-powered Troyer Race Car out on the 33-race Super DIRTcar Series again next season.
"The DIRT Series is a pleasure to be a part of and we're going to do that again in 2019," he said. "We'll be out on the road once more this coming season and hopefully I can be doing this for a long time."
Last season, Peter had good luck when he ran at the Land of Legends Raceway Park. While he only competing in 10 events, the Brisbane, Queensland, Australia native did score two wins, five top 5's and was in the top 10 in all but one event.
Even with that type of success, Britten doesn't know where he'll run this coming year.
"Since officials made the rule change last year, we don't have to chase any home track points as part of the Series," he said. "However, if you think you'll be good enough without racing the weekly tracks, you're sadly mistaken."
On those Saturday nights when they weren't at the Canandaigua track, Britten and the Graham team were still racing. They made stops at other tracks to prepare for series events. The 21a was spotted at Lebanon Valley and Fonda, among other places, but Peter still feels running one track has its advantages.
"Yeah, we did go to other tracks, but I still think your better off doing the one-track deal instead of roaming around," he said. "We're working on our plans for 2019, but for me, I'd actually prefer it."
No matter where he runs, Peter Britten will be in the hunt for wins and championships. His equipment is top notch. He has a team that believes in his ability to get the job done and is one of the more likeable drivers in the pit area.
In 2017 he won the Albany-Saratoga Speedway title on the heels of two-straight wins to finish off the season. He got hot at the right time that could happen again in 2019 on tour or wherever he runs weekly.
Mark my words…keep an eye on "Batman!"