Column By: BOBBY CHALMERS / RPW – SPENCERTOWN, NY – Rob Pitcher ended his 2020 racing season right where every racer wants to be…victory lane…at Lebanon Valley Speedway.
The veteran campaigner is hoping to pick up right where he left of this season, with a couple new race cars, some fresh powerplants, a solid team behind him and an unlimited supply of confidence.
Pitcher, an eight-time winner at the Valley of Speed, finished ninth in points last season behind the wheel of a 2020 Teo Pro Car. This season, he'll have one of Bobby & Matt Hearn's new Elite chassis at his disposal. Can he parley the success he had with last year's car into some of the same in '21 with the new machine?
"We were pretty happy with our 2020 Teo and I think this car is even better yet," Pitcher said. "Matt and Bobby have been great to work with. I'm pretty confident we will be competitive this year, and that all starts in Florida."
Pitcher, who has a residence in the Sunshine State, will be entering every Modified event this off-season in Florida. He'll attempt the 'Sunshine Swing' for the Short Track Super Series at Bubba Raceway Park before heading to Volusia Speedway Park to compete in the 50th annual DIRTcar Nationals.
The interesting thing about this is that Pitcher has already made his way to Florida. Not only that, on Friday night, he got his first laps of the season in with his new car.
Pitcher attended the open practice night at Bubba Raceway Park and to say he's happy with the Teo Elite's maiden voyage would be an understatement.
"Thin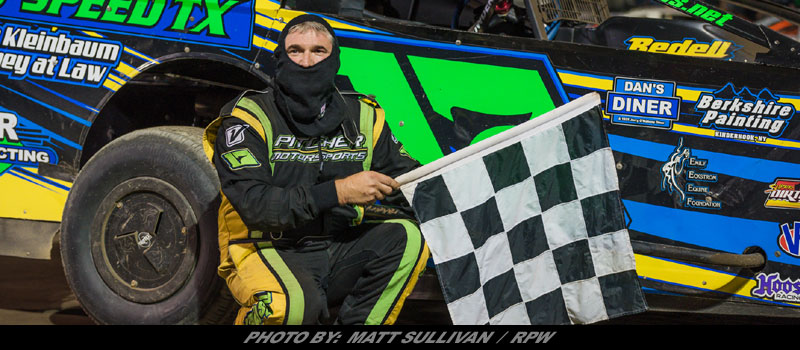 gs went pretty well Friday," he said. "We got to run about eight sessions and we just kept working on making the car better. This thing has better grip and side bite and I'm excited to see what we can do with it."
The Short Track Super Series events will be Pitcher's first time ever on the American Racer tire. To prepare for that, and being that he was testing at Bubba, Racers were what he had bolted on the car Friday night. What did he think of them?
"They seemed to have more traction than the Hoosiers," he said. "It'll be a learning curve to get them figured out, but we'll be ready."
The Pitcher team only has Big Block Bedell Racing Engine horsepower for the Florida swing. Does Rob think that'll be the right combination at Bubba?
"I'm not sure how we'll do in (Brett) Deyo's races," he said. "We only have Big Blocks and I'm uncertain if those monster Bedell engines are right for that track."
In trying to combat the power of the Big Block, Pitcher and his team went to work Friday night. They tested some ideas to try and make the motor friendlier for the track and things seemed to head in a positive direction.
"We did a few things to try and calm the engine down," he said. "By the end of the test, we were pretty happy."
Looking ahead to the 2021 season in the Northeast, Pitcher is excited to get the new year going and believes he can pick up right where he left off at the Valley.
"I think we'll have a great season at Lebanon," he said. "We had that car dialed in last year and I feel we were on to something. Our team tried a lot of different combinations of springs and shocks and now we have a good baseline to start 2021."
What would make this coming season a success for Pitcher and the #17 team?
"Our focus is set squarely on a top five in points at Lebanon Valley," he said. "We want to get that and a couple wins. That's the goal we're shooting at."
For the past few seasons, as many of his competitors have made their way to the Bicknell camp, Pitcher has kept strong in Teo Pro Cars. While he does have a Bicknell in his shop, Rob plans to keep his focus on the Teo Elite.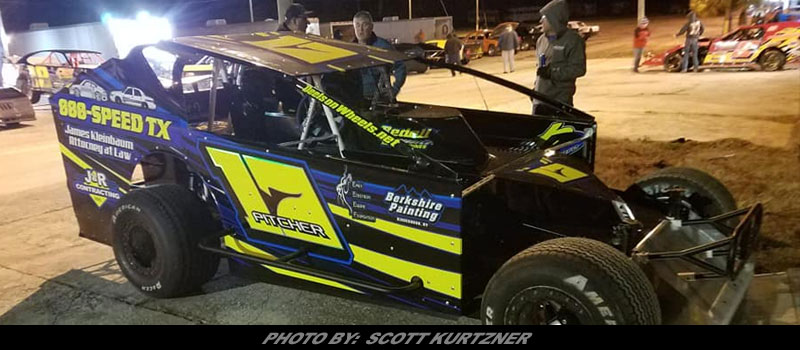 "I think this new car can compete very well against the Bicknells," he said. "I really believe they have a good car here. We have both in our shop but we're going to put our best effort into the Teo and see what we can do."
If that's the case, does Rob have any plans for the Bicknell this season?
"We'll run that car at times this season," he said. "It's a 2020 and we're going to run some events probably at Albany-Saratoga with it. We'll see how things go."
The last time Rob Pitcher ran an event in competition resulted in a win. Confidence is key for any racer and Pitcher is no different. Hopefully he can turn his recent success into some good runs in Florida before coming back north to chase checkers on the High Banks.
Note From Rob In His Own Words…
"I couldn't do this without the support of my amazing wife, Lynette, who's always been behind me 100%. I love you so much!

I also have to thank my team, who are just the best group of guys to race with. Woody, Chris Rundell, Vinny Visconti, Todd Dyer and Devin Slovak…I couldn't do this without you.

I also have to thank my sponsors for their support of our team…James Klienbaum Attorney at Law, J&R Contracting, Berkshire Painting, Emily Eckstrom Equine Foundation and DeelsOnWheels.net. Without all of these people behind our team, we wouldn't be able to do it.

Thank you all!"