RPW Column By: BOBBY CHALMERS / RPW – WEST LEBANON, NY – On Sunday afternoon, Brett Haas' mother, Tanya, posted on social media, "There's nothing more rewarding then watching your child's dreams come true."
That's just what happened last weekend at Lebanon Valley Speedway when Haas crossed the finish line to capture his first career Big Block Modified win.
The Pittsfield, MA driver may have had luck on his side, starting from the number one spot and a caution-free feature event, but it was by no means a cakewalk. He had to fend off a hard-charging Wayne Jelley to collect the victory and put a checkmark in Lebanon Valley Speedway history.
"This win was almost on the same level as my very first victory at Lebanon in the old Sportsman class," Haas said. "The first one is always special because it proved that you're good enough to win. Winning in the Big Blocks just takes it to another level."
The most amazing part of this story isn't that Haas won the feature as a rookie. It was the generosity from a fellow competitor who helped him get back on track.
To start the 2020 racing season, Haas had a stout Mike Petrucci-built Lebanon Valley spec engine under the hood of his car. Opening night, he took the engine to a runner-up spot and many, including his fellow competitors took notice. Unfortunately, on July 4th, something went array with the motor.
With no idea what to do, Olden Dwyer and his father, Ron, stepped up and offered the 55 team one of their engines and that's what powered their car to victory lane.
"There aren't too many people that will go out on a limb like this for you and offer an engine," he said. "I feel like we partially got a win for them as well. You always hope you have a shot to get a win, but never expect it to happen, and happen so soon. We're all still on Cloud 9."
For the final handful of laps, Haas had fellow Pittsfield, MA native Jelley closing in on him. Did he know he was there?
"I'll be honest, I didn't know he was that close," he said. "It's probably a good thing I didn't. I watched the video and saw that he was at my quarter panel with two to go. Luckily I was able to stay consistent and get the job done."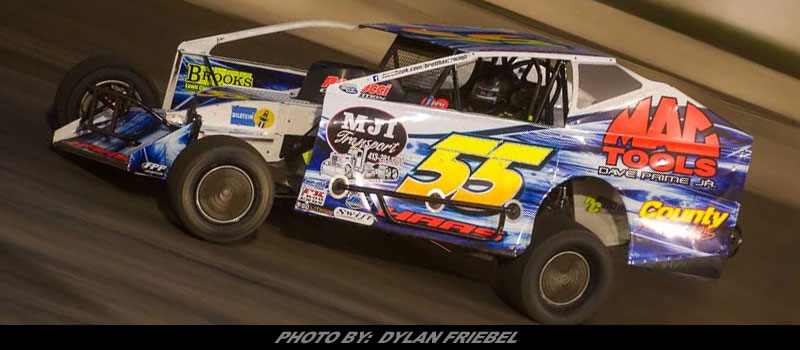 Anyone who listened to my podcast, the Slide Job, that I did with Brett back in April knows that he use to love sitting in the stands, playing with the matchbox cars in the dirt while watching his dad win races…all the while dreaming of the day he'd get his shot. Well, Saturday night, he got that chance, in the premier division at the track, and did his parents proud.
"From playing in the sand watching my dad race to winning on the biggest stage at Lebanon Valley, it's taken 26 years to get here and this is just so unbelievable," he said. "To say this is a dream come true would be a total understatement."
Haas is a driver who wears his heart on his sleeve, as seen by many who got to witness his victory lane interview with John Stanley. Tears were flowing from his eyes; his voice was cracking as he realized what he'd accomplished. How was he able to keep things in check?
"On the last lap, I really had to focus," he said. "I had to keep my mind on the task at hand and not let me think about how close I was to actually winning. I had to tame my emotions so I didn't make a dumb error and throw it away."
No errors were made and Haas parked his Dave Prime Mac Tools #55 in victory lane.
"Knowing the talent I'm racing against each week, the funding it takes to run in the Big Blocks, it's amazing to realize what we accomplished," he said. "However, it's not just that. It also takes the time to work on the cars but also do your research so you can give yourself the best chance at winning. When it finally happens, it's a flood of emotion."
Now that the pressure of the first win is gone, does Haas feel better?
"It feels like a huge weight has been lifted off my shoulders," he said. "It proves that all the time, money and effort my team and marketing partners put in was worth it."
For second place finisher Wayne Jelley, he feels like one got away from him on Saturday night.
"When you get up and are contending for any victory, you need to make the best of it," Jelley said. "I thought I had a shot towards the end there. I made a couple mistakes and lost some ground but my hats off to Brett. Congrats on his win."
Jelley is running a brand new Teo Pro Car this season and has been working to fine tune it all season and Saturday was the best it's run yet.
"I have to thank Matt and Bobby Hearn from Teo and my crew," he said. "They have all been working so hard on this thing and we have a pretty good car. We've been fast all year but just had some bad luck. I just need to thank everyone involved. This thing is fast."
JR Heffner, Peter Britten and Brian Berger completed the top five at the Valley. Heffner had a good car after starting in the fifth position, but just need at least one caution to help with track position.
"We had a strong car that continued to get faster as the feature went on," Heffner stated on his social media page. "Unfortunately, it was too much ground to make up. This was a very strong third place run to hopefully turn things around for the stretch run of the season."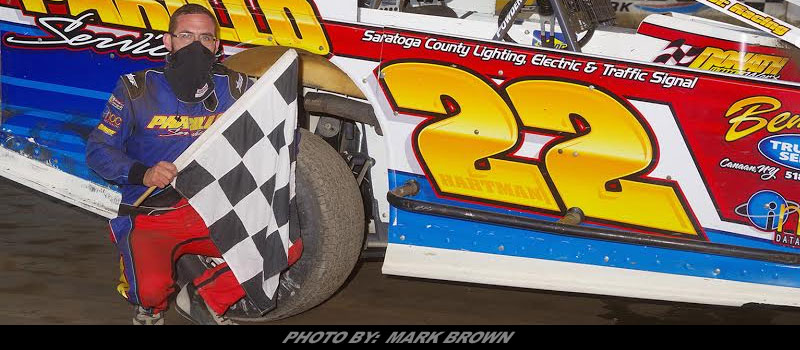 Berger put in another strong performance and was able to drive to his second consecutive top five finish. The Phaze3 Racing #60 is clicking right now, and sits fifth in points, just 12 markers behind his brother-in-law, Kenny Tremont.
"We started 12th in the feature and drove to fifth with no yellows," Berger said. "I had a blast out there. The track was awesome and our Bicknell car was great to drive. Hopefully we can keep the good finishes going."
With the Fonda Speedway closed for a few weeks, Tim Hartman Jr. and his team decided to bring their Parillo Services #22 to the High Banks to compete against the best Sportsman the Valley had to offer and, in two races run, the worst he's finished is third.
That third place run came on July 18th. Last Saturday, he passed leader Joey Coppola on lap 13 and had to hold off a determined John Virgilio but was able to do so and took home the victory.
"Right at the end there, I saw John (Virgilio) start to stick his nose underneath me," Hartman said. "He's the man to beat here and has been for a long time."
Over the last few laps, Hartman changed his line up a bit so that he could try and hold the lead.
"Seeing his nose made me think maybe I needed to move down a bit," he said. "If doing that wasn't faster than him, maybe it'd hold him up a bit. Then I just tried to make the car as wide as I could."
Hartman, who use to be a regular at the Valley earlier in his career, last picked up a victory in April of 2011.
"It's just good to be back here," he said. "I always had fun racing at the Valley but we've been able to do some other things as of late. We had the chance with Fonda being shut down to come down here for a couple weeks and we've been fast."
It seems that no matter where Hartman runs, his car and team are good.
"It just shows that we're able to adapt wherever we go," he said. "That's something that I'm so proud of with this team. I can't thank everyone who supports this program enough. This is for them."
Defending champion Virgilio came up just one spot short of his second victory of the season.
"We started 14th in the feature and fell one spot shy," Virgilio said. "Coming across the line in second after starting deep and winning our heat shows we had a great night overall."
Coppola, Robbie Knipe and Peter Carlotto completed the top five.
For 19-3/4 laps, Zach Seyerlein was running the race of his life. From lap 14 to the finish of the Pro Stock event, he had to fend off former division champion and current point leader Chad Jeseo.
Seyerlein was able to do that until the two went into turn three on the final lap. His #33 slid just out of the grove and the 25 of Jeseo went by for his third win of the season.
"It really breaks my heart to take one from Zach." Jeseo said. "He's a great kid and I like all the guys on that crew. I lost my first Pro Stock win just like that, believe it or not, but he'll have plenty of wins coming his way for sure."
After destroying his other car last week at Albany-Saratoga, Jeseo ran his Valley car at the Malta, NY oval on Friday and came away with a runner-up finish. Saturday, he did one better.
"This is night two of our three-night run here," he said. "I got my boys in high gear right now and we're just burning the midnight oil…running the next place we can and I can't thank the track and all of our sponsors for their support. This really is great."
Rick Duzlak, Steven LaRochelle and Phil Arnold were positions three through five in the Pro Stock rundown.
Scott Morris, Jay Casey and John Devine took home the three Pure Stock feature event wins with Brandon Ely and Gary Malloy taking wins in the 4-Cylinders.