RPW Column: Get To Know Laurie Fallis; The Lady Behind The Mohawk Valley Vintage Dirt Mod Series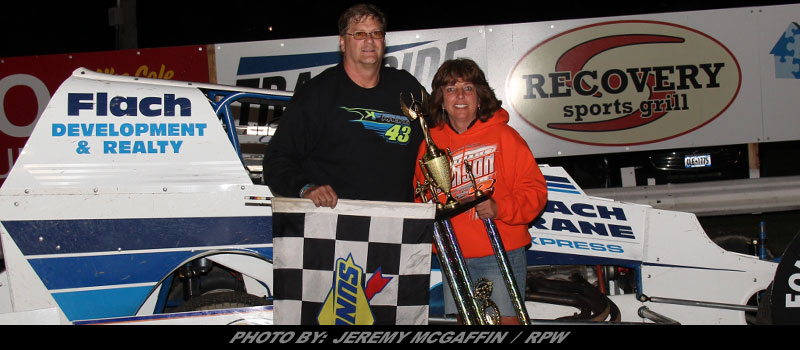 RPW Column By: RAY ROGERS / RPW – FONDA, NY – Every Saturday, families and friends gather at the Track Of Champions to share in the excitement that the historic half-mile along the Mohawk River provides. The past few race weekends, as I strolled the infield, I couldn't help but notice all the families enjoying the racing.
This past time, I spent my evening with one of my favorite racing families…fellow RPW team member Laurie Fallis and her boys. Some of you may know Laurie as a columnist here but she's much more than that. She's a true asset to the racing community.
Unlike many of us, Laurie didn't grow up at the race track. She spent her youth playing baseball in the local sandlots with the neighborhood kids. Laurie spent her summers attending Yankees games, cheering on her hero, Thurman Munson.
It was not until meeting future husband, Drew Fallis, in the early '80s that Laurie discovered racing. Drew was already an established driver when the two met. She remembers the year she fell in love with the sport.
"I remember it was 1984 because Jack Jonson went four-for-four that year," Fallis said. "Drew was a Jack fan but I rooted for Ray Dalmata."
They would marry in 1985 and have two sons, Kyle and Tyler, but that did not slow the Fallis family down. Drew and Laurie would go on to field winning Sportsman cars and raise a family from their home on West Street in Johnstown, NY.
It was during that time that Laurie also began her writing career, penning a weekly column in the Fonda Flyer…"The Sportsman Voyage."
Unfortunately, the two would go their separate ways in 2004 and Laurie would continue racing on her own. She had already spent some time behind the wheel in the Powder Puff division and Enduros, scoring nine combined wins at Fonda.
In 2005 Laurie, or "Fast Fredda" as she was known to her fans, began racing 4-cylinders at the Glen Ridge Motorsports Park. She also claimed her first track championships and scored 15 wins over the years.
Laurie would also venture to Five Mile Point for several seasons, take home another championship and scoring many wins in the 4-Cylinder division.
Laurie has since hung up her helmet, returning to the same grandstands where she fell in love with the sport. Now she enjoys her time watching with her boys and her grandsons, Ryan and Darryn. The family travels all over the Northeast, chasing racing action and are regulars at Albany Saratoga, Glen Ridge and Fonda.
It was at Fonda that I met Laurie a few short years ago. I remember we were just chatting at the museum and someone mentioned that I wrote for this magazine. She was immediately interested and I got her in contact with our editor, Bobby Chalmers.
Soon after joining Race Pro Weekly, Laurie was offered the opportunity to take over as promoter of the Mohawk Valley Vintage Dirt Modified Series (MVVDMS) from Founder Buck Gasner. Gasner had decided to focus on his racing career.
Under her leadership, the Series has become the premier Vintage Dirt Modified racing organization in the Northeast. She attributes her love of the history of our sport to the success of the series.
Laurie is a wealth of racing knowledge and is looking to pass that knowledge along to the next generations through the MVVDMS.
"Racing is 95% my family," she once told me. "I have met so many great people through this sport. Watching my sons and now my grandsons grow up around racing and loving it as much as I do is just special to me."
Laurie Fallis has pretty much done it all in racing. From turning wrenches to running the show, her passion and love for the sport shines through in everything she does. She is adored by her sons and grandsons and respected by competitors.
However, the thing that resonates with me is that she considers everyone at the race track part of her family…a family that I am proud to say I'm part of.