RPW Column By: BOBBY CHALMERS / RPW – PITTSFIELD, MA – Nowadays, we've all heard the phrase "pay it forward." Do something nice for someone because someone else had done something nice for you. It's a mantra we should all live by, and for multi-time Lebanon Valley Speedway Sportsman Champion John Virgilio, it's a term that takes on a whole new meaning in 2020.
Virgilio, who also has a championship in the CRSA Sprint Car Series back in 2011, got his start in the Sportsman division with the aid of Big Block Modified racer JR Heffner. Well, this season, Wayne Jelley, whose Big Block Modified career was also aided by Heffner, is going to give Virgilio a chance to race in the headline class at Lebanon Valley.
"Believe it or not, JR gave Wayne his first Big Block opportunity years ago," Virgilio said. "Wayne said he had a few good runs in one of JR's cars which sparked his Modified career. After some people saw that he had the ability to drive. After that, some sponsorship came along and eventually he was able to put together his own deal.
Hence, the opportunity Jelley is presenting to Virgilio.
"Wayne's expressed that he's hoping something similar will come along for me," he said. "I'm very grateful for that."
The deal, which is starting out as only for a handful of races this season, will have the young Pittsfield, MA police officer taking control of Jelley's second car, a 2016 Teo Pro Car, equipped with the team's spec-headed engine. This is a chance of a lifetime for Virgilio who is hoping this may lead to bigger things.
"This whole deal came together pretty quickly," he said. "My father (former LVS racer Gary Virgilio) and Wayne were at the race shop one night talking racing. At some point in the conversation, Wayne brought up the idea of giving me the chance to drive his back-up Big Block car."
Not wasting any time, the elder Virgilio made a call to his son.
"My dad told me about it the next day so I called Wayne," he said. "Over the next few days, we talked several times and put together a plan for me to run the car. It all happened so fast."
Virgilio, who will also try and defend his Sportsman championship from 2019 with his own team, is beyond excited for the opportunity to get his feet wet in the Modified division this season.
"In my career, I never thought I'd get a chance to race anything at Lebanon Valley, let alone a Big Block," he said. "Our goal is to have the car fully prepped and ready to go for warm-up day and opening night. That plan is right on track. After that, I'd say it'll be a race-by-race deal, but we're going to try our best to be there every week."
The car is currently being maintained in Virgilio's shop by his own crew, which, ironically, is one street away from Jelley's in Pittsfield. The combination of Jelley's help and the Virgilio team has John really looking forward to the new season.
"I think with Wayne's equipment and experience along with my father and crew's knowledge, we can be competitive," he said. "I've run Lebanon for almost 10 years now, and although the Sportsman aren't a weekly class there, I've turned a lot of laps on the 'High Banks.' I'm more comfortable there than any other track."
What type of goals does Virgilio have for the Big Block program this season and the future?
"Our goal is to be competitive as quickly as possible," he said. "Once we can do that consistently, we'd like to chase that first win. As I get the hang of the differences behind the wheel of a Big Block, I don't see why I couldn't stand in victory lane at some point. But that's down the road. Right now, I just want to be competitive."
As stated before, while his team is prepping the Jelley car to run in the Big Block division, they are still getting their own equipment ready to go after another Sportsman crown. The Virgilio team has worked hard this off-season to try and get as much of an advantage on their competition as they can in pursuit of another title.
"We've been doing a lot of research into some aspects of the car that most people overlook," he said. "I think that should give us a good advantage, but coming back after a championship is always tough."
Virgilio knows getting another crown won't be easy.
"It means you were really good the year before, but you have to keep digging to stay on top," he said. "You know everyone else will be, so we're still pushing hard with the Sportsman program to make sure we're the best we can be."
On April 18th, Lebanon Valley's lid lifter for the 2020 season, Virgilio will be pulling double duty, running both the Big Block and the Sportsman. Is he worried about that?
"Back when I raced Mini Sprints, I ran two cars each night," he said. "I loved it. It made me a much better driver, getting so many laps in each night. There's definitely going to be a learning curve but we're doing our best to make sure the Teo (Big Block) is as comfortable for me as our Bicknell (Sportsman)."
In addition to seasoned veterans like Tremont, Flach, Bachetti, Marshall, Heffner and his car owner, Wayne Jelley, a few new drivers will be inserted into the Lebanon Valley Big Block fold this season. Former track champion Mark Flach is returning to the seat of a Modified for the first time since 2013 and former Valley Sportsman champ and Modified Rookie of the Year Bobby Hackel will be rejoining to the Big Block wars at the speedway this year.
Another driver coming back to Lebanon in 2020 will be Jackie Brown Jr., but there's one driver Virgilio is very close with that's also be making his 'official' Modified debut on April 18th….fellow Pittsfield racer Brett Haas.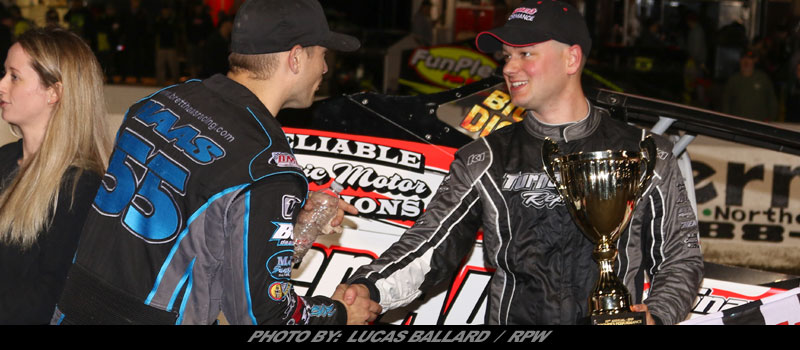 At this point, both Virgilio and Haas will be competing for Rookie of the Year honors. How cool is it to be racing a good friend in the headline division at the Valley?
"I haven't raced against Brett since our old kart days close to 15 years ago," he said. "I'd love to win the Rookie award this season, but as long as we're not banging wheels while racing for 20th, I'll be happy. It'd be cool to race competitively with him in the premier class up towards the front."
Does Virgilio see a future where he takes his own team to the Modified division?
"I would like to think so," he said. "Obviously, the biggest burden is the financial aspect. However, if we could knock out some good finishes and turn a few heads, maybe we can get some help in that department at some point."
Is his team ready for that challenge?
"I know my crew is more than capable of preparing a competitive Big Block car," he said. "It's just putting together the rest of the puzzle that's difficult, but you never know."
John Virgilio is extremely grateful for the opportunity Wayne Jelley has afforded him this season. He will have good equipment in the Big Block class while testing the waters, the same way JR Heffner did with Jelley. Could this be the beginning of a long Modified career for Virgilio?
That is left to be seen, but this partnership just proves that 'paying it forward' can even be found at the race track. This is a pretty cool deal that could be the start of something truly special.
Final Thoughts From John In His Own Words…
"First and foremost, I have to thank my Dad. He devotes an incredible amount of time into my racing and I'd be sitting home without him. It'd be a dream come true to win a Big Block race for him.

I also have to thank Phil Wicker and Rick Shea for all they do as well as Wayne Jelley for the amazing opportunity and trusting us with his equipment.

I can't thank my fiancé Bri enough for the support she gives while taking care of the kids and allowing us to do this.

I also have to thank all of our marketing partners for their continued support as well as my mother, grandparents and the rest of my family for always being there for us and believing in us."