Column By: BOBBY CHALMERS / RPW – WEST LEBANON, NY – On Three separate occasions,  Matt Pupello thought he'd be sitting in victory lane at Lebanon Valley this season.  The first two ended in disappointment, but the third time was the charm as Pupello captured the King of the Track Saturday evening and a cool $7,500 first place prize.
Pupello started from the pole in the 30-lap main event but it was by no means a cakewalk. For the first 19 laps of the event, the driver of the #42 had pulled out to a full straightaway lead over Olden Dwyer.
However, an engine failure by Dwyer on that circuit made head starter Rodney Rescott throw the yellow flag and put the #4 of Andy Bachetti right on his back bumper.
When the green flag dropped again, though, Pupello took off, and went on to grab his third career Big Block Modified win, and first in over six years. He also grabbed the checkers with an experimental engine that was developed by Lebanon Valley Speedway and "Motor Man Mike," Mike Petrucci.
"It's been way too long to get back here," Pupello said. "A lot of unfortunate circumstances…flat tires and things like that over the years. It really makes you start to wonder how long it's going to take to get back here."
After taking a year off from racing full-time at the Valley, Pupello returned in 2019 with as the test driver for the experimental engine and was quick to give a lot of the credit for this win to the Petrucci's.
"I can't thank Mike and his son, Kevin, enough," he said. "They developed this whole engine package and have been at my shop all summer long. They drive up from Connecticut two hours just to get there and work on this car. They put just a ton of work into this program and they've helped me more than anybody in all my years combined. I couldn't have done it without them."
He also thanked the promoter of the speedway, Howard Commander, for letting him be the test person for the engine.
For second place man Andy Bachetti, it was a nice rebound from a 19th place finish of a week ago, but he wanted more.
"The track was really good tonight," Bachetti said. "Congratulations to Matt and his whole team, but I can't say enough about my team and what they do for me but we would have liked to win."
Bachetti and his crew built a brand new Bicknell machine after the accident in the last event and it was fast right out of the box. That shows the dedication and determination of his team.
"We had to build a whole new car and it seemed pretty good for the first night out," he said. "We still have to work the quirks out and go from there but go from there."
Point leader Kenny Tremont fought hard all race long to bring his #115 to third at the finish after starting in the 15th position. Mike King was fourth and Keith Flach was fifth.
Second place point man, heading into the night, Peter Britten, could only muster up a 12th place finish, and now sits 24 markers out of the top spot.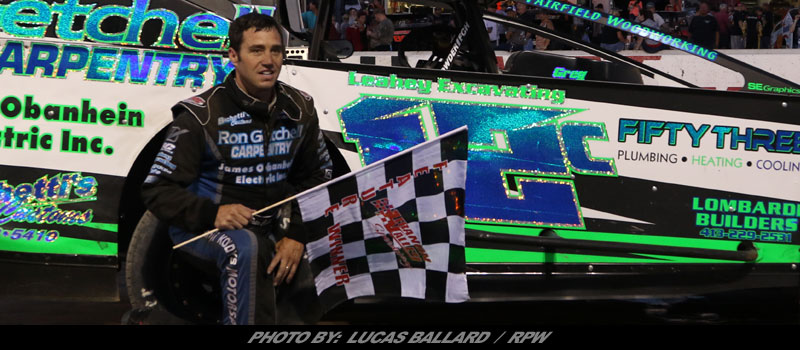 In the Sportsman feature event, it looked like Chris Lynch was well on his way to his first victory of the 2019 season, but Peter Carlotto had other plans. Lynch took the lead from Robbie Coburn on lap 12 and looked like he was well on his way.
That was, until the 12c of Carlotto made the pass for the lead on the inside heading into turn three with just two laps remaining and went on for the victory.
"Our car was just phenomenal tonight," Carlotto said. "Greg Bachetti has been working hard on it and it was just on rails tonight."
Track conditions seemed to play into Carlotto's hands on Saturday night.
"The track was in beautiful condition tonight," he said. "The slipperier tracks seem to separate the men from the boys but I'll take it."
For second place Lynch, it was unimaginable. The Connecticut racer had victory in his hands only to see it slip away with just two circuits remaining.
"To lose in that fashion is heartbreaking," Lynch said. "We've been having one of the worst years we've ever had and my guys made this car a rocket ship tonight. Not taking anything away from Peter. He did an awesome job but man we wanted this one."
Lynch got quite the scare in warm-ups to start his night. A bolt on one of his steering box brackets got caught on his throttle linkage and held the throttle wide open. His team got busy to find a smaller bolt and made the change in time for him to run his heat race.
"I really need to thank God because he kept me safe," he said. "Earlier the throttle stuck and I almost plowed it into the fence. He sure was looking over us tonight."
Joseph Coppola, defending champion Whitey Slavin and Kevin Arnold rounded out the top five finishers. Point leader heading into the night, Rob Maxon, was an early retiree from the race after the input shaft on his transmission failed and he had to pull pitside.
Maxon was running strong at the time but never returned to the race, finishing a disappointing 22nd and lost the point lead to John Virgilio. He now sits 21 behind the leader.
The Pro Stock feature was one of the best of the season as the father / son duo of Jason & Jay Casey duked it out with fellow Canaan, CT campaigner Richie Crane and Jason Meltz to see who could take the victory.
In the end it was the younger Casey crossing the line first for his third win of 2019, taking the win away from his father with just a handful of laps remaining.
"I kind of feel bad about how it went," Casey said. "Dad had a good car and was running a good line. I don't know what happened. He shoved the nose a little bit and I thought was going to get into the back of him, but luckily we didn't."
Jason understands just how hard his dad and their team have been working to try and get the 322 back into victory lane this season.
"He's been hunting real hard for a win all year," he said. "It's a little bittersweet to be sitting here instead of him, but we'll take it."
After starting in the 13th position, Casey had to work his way through some crazy traffic to get to the top spot.
"It was real hectic out there all the way through the race," he said. "I just knew I had to be patient tonight…let all the door-banging get sorted out and just stay in the hunt until the end."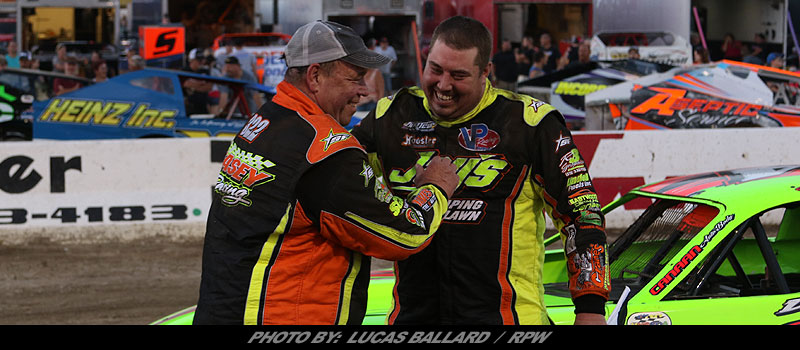 Father Jay came home in the runner-up spot with Meltz third, Steven Larochelle fourth and Chad Jeseo rounding out the top give. The points are now ever so tight atop the Pro Stock division as the Caseys are now only separated by three points. Dad leads son with Meltz 40 points out of the lead.
John Devine and Zach Seyerlein took home the Pure Stock race wins with Jon Sheppard (Single) and James Street (Dual) taking the 4-Cylinder victories.
News & Notes…
Peter Britten was sporting some new signage on the quarter panels of his Big Block Modified Saturday night. Northeast Custom Flatbeds has come on board Britten's Valley program for the rest of the season as he chases after his first track championship.
"The owner of Northeast came to me and said he hated seeing blank race cars and wanted to know what it would cost to be part of our team," Britten said. "We worked it out and now they're a part of our team and I can't thank them enough. Hopefully they like what they see and want to be even more involved."
Olden Dwyer's night started out a little hectic. In warm-ups to start the night, the #88 began breaking up off the corners. When they team got to the pit area, they noticed that the fuel pump had quit.
Dwyer picked up a new fuel pump as soon as the session was over and the team went to work to change it. He easily won his heat and was running a solid second in the feature with just 11 laps remaining when the engine let go in his #88 machine.
Mike King wasn't even able to make a lap in early night warm-ups. As the veteran driver brought his #55 to the center of the pit area to line up, his crew came running over because they noticed a small fluid puddle in their stall when he left.
When they went to check while King was in line, they took the hood off and noticed the problem…the power steering pump. The pulley was flexing back and forth, which it's not supposed to do.
The team changed to their back-up pump and were ready for their heat race, where the 55 qualified handily and parleyed that into a fine fourth place finish in the feature.
Sportsman campaigner John Stowell was racing at the Valley on Saturday and came home with a 12th place finish. With the Sportsman off from the Valley until mid-August, Stowell plans to hit the road.
He has stops at Albany-Saratoga and Fulton Speedways on his schedule and may hit a few more tracks if time permits.
Unfortunately, his night got off to a rocky start as the left front spindle in his #8 machine broke in warm-ups and completely destroyed the hub as well.
Stowell and his crew thrashed to get the repairs made in time for their qualifying event.
Karl Barnes had problems in early night warm-ups with his Autopart International #307 Sportsman. The car was popping and skipping like crazy which didn't allow him to make a lap under speed.
By the end of the night, Barnes had made all of the laps and came home 13th in the feature.
The hardest hit of the evening was taken by Don Kennedy in the second Pure Stock feature. Multiple cars came together off of turn two and one came across the track, right in the path of Kennedy's #89K.
The former Sportsman and Pro Stock campaigner went spinning hard into the inside retaining wall, hitting it so hard that it broke the Jersey barrier in two. The impact sheered off the car's fuel pump and caused a small fire.
Kennedy was able to get out okay, albeit very sore. However, he tells reports that he'll be out for a while as the car is more than likely unrepairable.
Modified Results (30 Laps) -1) Matt Pupello, 2) Andy Bachetti, 3) Kenny Tremont Jr, 4) Mike King, 5) Keith Flach, 6) Eddie Marshall, 7) Kyle Armstrong, 8) Ronnie Johnson, 9) Kolby Schroder, 10) L.J Lombardo, 11) Brian Berger, 12) Peter Britten, 13) J.R. Heffner, 14) Marc Johnson, 15) Denny Soltis, 16) John Ruchel, 17) Ricky Davis, 18) Josh Marcus, 19) Paul Gilardi, 20) Olden Dwyer, 21) Steve Hough, 22) Chad Jeseo, 23) Kyle Sheldon,
Sportsman Results (20 Laps) -1) Pete Carlotto, 2) Chris Lynch, 3) Joseph Coppola, 4) Whitey Slavin, 5) Kevin Arnold, 6) John Virgilio, 7) Cody Ochs, 8) Pat Jones, 9) Bobby Knipe, 10) Robbie Colburn, 11) Ted Teal, 12) John Stowell, 13) Gary O'Brien, 14) Robbie Knipe, 15) Karl Barnes, 16) Nikki Ouellette, 17) Shane Henion, 18) Andy Lindman, 19) Peter Schwartzott, 20) John Santolin, 21) Ryan MaCartney, 22) Rob Maxon, 23) Jim Cronk,
Pro Stock Results (20 Laps) -1) Jason Casey, 2) Jay Casey, 3) Jason Meltz, 4) Steven LaRochelle, 5) Chad Jeseo, 6) Nick Hilt, 7) Rick Duzlak, 8) Rich Crane, 9) Gary Silkey, 10) Rob Yetman, 11) Don Collins, 12) Mike Baker, 13) Phil Arnold, 14) Brian Keough, 15) Tom Dean, 16) Rick Spencer, 17) Tony Markou, 18) Nick Arnold, 19) Nick Reilly, 20) Adam Schneider, 21) Rick Dempsey,
Pure Stock #1 Results (10 Laps) -1) John Devine, 2) Clifford Booth, 3) Shawn Perez, 4) Janai St. Pierre, 5) Fred Hoffman, 6) Ryan Brown, 7) Jim Dellea, 8) Dave Stickles,
Pure Stock #2 Results (10 Laps) -1) Zach Seyerlein, 2) Ed Hatch, 3) Rob Partridge, 4) Ray Hall Sr., 5) Jeff Meltz SR., 6) Scott Morris, 7) Jeff Kreutzinger, 8) Brian Walsh, 9) Rocco Procopio, 10) Keri Vandenburg, 11) Don Kennedy,
4 Cylinder Single Cam (15 Laps)-1) Jon Sheppard, 2) Victor Duncan JR., 3) Gary Malloy SR., 4) Luke Williams, 5) Brian Brennen, 6) Bradley Batho, 7) Chris Bierce, 8) Nick McClendon, 9) Joey Batho,
4 Cylinder Dual Cam (15 Laps)-1) James Street, 2) Brandon Ely, 3) Steve Burbank, 4) Marcus Hillard, 5) Lauren Suriner, 6) Rob Miner, 7) Jim Guertin, 8) Mike Duncan, 9) John Wright,