Column By: BOBBY CHALMERS / RPW – CASTLETON, NY – For most, if not all of his racing career, Brian Berger has called the Lebanon Valley Speedway home. Running one night a week, any driver can get stuck in the nuances that come with a certain track.
In 2019, however, that will change as the Castleton, NY driver plans to make the haul to the Albany-Saratoga Speedway on Friday nights to compete in the Modified division.
"I love the Great Race Place," Berger said. "The racing there is amazing. You're always up on the wheel and working hard. Lyle (Devore, Promoter) does things right up there and I'm looking forward to being part of what he has going on there."
Running on Friday nights is going to be in addition to Saturdays at Lebanon Valley. Doing two nights a week will be a challenge for not only himself as a driver but also his team, but Berger is hoping his Friday program will be beneficial for his Valley effort.
"I truly believe racing there will help improve our Saturday night program," he said. "I'm not going to Malta with high expectations or putting pressure on myself like I do at the Valley. Hopefully it'll put some fun into racing again."
The past few seasons have been a struggle for the Phaze3 Racing team. Brian hasn't been to victory lane since August of 2016 and in 2018, he finished outside the top 10 in Valley points (11th) for the first time in several seasons. Once last year ended, he started to contemplate if his driving career was over.
"I spent the beginning of the off-season struggling with whether or not that was it," he said. Was it time to sell everything and do something different with my Saturday nights. I started my racing career 29 years ago and have enjoyed some decent success. I thought I could walk away and feel like I had a good run. Problem is, I realize how much I would miss it all. I'm just not ready to call it a career."
That's when the wheels began to turn in his head. How could he improve his performance, and what did he and his team need for a 'spark.'
"My guys are excited to do some more racing and everyone is on board to go to Malta," he said. "We got started in the shop just after New Year's and I was a little shocked by how things went. Jeff Dean, my crew chief, was pumped up and has said he's feeling the best he's felt in years."
The plan for Malta came from a desire to not only have better performance and results on track, but also to be ready in the equipment department.
"Jeff started barking orders about how it was going to be this year and wanted to build our older car so we'd have a stout backup ready to go," he said. "He focused on going to the front, wants to win races and be competitive each week. His energy's been contagious and inspiring. I was all for building the second car, but not just to have as a backup. I have wanted to be able to race at other tracks but not at the risk hurting my primary and impacting our Saturday nights. Now we're looking to make as many Friday nights at Albany-Saratoga as we can."
Also during the past few seasons, Berger has experienced some health issues that he feels has hindered his racing efforts. That also led to his discussions about hanging it up, but things began to improve late last season which have fueled his fire to keep after it.
"Let's just say I've spent a lot of time at doctor's offices over the past year," he said. "Most concerning was heart issues and my time with the cardiologist. It turns out that all the chest pains and issues I was having were driven by stress and anxiety. I was always tired and not sleeping well…again, mostly from stress. Tests also showed I had a deviated septum that likely contributed. I just had surgery to fix that and my Doctor actually told me I should race more since it's seemed to be therapeutic for me. No matter how I'm feeling, when I'm in the garage or at the track, I seem to feel better. I'm sure other racers can relate to that."
With Brian more focused on feeling better himself and improving his team's performance, it's full-speed ahead for he and his crew to do as best they can at both speedways. With that comes several challenges they are tackling head-on and seem to be getting a handle of.
"We're getting ready, but I'm still looking for a few more guys to help out in the shop or at the track," he said. "We could use some additional sponsors help as well, but either way, we're pushing forward, looking to win races and go to the front every week."
The team will utilize their 2018 Bicknell at the Valley and their 2015 Bicknell at Albany-Saratoga. Both will have steam under the hood from Bedell Racing Engines and be maneuvering the track conditions on Fox Shocks tuned by JAM Performance.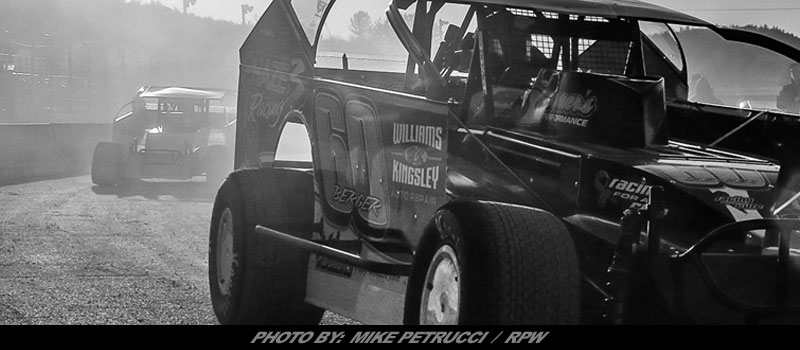 Still, running against guys like champions like Brett Hearn, Peter Britten, Marc Johnson and his brother-in-law, Kenny Tremont, each week and being competitive on a new track will be a daunting task. Does he have goals for the new season?
"Malta has a really strong field of Modifieds and some of the best drivers in the business," he said. "I've been going to watch the last few years and usually it's the same guys that go forward come feature time. My goal is to improve from where I start each race and knock off top 10's as much as I can."
Does he feel pressure about racing at Albany-Saratoga?
"We'll have strong equipment for that track so if we get the hang of it quickly and figure out the setup, hopefully we can find ourselves in the top 5 or even on the podium a time or two," he said. "I'm not going to put any pressure on us. I guess the real goal is to get better by racing more and improve our chances to win more races at the Valley."
The team will be ready to go when the first event of the season rolls around come April at Malta, but Berger is keeping things in perspective. He has his eye on the big picture.
"Two nights a week will be tough, but we have a plan," he said. "With Deaner's leadership, I'm confident we will stay on top of things, but if it gets to be too much, we'll scale back on Friday's a bit. My sense is that we'll all enjoy running up there. We've always had fun going on the road to other tracks and I'm sure we'll venture out beyond Malta and the Valley a couple times when we can as well."
Support for any race team is key and Berger has some amazing people helping his racing program.
"We are off to a good start getting the cars ready thanks to my crew," he said. "Deaner, Tom Lennon, Kevin & Laurie Robinson, Sean Robinson, Darvin Munger and Joe Cavanaugh continue to be the key people behind our program and I am very thankful for their help. I'm grateful for the sponsors we have that help out a ton…Williams & Kingsley Auto, JAM Performance, Boomer's Performance, Jeff Walter at Snap On and BC Designs. I'm thankful for the continued support of my wife, my kids, my parents, AJ and Tony and Bruce and Kath."
One big thing Berger had to figure out so he could run two nights a week…family time. Not only is it a big commitment for the team, but it's also big for the families who support them. Berger's isn't any different, but luckily, he's got an ace in the hole. As stated before, his brother-in-law is a multi-time Malta and Valley champion and just last year was inducted into the Dirt Modified Hall of Fame.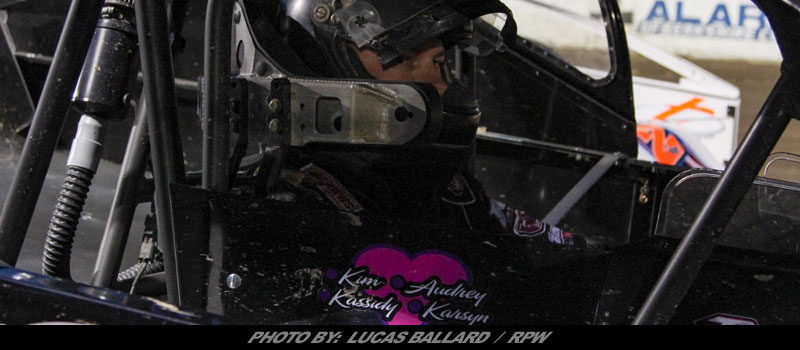 "I think their excited to see me race more," he said. "Kim (his wife) isn't ready to see me walk away. She's been supportive from the beginning and so have my daughters. One of them, Kassidy, wants to get more involved and is thinking of how she can help. She's a PR major in college and has been working to help build our program this off-season."
In the end, Berger is just looking to enjoy himself and have fun while doing something he's loved for nearly three decades.
"We're just hoping for the best this season," he said. "Life's short. You never know when it'll be time to go. I'm just living it up while I'm still here."
You'd be hard-pressed to find a happier person at the race track than Brian Berger. He's focused and driven when he needs to be, but knows how to have a good time when not strapped in the car.
Two nights a week racing at different tracks can only help a driver improve his skills and reflexes. Brian's no different, but now, his health's better, his mind's clearer, and he's ready to add a few more trophies to his mantle this season. Don't be surprised to see his team rebound this year and have a big season for all the Phaze3 Racing fans.
You can bet that on those evenings that he's holding a checkered flag, the party will run all night long!