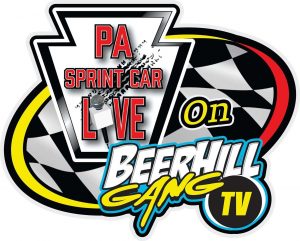 Column By: JUSTIN SNYDER / RPW – HENDERSONVILLE, TN – Walking through the pits on any given weekend, nothing about the appearance of Paul McMahan would scream sprint car driver. He's not the strongest guy and he's not exactly the tallest guy.
However, don't tell McMahan that. Where he may lack in size, he makes up for it with his heavy right foot and huge heart.
"All my life people have been looking down at my and counting me out," said McMahan, a native of Nashville, Tn. "I've always kind of been the little guy."
"When I was younger, I wanted to play baseball. They said I wasn't strong enough. I wanted to play football and they said I wasn't big enough. Being told I can't do something isn't a new thing to me," added McMahan
That's why when after McMahan stepped down from the driving duties of the Destiny Motorsports #4 on the World of Outlaws Craftsman Sprint Car Tour in September of 2017 due to what was perceived as a lack of performance to take on a management role for the team and to serve as a mentor to young gun Parker Price-Miller, he wasn't surprised many wrote him off as finished.
After all, he hadn't won a race on the tour since departing the CJB Motorsports car in 2015. And despite being a long term driver on the tour with 27 career Outlaw feature wins, McMahan didn't exactly expect owners to be knocking down his door.
"I knew I could still go out and win races and I knew given the right opportunity I could perform at a high level," said McMahan. "It's just this sport is very much a 'What have you done for me lately' type deal and frankly, I hadn't done much in a few years."
The grind of traveling up and down the road 80-100 nights a year had also become a burden. With every poor finish and with a lack of answers and improvement, McMahan grew increasingly frustrated and the passion he had for racing began to fade as well.
"I've been racing for what seems like forever and I always enjoyed coming to the track and strapping in and trying to win races," said McMahan. "But I was burned out from the experience and I wasn't enjoying it anymore. My joy turned into my job. And I just wasn't enjoying racing like I used to."
However it didn't take long for an opportunity to come about. Shortly after stepping into the management role, McMahan got a call from long-time sprint car owner Tom Buch. They set up a partial schedule for the rest of 2017 and in 2018 they chased after the Ollie's Bargain Outlets All Star Circuit of Champions presented by Mobile 1 championship together.
Running competitively each night and challenging for wins, while being able to sleep from the comfort of his bed at home 4-nights a week, racing became fun again. The team, or as he refers to them as his band of misfits, picked up wins at Outlaw Speedway in Dundee, New York and at Attica Raceway Park during Ohio Speedweek. The ASCoC wins snapped a 16 year winless streak with the touring series. They also captured the Ohio Speedweek title behind 6 top-ten finishes in 7 starts, including the Attica victory.
"To come out and win a few races again and to do it with Tom and the group of guys we have working on the cars all year, it really just brought the fun back to the sport for me," said McMahan. "Fred Rahmer once told me that the people around you will beat you down more than the guys you are racing each night and I really believe that to be true."
"It's not that I didn't have great crews and great owners that gave me great stuff night in and night out to drive. I just felt something different and special with this team and it's got me really energized for the future," added McMahan.
Going into 2019, McMahan has even more reason to be feeling good and excited about racing. Not only will he return to the Buch owned Apex Structures/DMI #13, but he will do it with some more financial backing thanks to a new sponsor.
Long-time sponsor and owner Ti22 Performance will come on board as the primary sponsor after a multi-year absence after owning a car for National Sprint Car Hall of Famer Dale Blaney for many years.
Ti22 Performance is the leading manufacturer of high performance racing parts for sprint car teams around the globe and is home to some of the strongest and lightest components on the market.
"I've known the guys from Ti22 Performance for many years and after being away from the sport as owners for a bit, they decided they wanted to get involved as a sponsor to kind of reintegrate themselves to the community again," said McMahan. "We got to talking and they decided to come on board and I'm really looking forward to carrying their colors on the All Star Tour this season."
"Anytime you can get some help, especially from a known product like theirs, not only will it help us with parts and such, but it's good for the sport as a whole. I'm really excited to have them as part of this deal," added McMahan.
As with last year, the plan for the team will be to follow the entire All Star our and chase a championship. Following up on last year's 4th place points finish, McMahan is excited and ready to challenge.
However, with a stacked field of drivers following the tour and new additions like Brock Zearfoss and Spencer Bayston landing full-time rides, McMahan knows it won't be easy. While he's approaching 50 in age, he's ready to prove that and old dog can still learn a few tricks and claim his first ever All Star championship.
"The All Stars really have a great product and the talent these young kids are bringing to the track each night is truly special to see," said McMahan. "But competing against these guys night in and night out has me feeling young again myself."
And if you're counting him out, well he's ready to prove the naysayers wrong again.
"Since I started doing this I have came to the track each week with the goals of wins and championships and that hasn't changed even at my age," said McMahan. "I still have that drive to win races and be the best. We're going to go out and give it our best and have a lot of fun along the way."