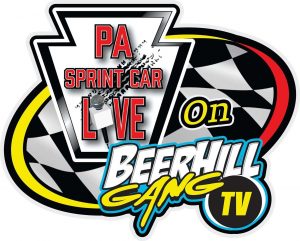 Column By: JUSTIN SNYDER / RPW – HARTFORD, OH – Dave Blaney is an accomplished veteran when it comes to the world of racing. If you put together a checklist of what makes an all-time great, you'd be hard pressed to find one that he couldn't check off.
National Sprint Car Hall of Fame member? Check! Class of 2014.
World of Outlaws Craftsman Sprint Car Series Champion? Check! 1995.
United States Automobile Club Silver Crown Champion? Check! 1984.
Chili Bowl Nationals Winner? Check! 1993.
King's Royal at Eldora Speedway? Check! He's got two of them actually.
Knoxville Nationals at Knoxville Raceway? Check! 1997.
Throw in 94 victories with the Outlaws, 49 feature wins with the Ollie's Bargain Outlet All Star Circuit of Champions and 497 starts across all three of NASCAR's premier divisions including a victory in the XFinity Series in 2006 at Charlotte Motor Speedway, you could say there isn't much Blaney hasn't done.
However, at the age of 56, Blaney is adding a new title to his illustrious resume…Grandpa.
"You know I've felt old for a long-time, but that just about put the nail in the coffin," joked Blaney, whose daughter Emma is expecting her first child with husband and fellow sprint car driver Cale Conley this year. "But I'm excited for that next step in life and to see what happens next."
However, don't expect the savvy veteran to be hanging up his steering wheel anytime soon! Coming off a season that saw Blaney return to the All Star tour full-time driving for Pete Grove, where he finished 5th in points and captured one win at Sharon Speedway, Blaney will once again return the cockpit of a sprint car in 2019.
However, he will be scaling back this coming season to a part-time schedule ranging between 35-40 races in his own Mohawk Northeast #98.
"I'll be back behind the wheel of my own car and we'll pretty much focus on racing in Ohio and Pennsylvania," said Blaney, who also is an owner at the Sharon Speedway in Ohio. "I've got great partners in Mohawk Northeast and several smaller sponsors who are going to back me and we may have another big sponsor coming on board. So I'm excited to see what 2019 will bring."
Last season served as a bit of a benchmark for Blaney. After many years in NASCAR and running part-time on dirt, he was faced with the decision of trying to get more consistent and being competitive nightly or chasing big shows and racing as a hobby.
After a frustrating season of sorts with varying results and being faced with the difficulty of trying to run the team out of his North Carolina home while traveling to various states with the All Star tour, he came to the conclusion that his traveling days were better off behind him.
"Before last season I really debated with myself if I wanted to give traveling and full-time driving another shot and I really thought if I wanted to get better and be competitive that it was really the best route," said Blaney of returning to the All Star tour. "I definitely think I got better and felt more comfortable, but it was just tough with the logistics and it was a bit of a struggle all year."
"I still love racing sprint cars and I love being around the cars and competing for victories, but I can't do the things I could in my 20's and 30's behind the wheel of a sprint car. Combine that with the fact that I was competing against younger guys who could do those things and it was just tough. So I'm going to step back and really focus on a few different areas and try and find that advantage where maybe I can use my knowledge and experience to beat these kids," added Blaney.
Blaney added there also may be an opportunity for him to run a few races in a Mohawk-sponsored Modified, something he has dabbled in past years.
Another thing Blaney is really looking forward to is attending more NASCAR races with his son, Ryan Blaney, at the Cup Series level. Ryan last season qualified for the Chase for the Cup driving for Team Penske and the elder Blaney acknowledged that he really missed not being at the track with his son, even though he noted it was more in a spectator role these days and less of a mentor.
"It's amazing when I look at all he's accomplished in a short period of time and to know that I have been really getting a first-hand look at his growth since he was 8 years old," said Blaney. "To see how far he's come, it's a testament to him learning and really taking an opportunity and making the best of it."
"I used to go to the track and spot for him and he'd ask for advice. However these days, I'm more of dad and not Dave Blaney the racecar driver. He's really turned into his own driver and man and I'm real proud of him. I want to be there to see his success and I don't want to regret missing things when I'm older because I was out racing. So in that aspect, it's a big part of me coming off the road too," added Blaney.
Tentative plans for Blaney have him starting the season off in February at Volusia Speedway Park in Florida with the All Stars and World of Outlaws before setting a firm schedule for the rest of 2019. He notes that being able to race on the same track and surface for 5 straight nights will allow him to see where his team stacks up against the competition.
To the casual race fan, it may seem like 'The Buckeye Bullet' is finally slowing down. After all, following 40 plus years of racing a little family time and relaxation would be well deserved. But the word retirement isn't one he's yet ready to ponder. It's all about living in the moment and enjoying the ride. And of course, the next win.
"I'm at the point now where I can kind of look back and enjoy some of the accomplishments a little more and just have fun," said Blaney. "I don't know how many more years of racing I have left in me, but I'd like to think I have a few more wins left in the tank. So we'll go out and try and win a few more trophies and have fun along the way. If all I do is have some fun, I'd call that a success."