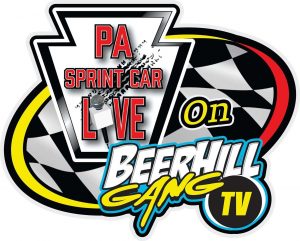 Column By: JUSTIN SNYDER / RPW – MOORESVILLE, IN – In basketball, they say good shooters never lose their shot. Sure, the legs get a little slower and the endurance may not be the same, but when it comes to form and scoring, a shooter is always a shooter.
They just lace up those old sneakers, stand at the line and let it go. It's muscle memory. One could say it's like riding a bike or in some cases…driving a racecar.
Dale Blaney knows a thing or two about both. A former college standout at West Virginia University who averaged 12.9 points per game and a 1986 draft pick by the NBA's Los Angeles Lakers, Blaney flourished on the court before stepping away from basketball a year later to focus on racing.
Since then all he's done is become a National Sprint Car Hall of Fame inductee, the all-time feature winner in the history of the All Star Circuit of Champions (134) and a 6-time series champion, winner of 11 World of Outlaw features and a 5-time Ohio Speedweek champion.
However after a disappointing 2017 season running in Central Pennsylvania for the Zemco Racing team, Blaney found himself without a steady ride. For the first time in years he was searching for a ride to start the season.
He put together a partial schedule with Bill Coomer Motorsports to run around 40 races last season before a hand injury obtained at work sidelined him to begin the season. After 3 races and a late start, the team parted ways.
While he managed to win a race at Sharon Speedway in August running for Jimmy Morris in his 4N Sprint Car, which made him a winner behind the wheel for the
29th consecutive season, Blaney would only run around 10 races.
So once again, 'The Low Rider', was left to ponder his future as a race car driver. He even began to wonder if his career was over.
"You know I really started to think about whether I needed to be making plans for myself that didn't involve racing," said Blaney. "The last few years hadn't been so fun and I wasn't racing much and I really didn't have any plans in place to do much racing."
Then in December, Ryan Smith was named the driver of the Heffner Motorsports #72 in Central Pa. This opened up a ride in the Sam McGhee Motorsports number 11 on the All Star tour.
As any shooter would do, Blaney took his shot.
"I called them up and just inquired about running their car and to see if they had plans to keep going," said Blaney. "It's not all that often that a good ride like that opens up. I figured it couldn't hurt to see if they had any use for an old veteran like myself."
As a matter of fact, Blaney was the perfect candidate that McGhee, who just turned 19 years old, had in mind. Coming off a season that saw Smith guide the young team to their first ever 410 winged sprint car victories at Angell Park Speedway in Wisconsin and at the 10k to win Jim Nace Memorial at Selinsgrove Speedway, McGhee was looking for someone with plenty of experience to further help the team grow and contend on the tour.
"We really had a breakout season in terms of running fast and being competitive against some pretty high caliber drivers on the All Star Tour," said McGhee, who wasn't even born when Blaney picked up his first All Star championship in 1995. "We had plenty of inquiries and a lot of great drivers interested in getting in our car."
"But when it came down to it, Dale has experience like few others and to have a driver of his caliber available and interested in our car, I knew he was the man for the job. I want to keep this thing moving forward and I think he can help us build on everything Ryan did for us last season," added Mcghee.
For Blaney, it's the opportunity to prove that he's not done and get back to doing what he loves the most, racing on a regular basis.
"I'm really looking forward to getting back to racing and being at the track behind the wheel more frequently," said Blaney. "I think Ryan (Smith) and I really have similar styles both on and off the track and I really think we'll pick up right where they left off and I can't wait to get started."
He also doesn't think that rust will be much of a factor when it comes to contending and winning races.
"You're only as good as good as the equipment you have and the people behind you," said Blaney. "While there may be some early season adjustments to make and things to learn, if you have a good racecar and team, it's easy to not forget how to drive these things."
McGhee also believes that the team has everything in place to contend right out the box.
"Anytime you bring in a new driver, there's no doubt there may be a period of adjustment and a bit of a learning curve," said McGhee. "With Dale's experience and my youth there is no doubt we can contend and win a lot of races together."
"The ultimate goal is to get Dale his 7th All Star championship and for us to get our first. No matter our age difference, we both understand race cars and have the same goals, to win. So yes, we're kind starting fresh again, but when you have Dale Blaney in your car you don't exactly worry too much about finding success."
The team plans to skip the opening races in Florida to get equipment ready for the season. Early plans have them debuting together at the season opener at Port Royal Speedway and possibly a few other Central Pa tracks to begin the season.
They will utilize Maxim Chassis and Fisher Racing Engines and sponsorship options are currently being discussed. The team will carry the same number 11 and will debut a slightly different paint scheme in the near future. For more information regarding Sam McGhee Motorsports, visit them on Twitter at @Sam_McGhee11.