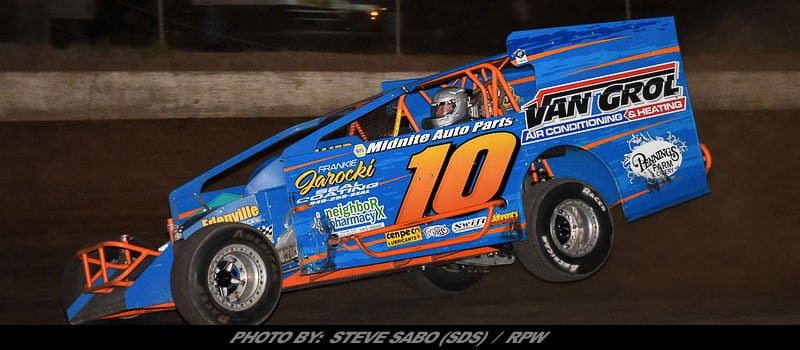 Story By: BRETT DEYO / SHORT TRACK SUPER SERIES – MIDDLETOWN, NY – A legend of Tri-State auto racing will be in the spotlight when the Bob Hilbert Sportswear Short Track Super Series (STSS) Fueled By Sunoco concludes its 2018 Halmar International North Region at Orange County Fair Speedway.
Rich Eurich – the personable veteran who has competed at the Orange County 'House of Power' since the late-1960s – will be recognized at the Behrent's Performance Warehouse 'Hard Clay Finale' on Thursday, October 18 to kick off the Eastern States Weekend spectacle.
Eurich, 70, a native of Warwick, N.Y., has made his traditional blue No. 10 an icon at OCFS, where he continues to compete in the track's big-block Modified division.
As a tribute to Eurich's recognizable No. 10, the 50-lap 'Hard Clay Finale' will now pay $10,000 to the winner!
And there's more: the 'Hard Clay Finale' start money has climbed to $1,000. Yes, $1,000 just to take the green flag.
A total pay structure of approximately $40,000 will be distributed for this one-night event.
Eurich, who is one of only four drivers in the history of Orange County Fair Speedway to achieve 50 Modified victories, was truly honored to have the event in his name.
"I've never been one to look back," Eurich said while working at his auto body shop. "I always try to look ahead at the future.
"I'm not a big one for being in the spotlight, but I appreciate being thought of and being recognized."
Eurich added with a laugh that his wife has been the statistician over the year for his career.
Fans will be able to meet with Eurich in an autograph session during the night. He's also agreed to say a few words about his long career and dedication to racing at Orange County Fair Speedway for decades.
While he has traveled successfully over the years, OCFS has always been home for Eurich.
After achieving his milestone 50th win in 2017, Eurich said proudly: "I've raced at many tracks over the years, but I consider this one to be the greatest of them all."
OCFS and STSS management were anxious to honor one of the speedway's all-time greats.
On the 'Hard Clay Finale' docket will be the STSS Halmar International North Region final points-paying event. With increased 'Championship Points' on the line, the $12,500 title winner will be decided in the 50-lap finale. Street Stocks are scheduled as the second division on the docket.
For the second consecutive year, this 'Hard Clay Finale' decides the STSS North Region championship and is the kickoff to a four-day weekend of speed with Eastern States Weekend to follow.