"SuperMatt" Shines In Short Track Super Series Stop At Thunder Mountain; Sheppard Wins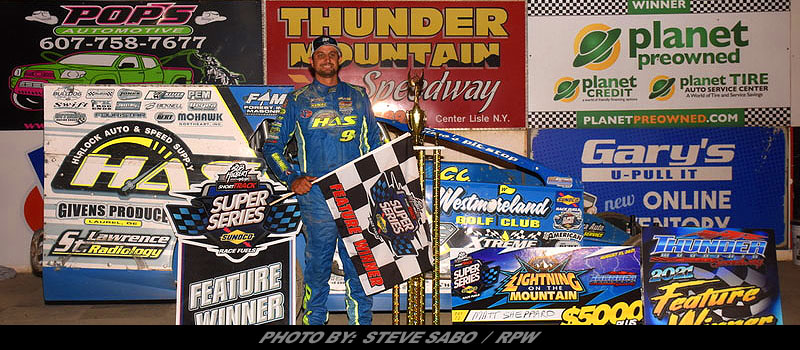 Story By: PAUL SZMAL / THUNDER MOUNTAIN SPEEDWAY – CENTER LISLE, NY – The Bob Hilbert Sportswear Short Track Super Series fueled by Sunoco Race Fuels made its appearance Tuesday night for 'Lightning On The Mountain' at Thunder Mountain Speedway, part of the Hurlock Auto & Speed North Region.
In the Modified portion, Matt Sheppard took the early lead from Anthony Perrego and opened up a gap over Perrego and Rusty Smith. Former track champion Billy Decker spun on lap 2 and collected Tyler Dippel, with both sustaining damage.
When action rseumed, Smith passed Perrego for second as Mike Mahaney moved into the top five. Alan Barker was also on a charge, moving from his 17th starting spot into 5th on lap 16.
A multi car incident on lap 19 brought out a red flag, as Billy VanInwegen, Brett Tonkin, Nick Nye, Kailee Dimorier, and Nick Nye were all caught up in a turn four crash.
At the haflway point of the race, Mahaney moved into second and Andy Bachetti made his presence known, moving into the 4th spot at lap 25. The leaders hit lapped traffic on lap 30, and as Sheppard handled the traffic, Mahaney came under fire from Barker, Smith, and Bachetti in a great race for the rest of the top five spots.
A lap 40 yellow for Brett Haas bunched the field once again with Mahaney, Barker, Smith and Bachetti as the top five behind the leader. On the restart, Barker and Smith moved into second and third, with Bachetti also moving past Mahaney on lap 44 to take fourth.
Barker could not run down Sheppard in the closing laps, with Sheppard taking the win, followed by Barker, Smith, Bachetti, and Perrego.
In the companion race for the Precision Hydraulic & Oil 602 Crate Sportsman, Randy Brokaw took the top spot with Kreg Crooker and Brian Calabrese moving into second and third.
Crooker took the lead at lap 9 as Rusty Smith moved into second, driving the Kinser Hill entry, leaving Brokaw to battle with Tom Collins Jr for third as Calabrese fell back out of the top five.
Alan Fink moved into the top five and was battling with Collins Jr and Brokaw, but Fink and Brokaw hooked bumpers and got stuck together on lap 21, bringing out the caution.
Crooker held off Smith in the final run to the finish for the win, with Collins Jr, Dale Welty, and Hunter Lapp rounding out the top five.
Racing continues at Thunder Mountain with a Labor Day weekend doubleheader. The action starts on Saturday, September 3rd with Championship Night for all divisions starting at 7pm. Sunday, September 4th will be the annual Wade Decker Memorial event for Modifieds paying $5,000 to win plus DIRTcar Crate Sportsman, 600cc Modifieds, and the Wheeler Excavating Street Stocks.
'LIGHTNING ON THE MOUNTAIN' RESULTS SUMMARY – THUNDER MOUNTAIN SPEEDWAY AUGUST 31, 2021
Bob Hilbert Sportswear Short Track Super Series Fueled By Sunoco Hurlock Auto & Speed Supply North Region Event No. 8 Modified Feature Finish (50 laps): MATT SHEPPARD, Alan Barker, Rusty Smith, Andy Bachetti, Mike Mahaney, Anthony Perrego, J.R. Hurlburt, Darren Smith, Bobby Hackel, Billy Van Inwegen, Bill Van Pelt, Alex Tonkin, David Schilling, Ryan Susice, Danny Johnson, Brett Haas, Shaun Walker, Bailey Boyd, Landon Cummings, Nick Nye, Byron Worthing, Jeff Taylor, Brett Tonkin, Kailee DiMorier, Jimmy Zacharias, Billy Decker, Tyler Dippel
Did Not Qualify: Marc Goodwin, Brian Malcolm, Rick Wilk, Alex Yankowski, Joe Judge, P.J. Goodwin, Danny Creeden, Shayne Spoonhower, Scott Boudinot, Cory Costa
American Racer/Lias Tire Bonuses (FREE Tire Certificates): Anthony Perrego (sixth) & David Schilling (13th)
Autism Awareness Winner's Award presented by Halmar ($250): Matt Sheppard
Behrent's Performance Warehouse Bonuses: Andy Bachetti (fourth) & Bobby Hackel (ninth)
Beyea Custom Headers Redraw Bonus ($50): Shaun Walker (Redrew 12th)
Henry's Exhaust System Bonus ($50 Certificate): Billy Van Pelt (11th)
Penske Racing Shocks Bonuses: Matt Sheppard ($150 Certificate – first); Alan Barker ($75 Certificate – second); Rusty Smith ($50 Certificate – third); Billy Van Inwegen ($25 Certificate – 10th)
Spyder High Performance Filters Bonuses: Mike Mahaney (FREE Filter – fifth); Danny Johnson (50-percent Certificate – 15th)
Sunoco Race Fuels/Insinger Performance Bonuses ($50 Certificates): Alan Barker (second); Alex Tonkin (12th); Jeff Taylor (22nd)
Superior Remodeling Halfway Leader Bonus ($200): Matt Sheppard
TAMCO Hard Charger Award ($300): Alan Barker (17th to second)
TKS Painting Front-Row Bonuses: Matt Sheppard (Pole – $50); Anthony Perrego (Outside Pole – $25)
Wilwood Brakes Lucky 7 Bonus ($75 Certificate): J.R. Hurlburt (seventh)
Bob Hilbert Sportswear Short Track Super Series Fueled By Sunoco Precision Hydraulic & Oil North Region Event No. 6 Crate 602 Sportsman Feature Finish (25 laps): KREG CROOKER, Rusty Smith, Tommy Collins, Dale Welty, Hunter Lapp, Bryce Bailey, Brian Calabrese, Will Shields, Payton Talbot, Steve Davis, Doug Kline, Alan Fink, Tim Hartman Jr., David Dickey, MacKenzie Marsh, Randy Brokaw, Damon Decker, Blake Sarpriacone, Tim Falter, Jamie Kamrowski, Rich Talada, Michael Ballestero, Tim Guild, Rich Powell, Steve Schrader, A-Jay Potrzebowski II
Did Not Start: Alan Komar
American Racer/Lias Tire Bonus (FREE Tire Certificate): Will Shields (eighth)
Beyea Custom Headers Redraw Bonus ($25): Alan Fink (Redrew 12th)
Fastline Performance Bonuses ($100 Certificates): Rusty Smith (second) & Alan Fink (12th)