Short Track Super Series' Returning To Thunder Mountain Speedway August 31st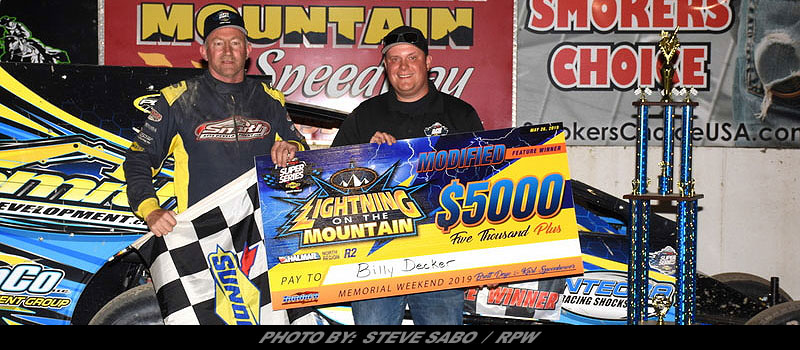 Story By: CHRIS MOORE / SHORT TRACK SUPER SERIES – CENTER LISLE, NY – Back to its roots. On Tuesday, Aug. 31, the Bob Hilbert Sportswear Short Track Super Series (STSS) Fueled By Sunoco returns to Thunder Mountain Speedway.
The 'Lightning on the Mountain' will be Round No. 8 of the Hurlock Auto & Speed Supply North Region as the STSS returns to one of its original speedways.
The second-ever STSS event was held at Thunder Mountain Speedway as Savannah, N.Y.'s Matt Sheppard claimed the win back on May 20, 2014.
Now the STSS prepares for its 10th trip to Thunder Mountain (tying with N.Y.'s Afton Motorsports Park as the second-most-visited track by the STSS) for a 50-lap, minimum $5,000-to-win main event for the STSS big-block/small-block Modifieds.
The Modifieds had appeared at Thunder Mountain every year from 2014 to 2019 before the 2020 appearance went by the wayside due to COVID-19 restrictions. Now, the stars of the STSS prepare to head back to the three-eighths-mile oval with just three races remaining in the Hurlock Auto & Speed North Region $12,000 championship chase.
The last time the STSS visited the Center Lisle, N.Y., venue in 2019, Unadilla, N.Y.'s Billy Decker claimed his first and still only STSS victory over Sprakers, N.Y.'s Stewart Friesen and St. Catherine's, Ontario, Canada's Mat Williamson.
Wurtsboro, N.Y.'s Danny Creeden is the only two-time winner for the STSS at Thunder Mountain, picking up wins in 2016 and 2018.
Following his win at Woodhull (N.Y.) Raceway, Matt Sheppard currently holds a 19-point advantage over the 2017 'Lightning on the Mountain' winner, Anthony Perrego.
The lead pair have put a sizable margin between themselves and the rest of the field, as Sheffield, Mass., native Andy Bachetti sits in third, 70 points behind Perrego and 89 markers behind Sheppard.
Stewart Friesen, and King Ferry, N.Y.'s Mike Mahaney round out the top five in North Region points.
The top five have in points have all had considerable success as Sheppard (2014), Perrego (2017), Bachetti (2018), and Friesen (2015) are all previous winners of STSS events at Thunder Mountain, and Mahaney was the runner-up in the rain-shortened event in 2016.
The STSS Crate 602 Sportsman will also be in attendance for Round No. 6 of the Precision Hydraulic & Oil North Region. The Crate 602 Sportsman will also head to Thunder Mountain for the 10th time under STSS sanctioning.
Current point leader Tim Hartman Jr. was the winner of the 2019 Thunder Mountain visit for the Crate 602 Sportsman on his way to the eventual North Region championship.
STSS THUNDER MOUNTAIN HISTORY: PAST EVENT WINNERS
May 26, 2019 – BILLY DECKER – Stewart Friesen – Mat Williamson – Ryan Jordan – Mike Gular
October 7, 2018 – ANDY BACHETTI – Mat Williamson – Shaun Walker – Danny Bouc – Billy Decker
September 23, 2018 – DANNY CREEDEN – Mike Gular – Matt Sheppard – Anthony Perrego – Billy Decker
May 28, 2017 – ANTHONY PERREGO – Stewart Friesen – Andy Bachetti – Jeremy Smith – Ryan Jordan
September 23, 2016 – DANNY CREEDEN – Andy Bachetti – Alan Barker – Mike Mahaney – Craig Hanson
May 29, 2016 – CHAD COOK – Mike Mahaney – Anthony Perrego – Jerry Higbie Jr. – Colton Wilson
September 27, 2015 – STEWART FRIESEN – Chad Cook – Anthony Perrego – Andy Bachetti – Erick Rudolph
June 29, 2015 – BRIAN MALCOLM – Stewart Friesen – Danny Johnson – Anthony Perrego – Jeff Strunk
May 20, 2014 – MATT SHEPPARD – Chad Cook – Vic Coffey – Stewart Friesen – Danny Johnson