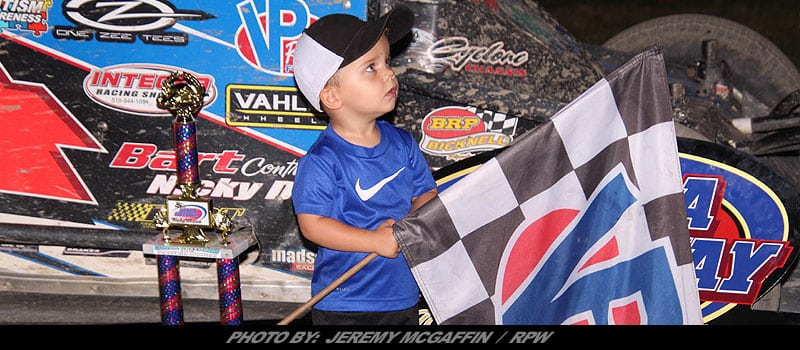 Column By: RAY ROGERS / RPW – FONDA, NY – After a six-day heat wave, Saturday's weather was just right for a spectacular night at the Fonda Speedway.
This past weekend, the "Track of Champions" celebrated Independence Day with 50 laps of Modified feature action and one hell of a fireworks display that fans will not soon forget.
It all started for me at the speedway museum where Stewart Friesen joined us for a sit down with two Fonda legends, "Super" CD Coville and Dave Lape.  The three had a little round-table discussion that was broadcast live on CD's Facebook page. Stew, as he is known to the locals, competes full-time in the NASCAR Camping World Truck Series, but chooses to spend his free Saturday nights at his home track, the Fonda Speedway.
Friesen also spent some time with race fans signing autographs and taking photos before heading to the pit area.
Nick Scavia was also at the museum with his #17 Sportsman, hanging out chatting with fans and enjoying the cooler temperatures. Scavia has three wins this season at the speedway and is in the hunt for the coveted Sportsman title in 2018. This is Nick's fourth season in the division and, with some guidance from a great crew, he is having a breakout year.
The Fonda Speedway Hall of Fame sent out induction notices to this year's class of inductees. If you would like to learn more about this year's honorees, check out the Hall of Fame and Museum's Facebook page.  Each day they are introducing a new member of the Hall leading up to the 2018 induction ceremony on July 28th.
There are some really cool things happening at the Museum this weekend, including a special display of the last cars raced by Fonda's big 3…Jack Johnson, Lou Lazzaro and Dave Lape.
Multi-time Dirt Sportsman track champion Tim Clemons will return to Fonda with car owner Tommy Spencer this weekend…first at the museum and then Clemons will climb aboard a Spencer-prepared Sportsman for another run at the checkers.
Also this weekend, several top drivers including Bobby Varin, Ricky Quick, Kenny Gates as well as King of Dirt Sportsman drivers Connor Cleveland and Chad Edwards will be at the museum chatting with fans and signing autographs from 4-6 pm.  Be sure you stop by and say hello.
After a quick set of hot laps and our National Anthem, it was time to find a seat for heat races to get things going for the evening's feature events.
Pro Stock heat races went to Jason Morrison and Luke Horning.  Sportsman heat winners were Mike Jackson, Josh Demagistris and Tony Farone.  Craig Hanson, Pep Corradi and Cody Bleau picked up the Modified heat wins.
Saturday's support division winners were Derrick McGrew Jr. in the Limited Sportsman and Jason Samrov in the Street Stocks.
Luke Horning flexed his muscles in the Pro Stock feature, claiming his first win of the season.  Ivan Joslin finished a strong second followed by Jim Normoyle, Chuck Dumblewski and AJ Walters.
Stewart Friesen spent the early part of the 50-lap Modified feature methodically picking off cars, sometimes two-at-a-time, until taking the lead and leaving nothing but lap cars in his wake.  Friesen would go on to claim his fourth win of the season with Tim Fuller giving it everything he had but coming up short.  Fuller had to settle for second.  Bobby Varin would be third followed to the checkers by Jeremy Wilder and Josh Hohenforst.
Long time Fonda Sportsman campaigner Dan Santabarbara added his name to the history books as a feature winner Saturday, nailing down the win as he celebrated his birthday.  Aaron Burton finished second followed by division point leader Ray Zemken.  Cody Clark and Mark Mortensen were fourth and fifth.
After victory lane festivities wrapped up, it was time to celebrate our nation's Independence with a huge fireworks display.  Pete Demitraszek and his family sure know how to put on a show.  First giving fans a fantastic night of stock car racing and then a spectacular fireworks display that echoed up and down the Mohawk Valley.
Hats off the entire Demitraszek family and speedway staff for providing the race fans great shows each Saturday night.
This weekend, Fonda welcomes back one of the Northeast's premier racing series, the King of Dirt, for a 30-lap Sportsman shootout. It is also Palmer's Service night with Big Block Modifieds, Pro Stocks, Street Stocks and Limited Sportsman on the car, along with Kiddie Rides!
This Sunday, July 15th the Fonda Speedway welcomes back Custom Bob's Rodz & Racin, Hot Rod and Custom car show and swap meet. This is a free event so come on out and check out some great rides, grab a bite to eat, support the custom car community and enjoy the afternoon.
Some really great things happening at the "Track of Champions" in the coming weeks so keep an eye on Race Pro Weekly as we will have all the latest info as it becomes available.
Until next time, safe travels and I hope to see you all at the races!