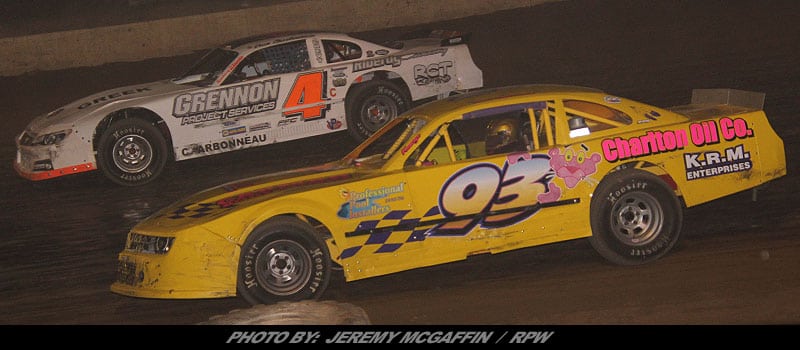 Story By ROB HAYES / KING OF DIRT – VERNON, NY – King Of Dirt Racing Pro Stocks have been very competitive the past few seasons with three different and unique champions who claimed the throne, but in 2018 everything will change. With the seemingly big three (Rob Yetman, Nick Stone, Robbie Speed) either retired, not touring, or on to other ventures it renders the title chase wide open for the taking.
With the inception of home track bonus points, it was worth taking a look into just who might be a contender for the King Of Dirt Racing Pro Stock Series crown in 2018. For the first three seasons the aforementioned Yetman, Stone, and Speed have been absolute forces on tour, but with all three drivers doing different things it brings about a whole new landscape for the full-fender tour that kicks off Sunday July 22nd at Utica Rome Speedway.
Home track bonus points for the Pro Stock series will give tour regulars who qualify via attendance bonus points for their five best finishes from a single track they compete at weekly. To start the title conversation it's hard to not begin with last season's runner up Kenny Martin Jr.
Martin is red hot at Albany Saratoga Speedway in his title defense with four wins. Tack on a fourth place finish for the 'pink panther' and he is currently sitting on 295 home track points out of a possible 300. Should the Charlton Oil Company – Bobco Racing Video number 93 tackle the tour again this season he'd be a front-runner to wear the crown come seasons end.
Fonda Speedway regulars Kenny Gates and Josh Coonradt have never toured the KOD full-fender trail before, but are sitting on a gold mine of home track points currently. Both drivers have three wins to their credit and total have 292 out of a possible 300 home track points accumulated. Not only would the School House Pools number 35 and the Coonradt Motorsports number 00x be title contenders, they'd both be eligible for Newcomer Of The Year honors at the year end banquet.
Back to the great race place is where we find our next top crown contender in the Curtis Lumber number 14, Kim Duell. The seasoned veteran has a pair of wins at Albany Saratoga combined with a second place and two thirds to yield him 289 home track bonus points out of a possible 300. Should the lumber wagon find a little better luck this season on tour, we could very well witness a Duell Family Racing championship party of epic proportions.
On the high banks of Lebanon Valley Speedway the Dave's Tire & Auto 324 of Jason Casey has been having a solid season. The former Award Of Excellence recipient has a win to his credit backed up by a pair of second place finishes and a pair of third place finishes. This gives the Canaan Connecticut driver 286 home track bonus points out of a possible 300 currently. His title run starts at the action track of the east where he took part in highly popular Dirt Rush reality program a year ago. Could this be Jason Casey's year to sit on the throne as King of the full-fender division? Time already knows and will reveal the outcome later this summer.
Two-time defending Fall Madness Most Popular Driver Chucky Dumblewski is fresh off a win this past Saturday night in Fonda, NY and paired with his second, third, and fourth place finishes he sits with 284 home track bonus points out of a possible 300 heading into the tour opener at Utica Rome this Sunday July 22nd where he won last season. This could be a championship year for the orange express Amsterdam NAPA Auto Parts – Franks Heavy Duty Truck Repair number 7d.
There are of course other possible contenders to throw down for the crown and sit on the throne as King including last season's newcomer of the year Jason Meltz, Jay Casey, Jon Routhier, Rich Crane, and everyone's choice for Mr. Nice guy Dean Charbonneau.
Home track points can change also, as the lock in date for improvements on points earned through the program end on September 1st. Every single year there is a wild card, a feel good story, and an unexpected title contender. The 2018 season will be anyone's crown to claim.
The King Of Dirt Racing Pro Stock tour kicks off this Sunday July 22nd at Utica Rome Speedway presented by Crane's Outdoor Power Equipment. 30-laps for $600 to win PLUS a $250 cash bonus making the winners share a cool $850.