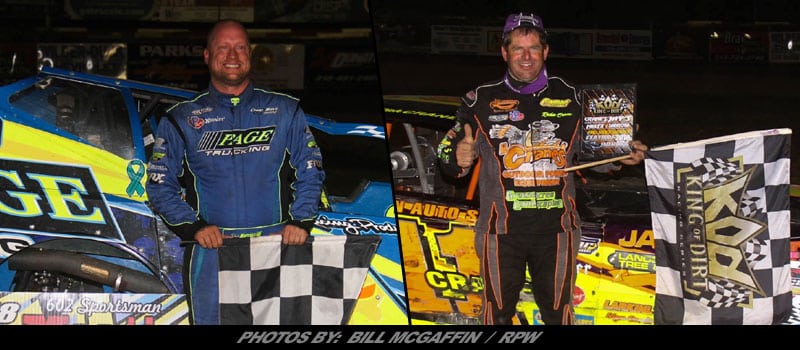 Story By: JOHN TIFF / UTICA-ROME SPEEDWAY – VERNON, NY – Dave Marcuccilli took another win in the $1,000 Mike Martin Memorial for the Broedel Energy Sportsman at Utica-Rome Sunday night while Rich Crane dominated the King of Dirt Pro Stock Series event.
Kevin Root led the opening laps of the 20-lap Sportsman main event from his pole starting spot. A dogfight for the runner-up spot raged on between Charlie Tibbitts, Matt Janczuk, and Dave Marcuccilli, and on lap eight, Marcuccilli grabbed the spot for good. Once in second, Marcuccilli set off after Root and by lap 13, he made the pass on Root for the lead. Marcuccilli would lead the rest of the way for the $1,000 to win event with Root, Matt Janczuk, Tibbitts, and AJ Filbeck chasing.
Rich Crane launched from his eighth place starting spot at the drop of the green in the 40-lap King of Dirt Pro Stock Series feature event to grab the lead at the conclusion of lap one. Crane would open up a several second lead in the early going while several battles for position raged on behind him. Fifth place starter Pete Stefanski would be the first to break out of the pack as he grabbed the runner-up spot on lap seven. At the halfway point of the non-stop event, Crane was still way out front with Stefanski, Shane Henderson, Jay Casey, and Jon Routhier rounding out the top five. With 10 laps to go, Stefanski started to turn up the wick as he began to cut into Crane's lead but he would run out of laps as Crane took the big win over Stefanski, Chuck Dumblewski, Routhier, and Henderson.
The rain came during and stopped the racing action on lap one of the Rookie Sportsman.
Racing at the Utica-Rome Speedway doesn't return until Sunday, August 5, when Northeast Racing Products and Power Seal present the annual Night of Legends featuring the 8th Annual Jan Corcoran Memorial Big Block/Small Block Challenge that pay $3,064 to the winner of the 50-lap main event. The top finishing small block with receive a $640 bonus. The Broedel Energy Sportsman will compete in a $640 to win, $64 to start feature event plus a weekly show for the Ted's Body Shop Pro Stocks and Rookie Sportsman. The Dirt Modified Nostalgia Tour Vintage Series will also be on hand. Gates will open at 4 p.m. with racing at 7 p.m. For more information, please log on to www.uticaromespeedway.com or visit us on Facebook and Twitter.
MARBLE HILL INN RACE SUMMARY
BROEDEL ENERGY MIKE MARTIN MEMORIAL SPORTSMAN FEATURE FINISH (20 LAPS)-DAVE MARCUCCILLI, Kevin Root, Matt Janczuk, Charlie Tibbitts, AJ Filbeck, Rocco Leone, Kyle Inman, Chris Cunningham, Mike Button, Tony Finch II, Matt Steffenhagen, Andrew Buff, Dave Moyer, Jeff Taylor, AJ Miller, Brian Hudson, Taylor Lamb, Mark Effner, AJ Digsby, CJ Castelletti, Jeremy Nestved, Isiah Forward, John Strickler, Teddy Starr, George Dyer, and Carl Inman. DQ-Stephen Denton.
KING OF DIRT PRO STOCK SERIES FEATURE FINISH (30 LAPS)-RICH CRANE, Pete Stefanski, Chuck Dumblewski, Jon Routhier, Shane Henderson, Jay Casey, Jason Casey, Mike Welch, Bill Knapp, Travis Welch, Sid Harmer Jr., Mike Kazlauskas, Devon Camenga, Ernie Staelens, and Jason Meltz.
ROOKIE SPORTSMAN FEATURE FINISH (15 LAPS)-Rain.