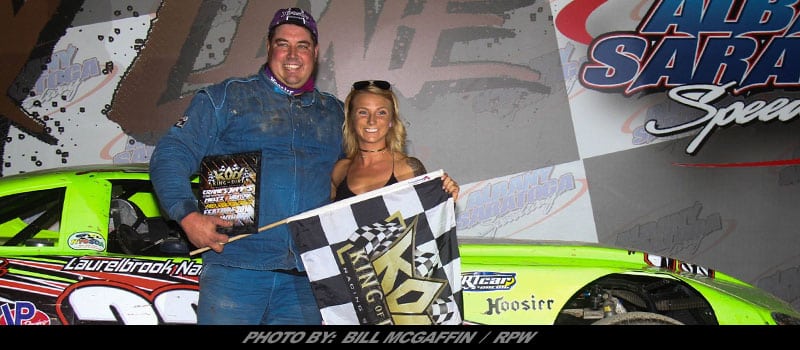 Story By: ROB HAYES / KING OF DIRT – MALTA, NY – When Josh Coonradt drew the pole position for the 30-lap King Of Dirt Racing Pro Stock Series clash at Albany Saratoga his peers let out a collective sigh, however Jason Casey pulled a Deadpool level move with maximum effort late in the race to claim a crowd pleasing victory at the great race place.
Coonradt and Jimmy Eaton led the field to the green flag, with Coonradt checking out with the early lead. Eaton was left to fend off the advances of Jason Casey, Walt Brownell, and Jason Corbin all battling for spots inside the top five.
Utica Rome KOD Pro Stock winner Rich Crane had a bad fast hot rod, as he worked his way into the runner up spot past the aforementioned Corbin, Brownell, and Casey to begin hunting down the leader who had a sizeable lead.
Crane would get a shot at Coonradt after a caution flew on lap nine for the 00vt of Brandon Gray facing the wrong direction in turn four. They'd reset the field double file and a battle would ensue on the restart.
Coonradt would jump back out to the lead, but now he had the 711 of Crane hot on his bumper. Crane would pressure and eventually work his way side-by-side with Coonradt one time taking the lead for the briefest of moments. After a restart some laps later inadvertent contact ended Crane's bid for the top spot on lap 18. He'd rally to finish 10th at the end of the 30-lap affair.
Back up front and a new battle was shaping up, as Jason Casey began to find his rhythm. Casey began hounding Coonradt, who appeared to be getting looser the longer the race wore on. While Casey pressured for the top spot, there was another challenger lurking in the form of Chucky Dumblewski.
Dumblewski who patiently made his way forward from his 10th starting position was sitting third and not more than a car length behind Coonradt and Casey who were battling side-by-side for the lead.
A little further back you had some hot action as well, with Kim Duell making his way forward with the lumber wagon 14 after battling with Jon Routhier, Devon Camenga, and a surprising Scott Townslee.
With five laps remaining a caution flew for cars around in turn four and as if the battle wasn't already intense enough, it got more dramatic when the green flag flew again.
On the drop of the green flag Casey had earned the lead spot and went back to work trying to finish the job, Coonradt had his hands full with Dumblewski, and enter to the battle a highflying Brandon Emigh. Emigh out of nowhere using the high side suddenly was a contender for the win.
When the white flag flew you could throw a blanket of the top six drivers and it was anyone's race to win. Casey held the bottom, Dumblewski pressured, Emigh drove in hard on the top, Coonradt was in the middle, and the wily veteran Duell was watching it all happen waiting to make his move.
The fans were on their feet and cheering one of the top three KOD Pro Stock Series finishes of all time, as Jason Casey claimed victory at Albany Saratoga. Chuck Dumblewski drove home to a strong second place finish, with Brandon Emigh third, Josh Coonradt fourth, and Kim Duell fifth.
Jon Routhier, Devon Camenga, Scott Townslee, Jimmy Eaton, and Rich Crane rounded out the top 10.
"Oh man this was awesome. What a race. I mean we had some stuff get torn up at the Valley last week, but our team busted their buts to get these cars ready and this one is for them. This one is for the whole Cannan group. It feels good to finally win one of these KOD tour races," said Jason Casey post race.
The next stop for the King Of Dirt Racing Pro Stock Series is at Fonda Speedway Monday August 13th for the Hondo Classic organized by Kelley Keefe and the Friends Of Hondo Memorial Society.
For more information on King Of Dirt Racing visit www.kingofdirtracing.com and stay up to date. Also you can find KOD on Facebook, Twitter, and Instagram.
AUGUST 10, 2018 KING OF DIRT RACING PRO STOCK SERIES PRESENTED BY JAYS LAWNCARE & LANDSCAPING A-MAIN FEATURE RESULTS FROM ALBANY SARATOGA SPEEDWAY (30 LAPS) – 1) Jason Casey, 2) Chuck Dumblewski, 3) Brandon Emigh, 4) Josh Coonradt, 5) Kim Duell, 6) Jon Routhier, 7) Devon Camenga, 8) Scott Townslee, 9) Jimmy Eaton, 10) Rich Crane, 11) Kenny Martin Jr., 12) Jason Meltz, 13) Jay Casey, 14) Nick Arnold, 15) Dan Older, 16) Dan Madigan, 17) Matt Roberts, 18) Mike Baker, 19) Dave Stickles, 20) Ed Thompson, 21) Yates Lansing, 22) Jason Corbin, 23) Walt Brownell, 24) Brandon Gray, 25) Darrell Older, 26) Norm Loubier.
Race Summary:
26 Cars Entered
Burt's Tree Service Super Six – 1) Kenny Martin Jr., 2) Josh Coonradt, 3) Kim Duell, 4) Norm Loubier, 5) Dan Madigan, 6) Jimmy Eaton. (1 Bonus Point)
B-Main Qualifier Results (10 Laps) – 1) Josh Coonradt, 2) Dan Madigan, 3) Jason Casey, 4) Walt Brownell, 5) Jay Casey, 6) Norm Loubier, 7) Brandon Emigh, 8) Matt Roberts, 9) Dave Stickles.
C-Main Qualifier Results (10 Laps) – 1) Kenny Martin Jr., 2) Jason Corbin, 3) Rich Crane, 4) Jimmy Eaton, 5) Yates Lansing, 6) Dan Older, 7) Devon Camenga, 8) Mike Baker, 9) Brandon Gray.
D-Main Qualifier Results (10 Laps) – 1) Kim Duell, 2) Ed Thompson, 3) Jon Routhier, 4) Chucky Dumblewski, 5) Darrell Older, 6) Jason Meltz, 7) Scott Townslee, 8) Nick Arnold.
Jay's Lawncare & Landscaping Bonus ($250) – Jason Casey
Saratoga Masonry Fast Timer ($150) – Kenny Martin Jr.
Hard Charger – Brandon Emigh
Newcomer Of The Race – Josh Coonradt
Top Tour Finisher – Jason Casey (1st)