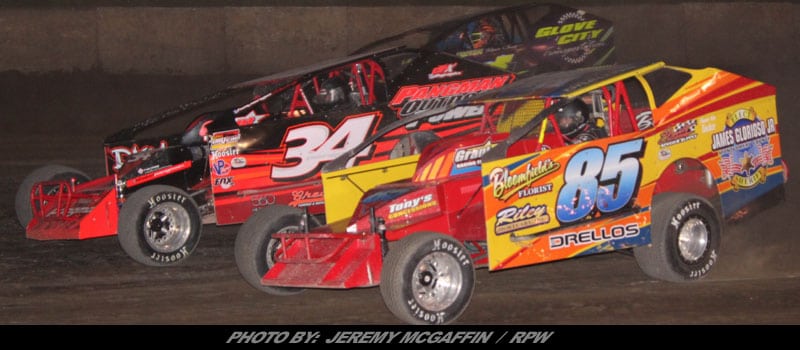 Column By: RAY ROGERS / RPW – FONDA, NY – If you are a race fan in the Mohawk Valley like me, last weekend, you were treated to double the Big Block racing action as both Fonda and the Glen Ridge Motorsports Park hosted events.
Everything kicked off Saturday with the return of the Mohawk Valley Vintage Dirt Modified Series (MVVDMS) to the "Track Of Champions."  Prior to the evening's scheduled events, many of the Vintage teams gathered at the speedway museum, allowing fans an up-close look at the race cars of yesteryear.
During my weekly visit to the Museum, I had the chance to sit down with lifelong family friends Bruce and Clara Gray. You may remember the Gray's from a column my RPW teammate, Laurie Fallis, penned a few months back.  Bruce and Clara are two of the nicest people you could have the pleasure of meeting. As a young boy, I was always fascinated in hearing stories they would tell me about the racing action they witnessed.  I guess you could say they helped shape this race fan into the diehard I am today. Spending some time with them really made for a special night for me.
Before I knew it, the heat races were rolling out onto the historic half mile. Randy Cosselman, Luke Horning, Chuck Dumblewski picked up the Pro Stock heats with David, Manchester, Jeff Holt and Tony Farone taking the Sportsman qualifiers.  Saturday's Modified races were claimed by Pep Corradi, Scott Huber, and Cody Bleau.
Johnny Young grabbed another Street Stock feature win and the Limited Sportsman Main event went to Travis Billington.
The Mohawk Valley Vintage Dirt Modified Series brought a little taste of nostalgia to the "Track of Champions Saturday night with Rob Sanford taking the top spot in the Modified class.  Floyd Billington was first to the line in a Sportsman and Malcome Warner took the Late Model division.
The MVVDMS always put on a great show.  If your a vintage racing fan, the series will be at the Devil's Bowl Speedway in West Haven, VT on June 24th so check them out.  You will be glad you did.
Randy Cosselman put his hot rod on point early in the Pro Stock feature and never looked back, picking up the victory.  AJ Walters was second followed by Chuck Dumblewski, Kenny Gates and Ivan Joslin.
Bobby Varin continued his early-season hot streak, picking off another win Saturday in the Modifieds. Josh Hohenforst, who has been in the hunt every week, had a solid second place finish with Cody Bleau showing speed in third.  Jeremy Wilder was fourth and Shaun Pangman rounded out the top 5
After an 18-year absence from the driver's seat, veteran Brian Borst made his return to Checkered Board Square at Fonda as a Sportsman feature winner.  Borst has a stack of Sportsman wins in the old configuration as well as a Pro Stock victory to his resume. Jason Greco had a great run with a solid second place finish. Manchester, Robert Bublak and Nick Scavia completed the top 5.
I caught up with Borst at his pit stall after the races.
"I honestly didn't think I would get a win this soon," he said.  "This is a family affair.  I love having my girls by my side…it's something I enjoy."
The Sportsman field may want to take notice.  Brian is back and firing on all cylinders.
I also stopped to see how Adam McAuliffe was feeling after his hard hit at Albany-Saratoga a few weeks ago.
"I"m feeling alright," he said.  "The car was pretty bent.  We stripped it and brought it down to the DKM guys and they had us fixed right up."
As I strolled down pit road, I couldn't help but notice how quickly most teams pack up and leave. I guess the days when fans could stop at their favorite driver's hauler after the show and get a photo or just chat are long gone.
On Sunday, I headed up to "The Ridge" for the return of the Modifieds, plus a full card of great racing action. Rocky Warner claimed his first Big  Block win, making him the only driver to collect feature wins in all three headline divisions at Glen Ridge.
Justin Knight was first to the checkers in the Pro Stocks and Dave Constantino would drive his DKM Chassis to a fourth-straight feature win.
For a full rundown of all the action from Sunday, check out my teammate Laurie Fallis's column.  She does a fantastic job of reporting on all the racing action.
After the action was complete, I caught up with the driver of the West End Towing #7 of Dave Constantino.  Constantino is also a part owner of DKM Fabrication with Eric Mack and Kyle Hoffman.  I wanted to find out more about the auction and raffle they are holding. The Boy's at DKM have teamed up with Stewart Friesen, John Ray & Sons and Halmar International to raise some funds for the Crossroads Center for Children.  They are auctioning and raffling off both sides door and quarter panels of the #61 C.D. Coville tribute car that was driven by Stewart Friesen at Albany-Saratoga on June 12th.  This car was hand-lettered by Custom Bob Niemietz and will be signed by both Super CD himself and Stewart Friesen.
The auction and raffle will be held on July 1 so there is still plenty of time to help support a great origination.  For more info on how to get involved, go to dkmracecars.com or visit them on Facebook.
This Saturday night, the mighty Modifieds are back at it at the Fonda Speedway along with Sportsman, Pro Stocks. Street Stocks and the Limited Sportsman.  Action starts at 7.
Sunday, the Ridge returns for another great night on the hill with a full card of racing including the Sportsman Modifieds, Pro Stocks, Slingshots and the always-entertaining Cruisers. Racing starts at 6pm.
Its also Father's day weekend so grab your Dad and bring him to the races.  I hope to see you there.