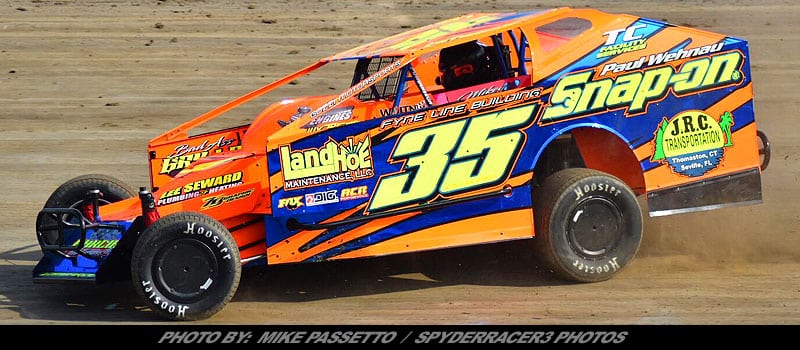 Column By: BOBBY CHALMERS / RPW – WEST LEBANON, NY – The name of the game was practice…not a race, but practice Saturday at the Lebanon Valley Speedway. It's a time for teams and drivers to shake the rust off and see what they got as they get ready for their season opening events this coming season on the high banks.
For many teams, it's a chance to test some new car and motor combinations to see if what they worked all winter long on will be just what they need for the new season. For others, it's just a time to make sure the brakes work, the car turns left and the engine has no skips.
Chad Jeseo is one driver who was glad to have the practice session Saturday…mainly because the issues he and his RC Concrete #25 team had didn't happen on opening night.
In the first practice session, the engine in the team's new PMC Chassis-machine lost oil pressure before they even made it on the track. The team decided to spend the rest of their time at the track working on their back-up car, but found problems with that as well.
"The first time we took the car on track, I noticed it lost oil pressure so I shut of down," he said. Scott (Hamlin, Jeseo's car owner) didn't want to mess with it the rest of the day so we took the other car out. That one has either a problem in the ignition or fuel delivery. I'm not sure. It kept cutting out so we changed fuel pumps, carburetor, coil, cap, and rotor but still didn't find it. We'll get things fixed for next week."
Another driver who had issues early was Paul Gilardi, who is debuting a new HigFab Chassis (HFC) for this season. After losing the team's Higbie car last year in a vicious wreck on July 29th, the team decided to put another car together because they really liked the car and working with HFC.
It took the Gilardi team nearly all day to figure out their issues may be in the fuel system as well.
"The car seemed to load up with fuel before we even went out so we changed a set of spark plugs," Gilardi said. "In the first set the car wasn't right, so we changed the fuel pump. In the second set, the car was flooding out again, so we came in and checked everything we could find. We took the fuel cell vent off and it immediately sounded different. We changed it and the car was pretty good in the third set."
Overall, Gilardi is happy with the new car and how it handled.
"We tried some things that we thought worked with our car from last year, but it just didn't feel right," he said. "We made some changes during today and it felt better. We'll see where we are on the scales when we get back to the shop and maybe we've hit on something."
There were two drivers, in particular, who had some new "performance" under the hood, as in Performance Engines by Billy The Kid…LJ Lombardo & Kyle Armstrong. Both put their cars and motors through their paces Saturday and came away pleased.
"Our car was decent today," Lombardo said. "The new motor is absolutely unreal but we need to work on handling now. "A spark plug wire fell off on the first set and a radiator hose blew apart after that, but there's nothing we could do about those issues. All I know is I'm pretty excited for this year. I've got a great group of guys and we just need to stay focused so we can beat these guys set-up wise."
For Armstrong, he and his Newtown Pools #11a team had to work through some issues too, with both of their Teo Pro Cars, but on a whole, he's very encouraged by the test session.
"We stripped the steering pitman arm in the primary car and got in the fence and broke a driveshaft in the backup," he said. I think I caught it in time and didn't hurt the motor as I was off throttle when it happened. Both cars handled decent and I'm really happy. It's days like this, even with the issues, that make the hard work during the long off-season worth it."
Kolby Schroder was another driver who brought two cars to the track Saturday, trying to shake them both down to see what he had.
"Both cars really ran well today," he said. "I felt like I could run everywhere I wanted. Our primary car was stronger I think. It was very predictable and confidence inspiring. Anywhere I wanted the car to go it just went."
Keith Flach also made laps on the high banks. The new father from Ravena, NY and his #43 team had an agenda for the practice Saturday.
"Our car is pretty good," he said. "Everything went according to plan both here and at Albany-Saratoga Friday night. We're happy with how things went and how the track was today. It got a bit slick but was pretty good which helped us."
In the new car department, one driver who is doing something completely different than he's ever known is 358-Modified driver Brett Haas. Haas, who after much debate this off-season, will return to the Valley's Small Block ranks, debuted a brand new Bicknell Saturday after running Teo cars for his entire career.
"We are very happy with this new Bicknell car," Haas said. "It handled very well and I like it much better than what we had with the Teo. Having a fresh piece helps with that but Randy and everyone at BRP has helped a great deal with getting us up to speed with setup help. We definitely have confidence heading into the first few weeks here and may try some stuff to tune it in some more, but the balance is there. Now we'll just have to see how it is in race situations."
What aided the Haas team to really fine-tune their new car were track conditions.
"The track was actually pretty good for the long winter we had in our area," he said. "It started to rut up in the center of three and four, but nothing that was out of the ordinary. "They did a good job with the track prep and it helped us get this car up to speed."
Chad Pierce is a driver this season that's racing with a special purpose. Since last season, his father, Lebanon Valley's newest Hall Of Famer Edmond "Peanut" Pierce, was diagnosed with esophageal cancer. To honor him, and help bring awareness to the fight, Pierce ditched his customary orange color on his car for periwinkle, the color used to represent this form of cancer.
"This season is for my dad," he said. "He's always been there for me and I want to be there for him right now. This deal is to not only bring awareness for esophageal cancer but to give us all something to stay positive about. I love you dad. We got this."
Saturday was a good day at the track for the Pierce team, as the shook down their 358-Modified.
"We are very happy with our program and very encouraged after today," he said. "I feel the off-season improvements we made were very successful. The motor was very strong and we were trying some exhaust and carburetor advancements and they felt great. I'm excited."
Former Sportsman track champion, and other new addition to the parental fraternity, John Virgilio, was trying the all-new Bicknell rear suspension set-up in his #14 machine and came away very happy with its progress.
"We're pleased with how the car went as this is a pretty cool set up but it's all trial and error at this point," Virgilio said. "The set up makes the car really lean over in the corners and we tried some stuff to stiffen that feel but the car really didn't like that. It's designed for a slick track so we'll see how it does in traffic."
John's father, former racer Gary Virgilio, was in the pit area with his right arm in a sling after recently having shoulder surgery. He indicated, with a laugh, that if he had to do it again, he'd probably just have the doctors cut his arm off.
He hopes to be back to good as new in about six weeks.
Chris Curtis was at the Valley shaking down his DIG Racing Products #35 PMC Car as he gets ready for the new season and was another driver who was happy with how the test went. See a theme?
"I think we're really good and should be in decent shape for next week," he said. "We learned a little bit as we tried a couple things and tested with some new shocks. Today wasn't a real hard day because we weren't pressured like we are on race day. We're here to try different things on the car and see how they work."
Curtis will run Lebanon full-time this season while following the entire King of Dirt Sportsman series. He will, however, not return to Glen Ridge in 2018 to defend his title there.
"Yea, we're not going back there this year weekly," he said. "It's tough to race Sunday's with a long drive home after a late night. We usually don't get home until one or two in the morning."
Pro Stock racer Rick Duzlak had a tough go with practice Saturday, but in his words, it happens and that's what practice is for.
In the first set of the day, the rear end spun in his #29 causing damage to the driveshaft, rear end and fuel cell. He and his team hope to get things back together for opening night next week.
The father-son racing duo of Jay & Jason Casey will be calling Lebanon Valley home for the 2018 season and were at practice for the first time in many years.
"We normally don't come to practice because we are usually racing somewhere," Jason said. "There wasn't any place to run so we came here to try some stuff and I'm very happy and dad is too. Hopefully some of the changes we made with these cars will get us to victory lane."
Jay had a small issue in the first session when the clutch didn't engage the transmission enough to get the car into first gear. The team adjusted it between sessions and got the problem resolved.
Fellow Connecticut campaigner Jon Routhier was at LVS as well and had a crate motor in the car he was practicing.
"I've never raced this car with crate motor at the Valley," Routhier said. "I like the open motor with a 2-Barrel carburetor here as it feels slow with the crate. We're so so but very close and didn't have any problems. We'll see how everything goes."
Pure Stock racer Zach Seyerlein is running a crate engine in his car for the first time this season and is very excited for how it ran Saturday.
"The car felt pretty good," he said. "I really can't believe how fast these crate motors are at the end of the straightaways. It keeps pulling and comes alive late. It's amazing."
Now, you may think it is only team's use the practice session to shake the rust off and figure out if any problems may arise. Think again, as track General Manager Lyle DeVore and his team worked hard to prep the track and then test all equipment to get ready for the season-opening race. Good thing they did.
"We got some great feedback from drivers and teams about how the track was today which was very encouraging," he said. "It wasn't bad for not getting any water on it for ¾ of the day today. We had issues with all three of our water trucks but we'll get them fixed for this coming week. I'm very happy with how the day went and the track held together nicely."
Tidbits….
Alan Houghtaling had three #250 Teo Pro Cars in the pit area…two 358-Modifieds and Sportsman. One of his 358's is former Scott Hamlin-owned machine that JR Heffner raced to many feature wins a few years back.
Scott Flanders made his way to the Valley Saturday. After some time off, Flanders returned halfway through last season at Malta. Saturday was the first time he had ever taken any laps around Lebanon
Don Collins focused on the motor and transmission this off-season for his Pro Stock. His car's body and suspension were in good shape from last year and he wanted to do a put a new drivetrain in his #149 for this season.
Nikki Ouellette has two cars for 2018. One of them will be specifically for the Valley while the other will allow her to follow the entire King of Dirt Sportsman Series.
Ted Teal has picked up a ride with the Alan Catlin-owned #76 Sportsman team. After some time away from the high banks, he said it was just like riding a bike. He even found himself counting billboards to see how much deeper he could go into the corners.
Joe LaFlamme was happy with his car Saturday. After putting a new motor in his piece this off-season, he got up to speed fast. The car was loose in the first set, so he and his team tightened up for second and were much better. He feels gear selection will be important come next week when track starts to get into race shape.
Several teams experimented with coil-over rear suspensions. Teo, Bicknell, Troyer, PMC. It didn't matter. Many were looking for an advantage.
Harold Robitaille and his team, owned by Karl Ruquist, brought two PMC's to the track. Both ran well, but the radiator shifted in one causing the fan blade to hit the shroud. The team is pleased with both cars and will work to rectify this problem for next weekend