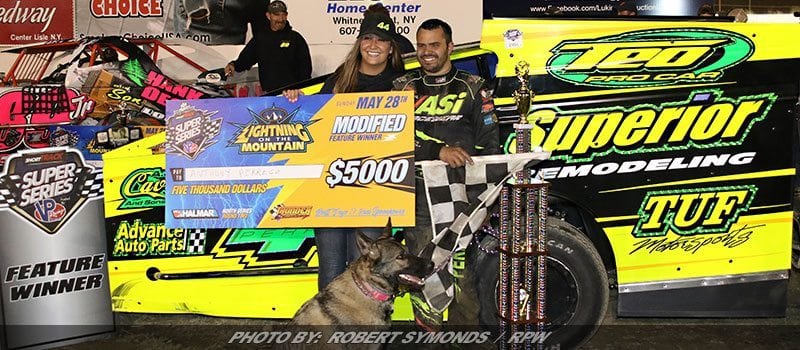 Information By: BRETT DEYO / SHORT TRACK SUPER SERIES – CENTER LISLE, NY – Anthony Perrego was able to outdistance Stewart Friesen, Andy Bachetti and the rest of the Short Track Super Series field to win the "Lightning On The Mountain" event at Thunder Mountain Speedway Sunday evening.  Full results are posted with a story to follow.
'LIGHTNING ON THE MOUNTAIN' RACE SUMMARY – THUNDER MOUNTAIN SPEEDWAY MAY 28, 2017
Bob Hilbert Sportswear Short Track Super Series Fueled By VP Halmar International Round No. 2 Modified Feature Finish (50 laps): ANTHONY PERREGO, Stewart Friesen, Andy Bachetti, Jeremy Smith, Ryan Jordan, Billy Decker, Jerry Higbie, Adam Hilton, Nick Nye, Chris Stull, J.R. Hurlburt, Danny Creeden, Brian Malcolm, Tommy Meier, Matt DeLorenzo, Chad Cook, Colton Wilson, Byron Worthing, Rick Wilk, Cory Costa, Barry White, Craig Hanson, Nick Rochinski, Brian Krummel, Sam Allen, Brent Wilcox, Alan Barker, Gary Tomkins, Brad Szulewski.
Did Not Qualify: Charlie Hendrickson Jr., Steven Deinhardt, Randy Brokaw, Danny Tyler, Brett Barrett, Donnie Lawson, Tyler Siri, Mike Ward, Roy Shields, Kurt Hundeland, Brandon Martin, Dan Humes, Mike Nagel Jr., Danny Cronk, Billy Spoonhower, Stacy Jackson.
Bob Hilbert Sportswear Short Track Super Series Fueled By VP Sportsman Round No. 1 Feature Finish (25 laps): LARRY MEKIC, Tom Collins, Billy Spoonhower, Shayne Spoonhower, Cory Cormier, Nick Nye, Geordie Decker, Eric Leet, Cole Hentschel, Marty Bunker, Randy Allen, John Morse, Alissa Cody, Chris Stevens, Craig Pope, Harold Humphrey, Chance Spoonhower, Mike Nagel Jr., Travis Smith, Leo Fotopoulous, Brian White, Eddie White, J.R. Fulper, Tighe Sherlock, Bobby DeLeon, Phil Vigneri III.
Did Not Qualify: Will Shields, Lee DeWitt, Bob Mills, A.J. Williams, Austin Smith, Kinser Hill, Tyler Keener, T.J. Frost, Dylan Smith, Richie Hillis, Kenny Hammond, Connor Spoonhower.
Chad Sindoni Memorial Street Stock Feature Finish (25 laps): DAMON DECKER, Lanson Albanese, Butch Green, Gene Sharpsteen, Doug Stack Jr., Dan Mazzarese, Donald Russell, Shane Wolf Jr., Bob Maynard, Nick Robinson, Doug Stack Sr., Buck Mills, Matt Spencer, Zack Mills, Jerred Dennis, Rich Sharpsteen, John Hoover, Shawn Boynton, Glenn VanCise, Earl Zimmer, Trevor Dudley, Mike Wilbur Sr., Kevin Garland, Laverne Knickerbocker, Cody Nielson, Dan Wood, William Manuel Jr.