RPW Column: Ryan Walther Breaks Through For First Career OCFS Sportsman Win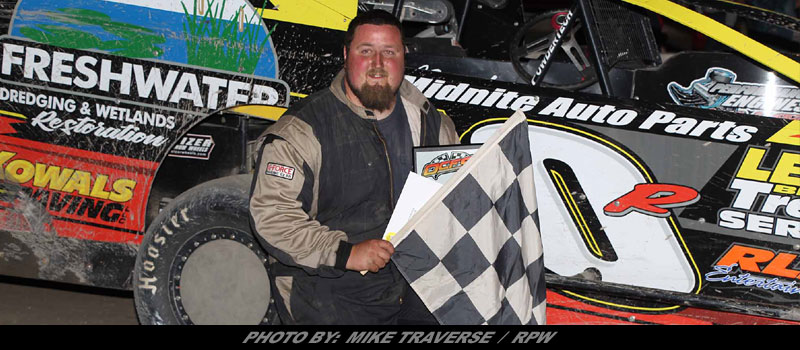 Column By: MIKE TRAVERSE / RPW – MIDDLETOWN, NY – The year 2021 is Ryan Walther's first full season of racing. He began his racing career late in 2020.
In his first Sportsman outing, he qualified in his heat race for the Eastern States Sportsman race, quite an accomplishment for a first time racer. .
In the most recent OCFS Sportsman race on July 10th, the ever improving Walther raced to a career best 4th place finish. On a rare Friday night event at OCFS, Ryan topped that performance by scoring his first career Sportsman win. And he did it in fine style by outracing veteran racers Clinton Mills and Brian Krummel to the checkered flag.
Walther and Justin Gozzi had the front row for the feature. After two failed attempts to get the lap scored, it was Walther grabbing the lead with 3rd starting Mills moving into 2nd and Krummel 3rd. Caution flew after 3 were down. It took a number of restarts to get racing again. On one restart, Krummel got up beside Walther, but caution was back out before the lap was scored. It turned out to be Walther's closest call of the race.
With another failed restart attempt, OCFS officials deemed the next restart to be single file. Walther was able to not only stay in front, but opened up a fairly safe cushion between himself and Mills. Walther was racing flawlessly in the low groove.
The race ran caution free the rest of the way. On lap 13, Walther reached the back of the field, but he was able to move past the traffic and Mills was never able to mount a serious challenge. Krummel had settled into 3rd, unable to make a strong challenge to pass Mills. At the finish, it was Walther just a shade under 2 seconds over Mills with Krummel in 3rd. Mike Sabia, in his first OCFS start of the season, finished 4th with Gary Edwards III in 5th. Gary Edwards Jr was 6th followed by Gozzi 7th, John Bockhorn 8th, Ryan Neiger 9th and Grant Hilfiger 10th.
"I saw Krummel on the one restart get under me and I thought that it was over. When we restarted, I just had to hit my marks. And it was good," Walther said in Victory Lane. "The lapped cars were out of my groove and I was able to get past them."
A dash was held for the Sportsman heat winners and it was Krummel taking the win over Hilfiger, Jared LaBagh and Kasey Hufcut.
Jim Hajkowski raced to the win in Friday's Street Stock event with Bob Sleight Jr in 2nd and Dillon Gannon 3rd.
Gannon and Hajkowski led the field to green with Hajkowski taking the lead and Sleight Jr into 2nd. They raced in that order until the caution flag flew after 9 laps were down. Hajkowski again was in control on the restart with Sleight Jr getting out of the groove as Gannon and Charlie Donald got by. Sleight Jr was back by Donald when caution was again out after 13 complete.
Sleight Jr made it back into 2nd on the restart, but he was unable to put enough pressure on Hajkowski for the lead and Jim took the checkered flag 7/10ths of a second ahead of Bob with Gannon 3rd, Donald 4th and John Tucker 5th. Danny Hedges, racing Wayne Taylor's #58 was 6th with Marty Van Nieuwland 7th, Paul Harding 8th, Ben Richard 9th and Jared Palmer 10th.
"We time trialed fast so it was good to be in the front row for the heat with the clean air. Clean air is important and you can pick your line when your the leader. We got out front, but I knew those guys were there. It was good hard racing," Hajkowski said.
In the Street Stock dash, it was Hajkowski over Sleight Jr, Gannon and Donald.
Racing returns on August 7th as it will be the Full Fender Nostalgia Night at OCFS. The Street Stocks will be competing in the Marky Traverse Memorial Race along with the Atlantic Coast Old Timers (ACOT) and an enduro.