RPW Column: After Four Years, Richard Smith Finds Way Back To Accord Speedway Victory Lane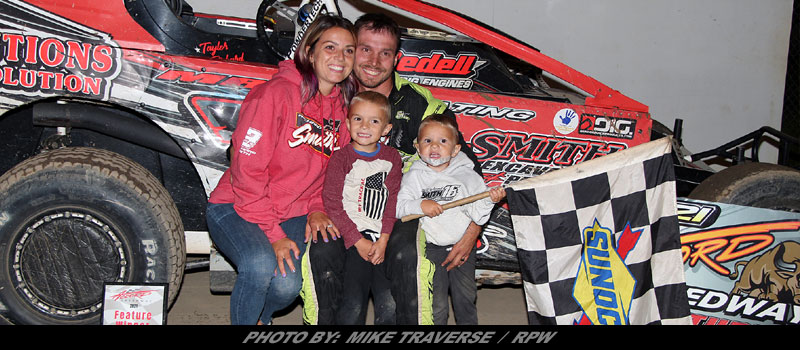 Column By: MIKE TRAVERSE / RPW – ACCORD, NY – It had been four years since Richard Smith had last visited Accord Speedway's Victory Lane. But on Friday, Smith drove a flawless race and held off Danny Creeden on a late race restart to take the 30 lap Modified feature.
Jimmy Wells and Smith were at the head of the field as the race began. Smith moved out front as caution quickly waved on lap 3. Smith led on the restart over Wells and Creeden. The race went green until lap 13 when Danny Tyler made contact with a lapped car and slowed on the track. Smith, using the high lane, again got a good jump on Wells to reassume the lead.
The final caution of the race occurred on lap 23 as Wells slowed and ducked into the pits. He rejoined the race. With Creeden restarting inside of Smith, Danny made a strong bid for the lead, ever so briefly nosing ahead. But Smith was too strong in the high groove and quickly moved back in front and stretched his lead as the race wound down. At the finish, it was Smith nearly 2 seconds ahead of Creeden with Randy Green 3rd, Brad Rothaupt 4th and Jerry Higbie 5th. John Ferrier was 6th with Joe Judge 7th, Jesse Marks 8th, Mike Corbin 9th and Wells 10th.
"We had a good starting spot. Starting next to Jimmy is tough, but we got out front. I was a little nervous the first restart, but we were good on the 2nd one," Smith said. "When we went single file and I saw that Jimmy had broke and Danny Tyler had broken earlier, I figured it was Danny Creeden right behind me. I knew that he would make a run for it on the restart. But we were wicked fast and got back out front."
Possibly the most exciting feature of the night was in the Sportsman division. Brian Durbin and Kevin Stevens went at it for the whole 25 laps. In the end, it was Durbin grabbing his 2nd win of the season over Stevens and Charles Loiodice.
Durbin and Eddie Owens made up row one for the start. After two failed attempts to get the race going, Durbin grabbed the lead with Stevens moving into 2nd. The race went non-stop for the next 17 laps with Durbin and Stevens having a great battle at the front as Brian held off all of Kevin's attempts to take the lead from the low groove.
Back to green saw more of the same as Durbin continued to hold off all of Stevens' challenges. After one more restart, a 3 lap sprint to the finish saw Durbin taking the win by 1/3 of a second over Stevens with Loiodice 3rd. Harry Baldwin in 4th and Jamie Yanonne in 5th completed the top 5. Positions 6 thru 10 were Kyle Rohner, Alisa Cody, Nick Plumstead, George Begg and Brad Cicio.
When Walt Henry pulled into the Accord pit area Friday, his car had a slightly different appearance. Instead of sporting his usual 171, the number had been neatly altered to 00 with a Mrs attached. The team did this in memory of Paula Ackerkly who passed away early on Friday morning. The 00 had a long history with Paula's husband, Ray Ackerly using it with his cars over several different divisions over many years. More recently, Paula's daughter, Nicole Ackerly, drove her Pure Stock numbered with Miss 00.
In memory of Paula, Henry went out and led flag-to-flag to take the victory to put the Mrs. 00 into Victory Lane. Walt held off John Hechinger who was able to press Henry in the late stages of the race. Livy Johnson, who has announced that this was her final race, finished her career on a good note, taking 3rd. Jay Smalley and Chris Kanuk were 4th and 5th.
On behalf of Race Pro Weekly, we extend our deepest sympathies and condolences to the Ackerly Family.
In the Fireball 4 Cylinder division, it was Tim DeGrote taking the win over Ryan Heady and Ray Tarantino with Brandon Conklin 4th and Dave Bendell 5th.
Kevin Murphy was Friday night's winner in the Rookie Sportsman over Billy Fiske, Mike Travis, John Doty and Mark Connoly.
Northeast Wingless Sprints saw Dan Malley take the win over Jeremy Quick and Steve Kyser.
Slingshot action saw Madison Lewis taking the checkers with Sophia Spear 2nd and Calleigh Stritmater 3rd.
The Northeastern Vintage Modifieds were at Accord on Friday and it was Scott Mill with the win over Ray See Sr and Mike Cole.
Next Friday night, September 10th, will see the division champions crowned as it is the final points night of the season.