RPW Column: Jesse Marks Scores Accord Speedway Modified Victory Friday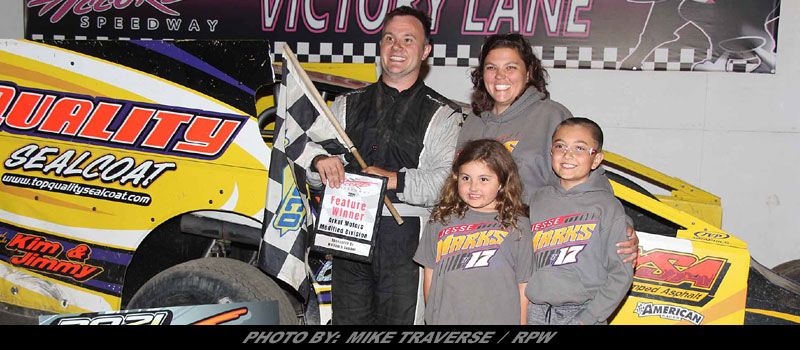 Column By: MIKE TRAVERSE / RPW – ACCORD, NY – It was a busy night at Accord Speedway Friday night as it was Williams Lumber Camera and Autograph night at the Ulster County bullring. A good crowd at the speedway took advantage of the opportunity to meet and greet their favorite drivers. After the festivities were complete, it was time for the racers to go to work.
It was Jesse Marks taking a wire-to-wire victory in the headline Modified class as he outran Scott Ferrier and Danny Tyler to the checkered flag.
Marks and Ken Ferrier made up the front row with Jesse taking the lead at the drop of the green with Shane Jablonka moving into 2nd. Caution was out on lap 3 for Mike Corbin coming to a stop in turn 3. Marks led on the restart with Scott Ferrier moving to 2nd. After a green flag period, caution was out on lap 13 as a few cars got together in turn 4 with Danny Creeden, Mark Pullen, Ken Ferrier and Tony Kawalchuk all retiring to the pits.
On the restart, Scott Ferrier put some pressure on Marks for the lead, but Jesse was again able to pull out to a safe advantage. Tyler had raced his way up to 3rd when caution was out again on lap 15. As the race went green the rest of the way, there was little change of positions. At the finish, it was Marks by a little over two seconds over Scott Ferrier with Tyler 3rd, Jimmy Wells 4th and Jablonka 5th. Richard Smith was 6th, Mike Ricci 7th, John Ferrier 8th, Joe Judge 9th and Geoff Quackenbush 10th.
"We fired off great, got to the middle which was the fastest groove. Ran a little on the top. ran some on the bottom, it was a good run. It's great to get into Victory lane again," said Marks.
Matt Shultz took the lead on a lap 9 restart and was Friday's Sportsman division feature winner over Cody Higbie and Travis Green.
Eddie Owens and RJ Smith led the field to the green flag with Owens jumping out front. Owens was leading when caution came out after 8 laps were complete. Shultz moved to the lead on the restart with Owens 2nd and Travis Green 3rd. By lap 10, Higbie had moved into the top 5 and on lap 13, got by Green for 3rd.
It was Shultz, Owens and Higbie running 1-2-3 when caution was out after 18 were down. Shultz led on the restart with Owens and Higbie side-by-side for 2nd. Cody made the pass for 2nd on lap 20. Caution after 22 complete bunched up the field once again.
Higbie made a bid for the lead on the restart, but Shultz was too strong and Matt took the checkers 4/10ths of a second ahead of Cody with Green getting by Owens late for 3rd. Owens finished 4th and Kyle Rohner 5th. The balance of the top 10 were Kevin Stevens 6th, Tyler Johnston 7th, Cole Hentschel 8th, Nick Plumstead 9th and Harry Baldwin 10th.
Walt Henry was leading the previous Friday's Pure Stock race when action was stopped with 4 laps down. And as that race was completed Friday evening, it was Henry taking the win over Chris Kanuk, John Hechinger, Dave Gerard and Curt Ayres.
In the regularly scheduled Pure Stocks event, there were a number of disqualifications that shook up the running order. When the dust settled, it was Hechinger taking the win over Henry, Kanuk, Ayres and Hunter Lee.
Ashton DeWitt was Friday's winner in the Rookie Sportsman with Kevin Murphy 2nd, Austin Smith 3rd, Emily Doty 4th and Dan Specht 5th.
In the 4 Cylinder division, it was Tim DeGrote with the win over Brandon Conklin, Cameron Reichenbaugh, Jesse Norman and Jeff DeGroat.