Ryan Godown Collects $3,000 For Modified Thunder On The Hill Win Tuesday At Grandview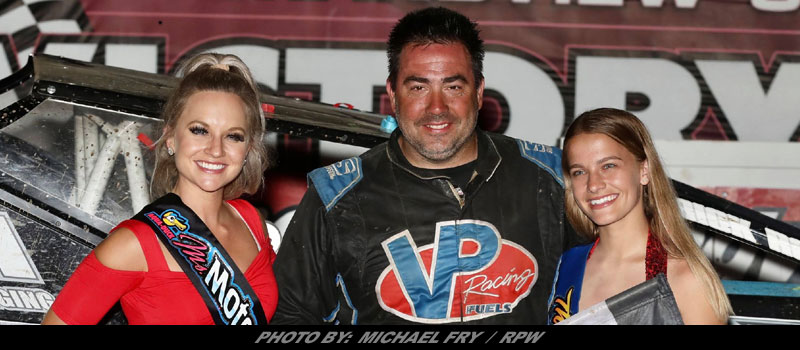 Story By: BOB MILLER / THUNDER ON THE HILL – BECHTELSVILLE, PA – Ringoes, NJ's Ryan Godown – a two-time Thunder on the Hill winner – dominated the NASCAR 358 Modified feature event Tuesday night and picked up his first Grandview Speedway victory since 2018.
By luck of the draw, Godown started in the second position on the field and took the lead on the initial circuit around the Bechtelsville oval.
With Godown leading, all eyes were on the battle for second with Brett Kressley and Duane Howard battling back-and-forth, while Jeff Strunk moved into fourth from a ninth-place starting position and then moved into second two circuits later.
The only caution of the program flew on lap 28 for Blaine Bracelin, but that didn't stop Godown from sailing onto victory and the $3,500 winner's share. Jeff Strunk finished in second, Duane Howard in third, Brett Kressley in fourth, and Craig VonDohren in fifth.
NASCAR 358 Modified GT Radiator Heat Races were won by Justin Grim, Duane Howard, and Kevin Hirthler – each picked up a $100 bonus courtesy of Harry & George Turner of GT Radiator. Modified B-Main was won by Doug Manmiller.
The NAPA Auto Parts Thunder on the Hill Racing Series returns on Tuesday, August 3 with the Ken Brenn Midget Masters featuring the NOS Energy Drink USAC National Midget Tour and the NASCAR 358 Modifieds.
NASCAR 358 Modifieds (29 Cars)
Heat 1 – 1. Justin Grim 2. Jack Butler 3. Brett Gilmore 4. Jordan Henn 5. Mike Gular 6. Kyle Weiss
Heat 2 – 1. Duane Howard 2. Brett Kressley 3. Jeff Strunk 4. Craig VonDohren 5. Mike Lisowski 6. Nate Brinker
Heat 3 – 1. Kevin Hirthler 2. Blain Bracelin 3. Ryan Godown 4. Criag Whitmoyer 5. Dylan Swinehart 6. Kenny Gilmore
B-Main – 1. Doug Manmiller 2. Brian Hrithler 3. Alex Yankowski 4. Jesse Landis 5. Ryan Beltz 6. Rick Laubach
Feature – 1. Ryan Godown 2. Jeff Strunk 3. Duane Howard 4. Brett Kressley 5. Craig VonDohren 6. Kevin Hirthler 7. Craig Whitmoyer 8. Mike Gular 9. Justin Grim 10. Jordan Henn 11. Kenny Gilmore 12. Doug Manmiller 13. Jack Butler 14. Brett Gilmore 15. Alex Yankowski 16. Dylan Swinehart 17. Rick Laubach 18. Kyle Weiss 19. Blaine Bracelin 20. Brian Hirthler 21. Ryan Beltz 22. Mike Lisowski 23. Nate Brinker 24. Jesse Landis