Brett Kressley Claims 358-Mod Thunder On The Hill Win Thursday At Grandview Speedway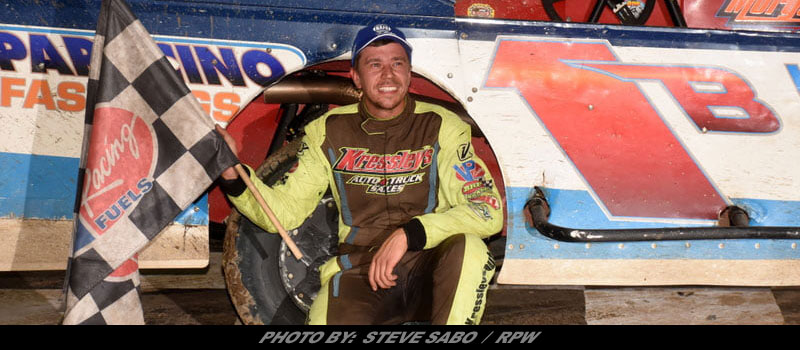 Story By: BOB MILLER / THUNDER ON THE HILL – BECHTELSVILLE, PA – NAPA Auto Parts Thunder on the Hill Racing Series returned to Grandview Speedway on Thursday Night for a 410 Sprint Car and Modified doubleheader.
Brett "The Threat" Kressley won the 358 Modified main event worth $3,500 in a single-lap shootout to the checkered flag.
A field of 30 modifieds filled the pit area on a hot, hot summer night that also offer the threat of rain all around the Bechtelsville speedway.
The Pioneer Pole Building $1,500 first time Thunder on the Hill modified winner bonus remained unclaimed although Matt Stangle was in the hunt for the $5,000 first place prize after leading a good portion of the race. Stangle turned in a very impressive fourth place finish.
Stangle and Justin Grim led the field down to the green flag, swapping the top spot twice in the first lap. A bold three-wide move handed the lead to Jared Umbenhauer, with Grim and Stangle fighting for second.
Umbenhauer dropped into a rhythm that earned him a half-track lead over the rest of the field. Six cars battled for second running multiple grooves before the yellow slowed the field on lap eleven.
On the restart, it was Stangle taking the lead and maintaining control with Brett Kressley and Craig VonDohren following close behind.
Kressley made his move on lap 20, powering past Stangle into the lead.
Lapped traffic bunched the field directly in front of the leaders, with Kressley making contact – but continuing on while the lapped cars spun out, bringing out the yellow, and setting up a one-lap shootout for the win.
Kressley took the lead on the start, the checkered flag, and the $3,500 Thunder on the Hill Racing Series win. Umbenhauer came home in second, Craig VonDohren in third, Matt Stangle in fourth, and Jeff Strunk in fifth.
GT Radiator Repair 358 Modified qualifying heats were won by Justin Grim, Jared Umbenhauer, and Jack Butler each collecting $100 from the Ambler, PA-based business. The last chance consolation event was won by Kevin Hirthler.
The NAPA Auto Parts Thunder on the Hill Racing Series returns on Saturday, October 16 for the Mods at the Madhouse Big-Block/Small-Block Modified Triple 20s and Sportsman event.
NASCAR 358 Modifieds
Heat 1 (10 Laps) – 1. Justin Grim 2. Duane Howard 3. Matt Stangle 4. Craig Von Dohren 5. Craig Whitmoyer 6. Briggs Danner
Heat 2 (10 Laps) – 1. Jared Umbenhauer 2. Tim Buckwalter 3. Brett Kressley 4. Ryan Krachun 5. Ryan Godown 6. Ron Kline
Heat 3(10 Laps) – 1. Jack Butler 2. Davey Sammons 3. Jeff Strunk 4. Kyle Lilick 5. Mike Gular 6. Alex Yankowski
B-Main (10 Laps) – 1. Kevin Hirthler 2. Rick Laubach 3. Brian Hirthler 4. Kenny Gilmore 5. Jim Housworth 6. Mike Lisowski
A-Main (30 Laps) – 1. Brett Kressley 2. Jared Umbenhauer 3. Craig VonDohren 4. Matt Stangle 5. Jeff Strunk 6. Duane Howard 7. Ryan Godown 8. Mike Gular 9. Rick Laubach 10. Justin Grim 11. Jack Butler 12. Kevin Hirthler 13. Davey Sammons 14. Kenny Gilmore 15. Brian Hirthler 16. Ron Kline 17. Jim Housworth 18. Ryan Krachun 19. Tim Buckwalter 20. Craig Whitmyoer 21. Briggs Danner 22. Alex Yankowski 23. Mike Lisowski 24. Kyle Lillick