Justin Grant Wins Round One Of '21 USAC Eastern Storm Tuesday At Grandview Speedway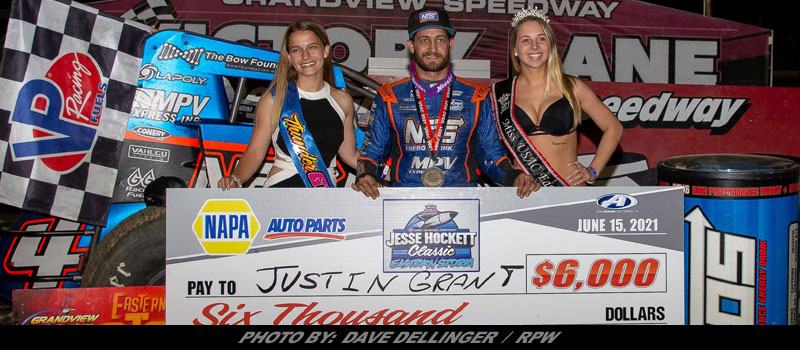 Story By: BOB MILLER / THUNDER ON THE HILL RACING SERIES – BECHTELSVILLE, PA – Justin Grant of Ione, California kicked off the USAC Eastern Storm Speed Week with a win in the 40 lap $6,000 to win Jesse Hockett Classic AMSOIL USAC National Non-Wing Sprint Car Series, part of the NAPA Auto Parts Thunder on the Hill Racing Series at Grandview Speedway Tuesday night.
All eyes were on Broken Arrow, AZ sensation Brady Bacon who was looking for his fifth consecutive USAC win in the Thunder on the Hill Racing Series at the Grandview Speedway. Bacon was a contender for the win, pressing Grant most of the race including a bold run at the leader in the final three laps. Bacon ran out of time and settled for the runner-up spot.
Grant led the NOS Energy Drink No. 4 machine to his first win of USAC's Eastern Storm swing since its inception in 2007.
"Wins are hard, I was hustling every lap," Grant said during Victory Lane celebrations. "This is a place I've struggled at, so it's great to score a win."
Grant started on the pole, alongside Pennsylvania favorite, Alex Bright. Grant pulled away at the start with Bright, Tanner Thorson, and Brady Bacon following nose to tail. The yellow flew on the fifth circuit for Jake Swanson, who moved into the work area and changed a broken shock.
A lap 13 restart offered an opening for Thorson and Bacon, who moved into the second and third places respectively. Thorson threw everything he had at Grant diving deep into the corners, but couldn't complete the pass.
With Thorson in hot pursuit, Grant hammered down, pulling a full second lead just passed the halfway mark, before the action slowed for the final time on the 25th lap.
With Thorson and Bacon pushing as hard as they could to move passed Grant, Thorson got sideways with five laps remaining offering Bacon second place and a chance to challenge for the win.
They didn't have enough for the California-native, Justin Grant who went on to claim the victory, ending Brady Bacon's four-race win streak. Bacon would settle for second, Thorson rebounded for third, quick timer Kevin Thomas, Jr. came home in fourth, and Robert Ballou rounded out the top five.
Chris Windom finished in the seventh position scoring a $100 bonus from Clauson Marshall Racing celebrating Bryan Clauson's birthday.
Brady Bacon is tied with Greg Hodnett for the most consecutive Thunder on the Hill wins at four.
ZEMCO Headers offered $50 Gift Certificates to winners of the USAC Sprint Car Heat Races. Those certificates were claimed by Briggs Danner, Robert Ballou, and Jake Swanson .
The NAPA Auto Parts Thunder on the Hill Racing Series returns on Tuesday, June 29 for Pennsylvania Sprint Car Speedweek featuring the 410 Sprint Hodnett Cup paying $10,000 to win and the NASCAR 358 Modifieds. Gates open at 5:00 PM and racing will get underway at 7:30 PM.
USAC National Non-Wing Sprint Car Series
Time Trials — 1. Kevin Thomas Jr. 14.344 2. Brady Bacon 14.387 3. Matt Westfall 14.576 4. Tanner Thorson 14.637 5. Timmy Buckwalter 14.641 6. Brandon Mattox 14.708 7. Alex Bright 14.715 8. Justin Grant 14.739 9. Jake Swanson 14.765 10. Briggs Danner 14.787 11. Steven Drevicki 14.84 12. Chris Windom 14.846 13. Charles Davis Jr. 14.941 14. Robert Ballou 14.951 15. Chase Stockon 14.955 16. Mark Smith 14.974 17. Shane Cottle 14.987 18. Logan Seavey 14.999 19. CJ Leary 15.062 20. Nash Ely 15.093 21. Isaac Chapple 15.17 22. Alex Banales 15.492 23. Mike Meyers 15.836 24. Craig Pellegrini 16.173 25. Tom Savage 16.393 26. Paul Nienhiser NT
Heat 1 – 1. Briggs Danner 2. Charles Davis Jr. 3. Alex Bright 4. Kevin Thomas, Jr. 5. Tanner Thorson
Heat 2 – 1. Robert Ballou 2. Justin Grant 3. Brady Bacon 4. Shane Cottle 5. Steven Drevicki
Heat 3 – 1. Jakes Swanson 2. Logan Seavey 3. Chris Windom 4. Chase Stockon 5. Matt Westfall
Semi – 1. Tim Buckwalter 2. CJ Leary 3. Brandon Mattox 4. Mark Smith 5. Isaac Chapple 6. Paul Nienhiser
Feature (40 Laps) – 1. Justin Grant 2. Brady Bacon 3. Tanner Thorson 4. Kevin Thomas, Jr. 5. Robert Ballou 6. Briggs Danner 7. Chris Windom 8. Alex Bright 9. Tim Buckwalter 10. Matt Westfall 11. Chase Stockon 12. Jake Swanson 13. Logan Seavey 14. Charles Davis, Jr. 15. CJ Leary 16. Shane Cottle 17. Paul Nienhiser 18. Isaac Chapple 19. Brandon Mattox 20. Nash Ely 21. Steven Drevicki 22. Mark Smith