Jared Umbenhauer Leads Family-Owned Team To $3,000 Thunder On The Hill Win Tuesday At Grandview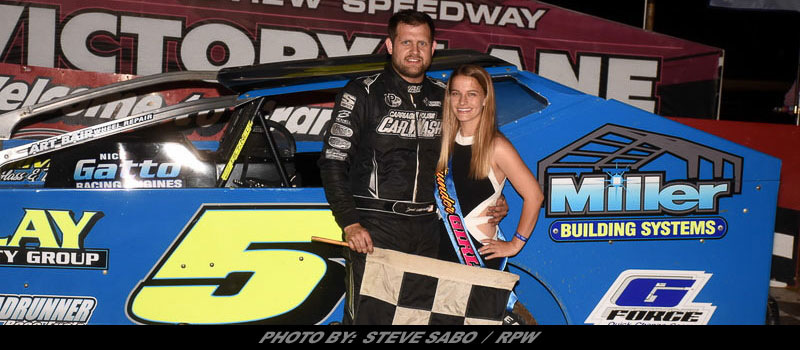 Story By: BOB MILLER / THUNDER ON THE HILL RACING SERIES – BECHTELSVILLE, PA – Jared Umbenhauer of Richland, PA became a first-time NAPA Auto Parts Thunder on the Hill Racing Series winner Tuesday evening at the Grandview Speedway, capturing the 30 lap NASCAR 358-Modified feature paying $3,000 to win.
Umbenhauer started in the first row alongside Modified rookie, Jack Butler. The duo battled door to door for the first five laps around the one-third mile Grandview high banks, before a lap 6 slider gave Umbenhauer the lead.
The sole caution of the event flew on lap 13 when Ron Kline pulled to the high side of turn two.
Umbenhauer continued his dominance on the restart, with only a brief challenge from Jeff Strunk just passed the halfway mark, dodging lapped traffic and coasting on to the win.
Jeff Strunk finished in second, Craig VonDohren came home in third, Doug Manmiller in fourth and Mike Gular completed the top five finishers.
ZEMCO Headers offered $50 Gift Certificates to winners of the Modified Heat Races. Those certificates were claimed by Jared Umbenhauer, Brett Kressley, Duane Howard, and Justin Grim.
GT Radiators added a $100 bonus to the Modified Heat Race winners Jared Umbenhauer, Brett Kressley, and Duane Howard.
The NAPA Auto Parts Thunder on the Hill Racing Series returns on Tuesday, June 29 for Pennsylvania Sprint Car Speedweek featuring the 410 Sprint Hodnett Cup paying $10,000 to win and the NASCAR 358 Modifieds. Gates open at 5:00 PM and racing will get underway at 7:30 PM.
NASCAR 358 Modifieds
Heat 1 – 1. Jared Umbenhauer 2. Jack Butler 3. Nate Brinker 4. Mike Gular 5. Alex Yankowski 6. Kenny Gilmore
Heat 2 – 1. Brett Kressley 2. Doug Manmiller 3. Kevin Hirhtler 4. Jeff Strunk 5. Craig Whitmoyer 6. Kyle Weiss
Heat 3 – 1. Duane Howard 2. Craig Von Dohren 3. Mike Lisowski 4. Ryan Watt 5. Kris Graver 6. Rick Laubach
Consi – 1. Justin Grim 2. Brian Hrithler 3. Danny Bouc 4. Ron Kline 5. Matt Stangle 6. Steve Young
Feature (30 Laps) 1. Jared Umbenhauer 2. Jeff Strunk 3. Craig VonDohren 4. Doug Manmiller 5. Mike Gular 6. Brett Kressley 7. Jack Butler 8. Alex Yankowski 9. Ryan Watt 10. Duane Howard 11. Kenny Gilmore 12. Rick Laubach 13. Danny Bouc 14. Kyle Weiss 15. Nate Brinker 16. Justin Grim 17. Matt Stangle 18. Kris Graver 19. Craig Whitmoyer 20. Steve Young 21. Kevin Hirthler 22. Mike Lisowski 23. Ron Kline 24. Brian Hirthler