RPW Column By: MIKE TRAVERSE / RPW – MONTGOMERY, NY – One of the nicest things you see around racing is how so many in the sport like to give back to the community.
Probably the best known that we've seen in 2020 came from the Halmar Friesen Racing team and Stewart Friesen with their Racing To Beat Hunger food drive. It was a tremendous effort by all involved.
Local racers are going to be doing their part as many have indicated that they will be in competition in an event that pays nothing to win except for an Ugly Sweater.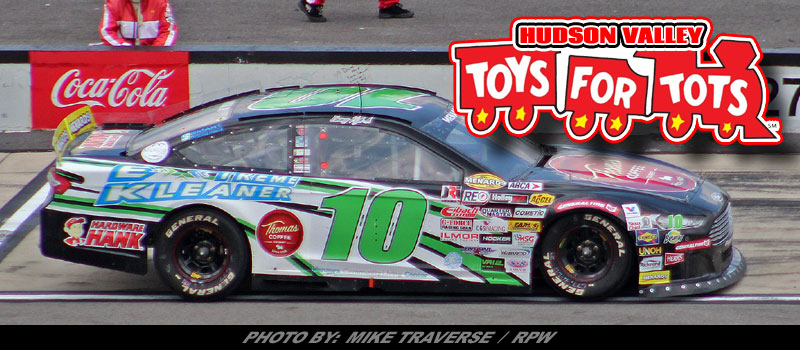 Andy Crane, Bethel Speedway's Director of Promotions and Marketing, announcer and driver of the Joe Fourny 4NY, has organized the Jingle Bell Bash which will be held at S&S Speedways in Stroudsburg Pa. on Dec. 7th. One of the requirements is that each driver is to bring an unwrapped gift that will be donated to the Hudson Valley chapter of Toys For Tots.
When Andy first came up with the idea for this event, he was wondering if he could get enough interest to fill out a field. The response from racers to his idea was tremendous. After having to put some people on a wait list, the field was allowed to expand to 35 racers and there is great support from the local racers who will be racing in the event for what the winner will receive, the coveted Ugly Sweater.
Modified standout Anthony Perrego, 2019 ARCA Rookie of the Year Tommy Vigh, 358 racer Corey Cormier and 2020 OCFS Sportsman winner Dom Roselli Jr. have entered the event. Some other drivers who have entered are Brandon McGill, Kurt Hundeland and Bobby Flood. Many Bethel drivers and crew including Crane will be in competition. Brian Bauernfiend, Larry O'Donnell, Walt Henry, Steve and Shawn Johannessen, Tony Gearhead, Joel Murns Jr. and Gene Morton will be joining in the event.
Andy will have to be on his game that night or he might not be bringing bragging rights back to his home. His son Thomas and daughter Layla will be in competition. Thomas helps out with announcing at Bethel and was able to call the race which put his Dad in Victory Lane at Bethel this past season. Layla recently has been showing increased interest in doing her own racing and she has been sharpening her skills on her Dad's computer racing setup.
There will be heat races, a B main and a 100 lap feature. The top 3 will be receiving trophies which Andy has described as kinda cool.
The amount of interest in the event has been a pleasant surprise to Andy.
"When I first came up with this idea, I was just hoping and praying to talk 20 people into doing this," Crane said. "To have 35 entrants including Anthony Perrego, Corey Cormier, Dom Roselli Jr. and Tommy Vigh is awesome."
And how are some of the entrants reacting to the event?
"It's been a lot of fun. I know some of the drivers have been ribbing each other," Andy said. "The real winner in the whole thing will be local families that we hope will make it a little more merry for them. And that's all thanks to the drivers who will be participating."
It makes one proud to be associated in a sport where you see things happen like the Halmar Racing To Beat Hunger and the Jingle Bell Bash.
It will be a fun night at S&S Speedways on December 7th. And Andy, even if you don't win the Ugly Sweater or don't beat Thomas and Layla, you are a true winner to the Hudson Valley families that will benefit from your efforts. And that is the best kind of win to get.