Column By: JENNIE BROWN / RPW – HURLEY, NY – They say what comes around, goes around, and for Jackie Brown Jr., that couldn't be more true right now.
I recently had the pleasure of sitting down with Jackie Brown Jr. to discuss his plans for the 2020 race season. The only difference between this interview and every other racing interview is that I'm his wife, so he had no idea he was being interviewed and actually just found out by reading this.
You may have seen some of the catchy jingles on the Jackie Brown Racing page regarding swap meets and pushing used parts after we hear that there was a rough night at a track.  I'm so sorry to disappoint you all, but Jack doesn't write those himself. Since I have a gift for jingles worthy of a commercial, he recently asked me to help him come up with something creative to announce the track's we will be dedicated to for the 2020 season.
I'd been a bit stumped, but then a great story fell into my lap.  It actually didn't literally fall into my lap, it walked into my place of employment.
I work at a local car dealership and one of my co-workers has family into drag racing. Her brother had recently told me that his father and he had bought two stock cars because they wanted a rear end out of one.  They didn't have much more of a clue about them besides that.
At the time, I told him that Jack sells used race car parts, so when he was done with them to let me know and we would possibly purchase the cars. This is the part where the story gets good (and gets handed to me, making my task much easier).
Ed Luther came to see me at work to let me know he thought he was ready to part with one of the stock cars. All that was known was that it was a roller and was supposed to be a Troyer. We made an arrangement to go see it that night. Jack and I were fully expecting an older, antiquated car that possibly had something useful.  If nothing else, we always enjoy a car ride.
We pulled into a pitch black driveway and almost drove passed the car without even noticing it. Jack looked out the window and I made some sort of comment about it being very old, but I was interrupted with "that's my car!"
I know Jackie Brown is a racecar driver, but I've never seen him navigate an F350 dually through a small, steep, dirt drive with better precision and speed then I did that night. He was so excited to be reunited with the old girl that he jumped out of the truck, barely introduced himself to the gentlemen selling it, and left our son, Jackie III, in the back seat, knocking on the window to be let out.
There it was, a 1995 Behrent chassis, with no body panels, but boasting a perfect condition piece of tin around the fuel cell with the nostalgic 6x displayed. Upon further inspection, the car was in exactly the condition it was when it left the Jackie Brown Racing stable in 1995, brand new Good-Year tires and all.
A younger Jackie Brown Jr. had put that car together with a car owner in hopes to take it and win a Sportsman track championship.
Fast forward to 25 years later and here we are, still racing. There have been many tracks, cars, victories, heartbreaks and crew members that have come and gone, but one thing has remained…the motivation to constantly want to be better in the racing world.
I guess most of you may find it humorous that at 47 years old, Jack finally feels good about where he's going in 2020. Our crew remains almost the same as the perfect piece of tin on the '95 chassis proudly displays: Dad, Billy and Mom.
In recent years and luckily continuing in 2020, Jack was chosen to drive for Bob and Ellen Wallace who are two of the best people and car owners you could ever come across. With them came Beth, Bob's daughter, to the team and I brought my Dad, Don, into the mix. Together we've all become some sort of family managing to improve every year.
Jack has piloted the 91NY Big Block Modified at Albany-Saratoga the last two years. In 2018, it was more trial and error.  In 2019, we had a couple of good finishes and a new confidence, so of course we had to challenge ourselves some more.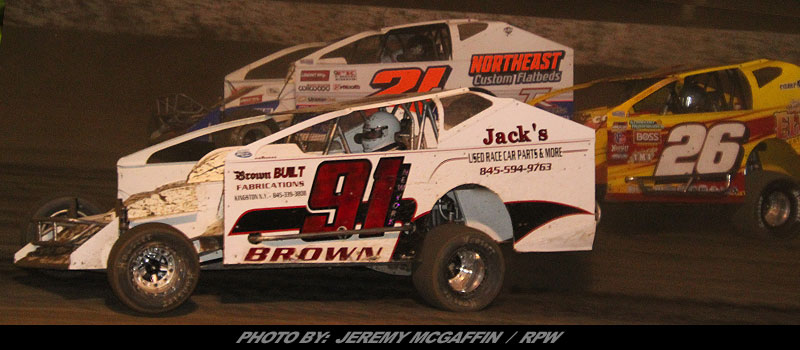 So with that, we're going to take on the track where that 1995 Behrent car was put together for but sadly never got to meet the dirt.  In 2020, you will find the 91NY competing at Albany-Saratoga again on Friday nights and we'll be returning to Lebanon Valley Speedway for a new challenge on Saturdays.
During my undercover interview, I asked Jack, "Why the Valley?"
"The management for both tracks has been great," he said.  "I don't have many years of this left so I want to run with the best in the business."
I can't blame him for seeking an awesome track surface and some heavy competition. If there is one thing I can say about my husband, it's that he is 100% dedicated to racing. Between him and his father, there's almost 100 years of combined racing experience. Some families build businesses.  Some take vacations.  The Brown's race, just like many others in this sport.
If finding your 25-year-old car that was built for a specific track that you're going back to doesn't confirm that you're making the right choice for your next season, I'm not sure what does.
Hopefully for our team, we'll solidify that decision in victory lane in 2020, either at Albany-Saratoga or Lebanon Valley.  We're not picky!