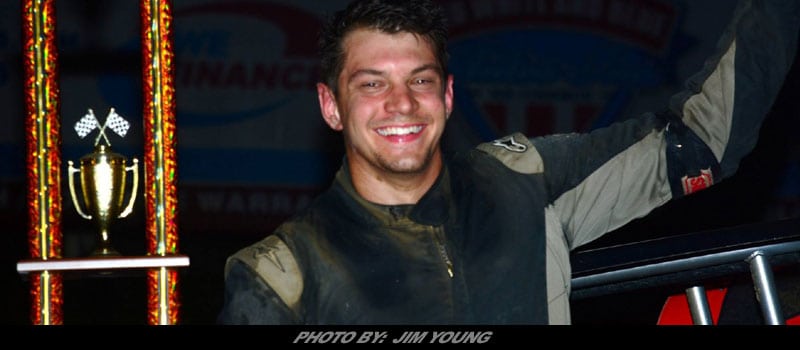 Column By: RUSTY RHOADES / RPW – MINERSVILLE, PA – Dan Bouc has been trying for awhile now to get that New Egypt monkey off his back. He's had good success and wins in a modified at his central New Jersey home track, but the Pipersville, PA resident had yet to crack the win column in his native Keystone State, with only struggles and close calls at Grandview and Big Diamond. That brings the haters and pessimists out, thinking the driver is a one-track pony, if you will.
In Dan's case, all that talk came to a screeching halt last night in Minersville, as Bouc put in a dominating performance in winning the Coalcracker 72, Big Diamond Speedway's annual crown jewel modified event.
It was a struggle even getting to this race for Bouc and his team, as they had to thrash hard to diagnose motor issues and other items on the car after their regular New Egypt show just one night before. Then Dan turned a 7th place starting position in his heat into a spot in the redraw, gaining 4 positions on a tough track. And boy did all their hard work pay off, in the form of a ten thousand dollar payoff no less!
Bouc drew the third starting position for the feature, waited patiently to push the issue, then pounced a third of the way through the race. He passed both David Hunt for the runner-up spot and Alex Yankowski for the lead between laps 22 and 24, then sailed off to a sizable lead.
Bouc then stood tall against some of Big Diamond's biggest, holding off pressure from previous track champions in Ryan Godown, Duane Howard, Craig Von Dohren and Billy Pauch, Jr throughout the balance of the affair to garner the gigantic victory.
A joyous Bouc explained just how meaningful this win was in a bit more detail with me in the tech shed after the race. "This is by far my biggest win to date. I haven't even won outside of New Egypt, which has been eating at me. I go to Grandview and struggle, I've been good here, but just haven't been able to put a full race together. I heard alot of people saying I'm only good at New Egypt," Dan told me. "This is huge, I mean this is the biggest win of my career even going back through to my go-kart times."
Godown finished second, followed by Mike Gular from 14th, Duane Howard and David Hunt. Von Dohren and Pauch both had problems late that dropped them out of the battle.