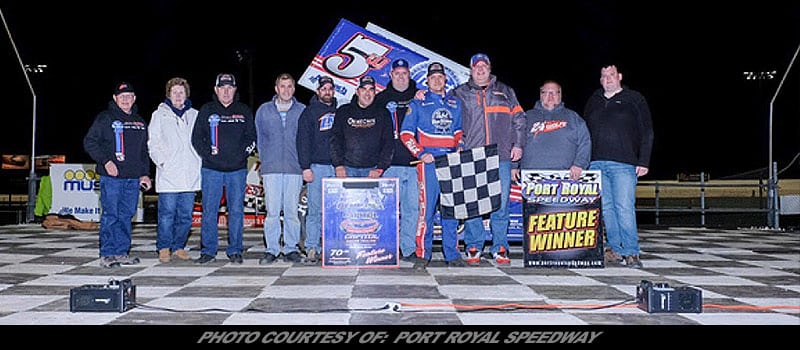 Story By: RUSTY RHOADES / RPW – PORT ROYAL, PA – At some point when dealing with a bully, you finally decide enough is enough. You dig deep and muster up every last bit of fight you can, and never give up until you've outlasted the bully this time around, even if only for that brief feeling of accomplishment and victory on that day.
When applying this analogy to the racing world, Mother Nature has most certainly been the bully throughout 2018, a Summer already considered one of the wettest on record, particularly in the Central PA region.
But last evening, Port Royal Speedway's dedicated staff, especially the track maintenance team, represented the kid who had had enough. For the second consecutive year, their high-profile double headliner event was battered by steady rain settling over the track for an extended portion of time during staging for hot laps, and when it finally passed over there were definitely concerned looks on faces throughout the sprawling facility regarding how long it would take, if at all even possible, to bring the track back from the brink of a rainout.
But once again, similar to last year's event, the Port Royal staff surveyed the surface as they notified the fans and social media followers that they weren't giving up and within 15 to 20 minutes of drain time they waited for after the storm, the counter attack began and the team did wonders with what they were left with. They spent over an hour, which was understandable given the moisture, and in fact a faster turnaround than last year's delay, but for more than just making it race-worthy this time around. They went the extra mile to get it astonishingly close to the multi-grooved, super fast surface "The Speed Palace" has become nationally known for regularly displaying.
And boy did it show from the get-go, as drivers were able to search almost the entire width of the track early on to find the best way around. An outstanding high-risk, high-reward cushion developed midway through the heat races, and immediately migrated nearly up against the wall throughout the turns as it was the preferred line for the heat races. During the B mains, in which drivers outside transfer positions obviously have to run where those ahead of them aren't, several drivers immediately saw dividends from planting their left fronts on the inside guardrail on entry. So all in all, it couldn't have been better timing for multiple lane options to be firmly in place just in time for the A Mains.
WOLFE WITHSTANDS WAGNER'S CHARGES
Accomplished 410 veteran Lucas Wolfe wasted no time in taking advantage of his pole position redraw for the winged sprint car portion of Port Royal's doubleheader main events. After a bit of contact with fellow front row occupant Logan Wagner before even blasting under the initial green flag, he jumped to the point and took off in a lightning-fast first few laps that saw him knee deep in lapped traffic in what seemed like less than 30 seconds!
That first dose of backmarkers came into play for Wolfe so fast that they were still going at it with each other for position across the entire width of the track, briefly slowing the leader up for maybe a half lap. But that little delay became a big issue in no time when the Mike Barshinger owned 24 lost all his advantage over Wagner's legendary Zemco 1z by turn 3. Lucas knew he couldn't wait anymore and made a bonzai move out of turn 4, spliiting all 3 backmarkers in impressive fashion before even reaching the starter's stand. Not to be outdone, Wagner immediately veered his car hard to the left and blasted through a gap two of them left to the low side and was also free of that group by the time they entered one again.
That little fray between the two leaders and the back of the field, along with Wolfe's subsequent ability to distance himself from Wagner would serve as a harbinger of things to come.
After a lap 6 red flag for Trey Starks taking a big flip coming out of turn 2, Wolfe led the field on a lengthy green flag run, in which he again pulled away to a comfortable lead in clean air and when able to stick to his high line on the cushion encountering and passing slower traffic.
However, when he was forced to move down low through the turns to maneuver around multiple back markers racing each other for position or because other slower cushion runners he was rapidly encountering were in danger of stifling his momentum, that again would immediately hamper his torrid pace due to having little to no bite down there whatsoever on exit.
As the halfway point passed, the leaders sliced and diced their way around the sprawling facility heading towards lap 20. Things really heated up quickly when Lucas' had a spell of unlucky timing with traffic and was forced to pass them low through several major tire spinning go-rounds n a row.
Conversely, Wagner had his 1Z blasting around the place with no track surface or lapped car issues during the same stretch of laps. As lap 20 ticked off, a straightaway lead for Wolfe just a couple laps prior had been completely erased by Wagner's race-long persistence. An epic battle between the two, that would also be waged in, around and through several lapped cars grouped together around them, was just about to commence when the dreaded great finish-ruining yellow flag was displayed with 5 to go for a slowing Jarred Esh.
At that point, the writing was pretty much on the wall for all in attendance regardless of a restart still to come. What we all saw a couple times previously in the race was basically a blueprint for what we were going to see next. Wolfe was untouchable on restarts with clean air and a clear track in front of him, and that again came to fruition over the last 5 laps as the Mechanicsburg native comfortably sailed under the Port Royal checkers for the third time this season.
Although Wagner was understandably a bit disappointed with the runner-up finish, and more specifically that late race caution, it was another impressive showing by the youngster who has really shined as of late. Logan has already garnering a couple Port wins in the 2018 season, his first under the wing of the legendary John and Pee Wee Zemaitis owned 1z so many legends of the sport have wheeled to glory over the years.
"I feel like anytime you start with a new team, it takes a bit to get going," Logan told me after the show. "We also switched to a standard Eagle chassis during PA Speedweek, so I think it's just a combination of things. The team's gelling, I'm gelling with the team, we're all working together and fine tuning everything only right now because of the limited time and races we ran earlier this season." Wagner added, "I feel confident as hell with these guys and I know they know what they're doing, so now it's just a matter of seat time and laps at the track."
Greg Hodnett was no slouch either, bringing home a 3rd place finish after pulling alongside Wagner more than once during the race and even swapping the runner-up spot with him early on.
Blane Heimbach was one of the more exciting guys to watch throughout the Main, eventually settling his sharp #12 into a 4th place finish.
Anthony Macri rounded out the top 5.
Sixth and seventh were filled out by invading All Star Series regulars Paul McMahan and Brock Zearfoss. Eighth through 10th went to Mike Wagner (Logan's dad), Dylan Cisney and Tyler Reeser.