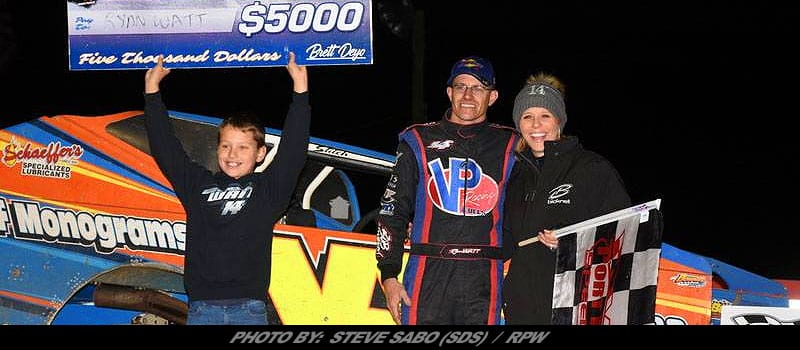 Column By: RUSTY RHOADES / RPW – BOYERTOWN, PA – The "Electric Company," better known as Ryan Watt and Roberts Racing, just continues to display power everywhere and anywhere needed throughout the 2018 Northeast modified season.
The Boyertown, PA resident continued his showstopping ways over the weekend, sweeping a couple keynote shows in the Keystone State as the team again rolls toward the end of another standout campaign.
It started Friday night, as Brett Deyo's Short Track Super Series and Port Royal Speedway came together for a long awaited reunion of the mighty modifieds and the spacious Central Pennsylvania facility they once called home some three decades ago.
Watt was just 7 years old the last time the modifieds paid a visit to Port Royal way back in 1987. And although he did have some prior experience at the track in a midget, he was just like most of the drivers in attendance not named Pauch or Von Dohren in having never seen the surface of the "Speed Palace" in a modified before.
That didn't stop the ground pounders from putting on one hell of a show for the sprint car-centric PA Posse region on what was the first really crisp Fall evening of the race season.
Watt watched as first David VanHorn and then youngster Brandon Grosso made strong runs to the head of the order early in the feature, the latter of which Grosso did in high-flying Watt-like style running right up on the wall.
"Watty" saved his equipment, picking and choosing pass points until just after halfway of the 40 lap race, when he made his assault. Rocketing from 5th to 2nd on a lap 23 restart, he began slowly stalking the leader Grosso, waiting patiently for lapped traffic and/or the line the 24 was running to possibly snag him up and open the door.
It was indeed amazing how long that took to finally happen, but inside of 10 to go the top was getting congested in front of Grosso while Watt was smoothly rolling the middle. He erased a big deficit and finally took the lead coming under the white flag after a spirited battle. The yellow came out right afterwards, which set up a one lap dash to the finish that the 14w won easily.
"With the setup we had, the track really came to us," Ryan told me the following day. "We knew it was slicking off watching the sprint car lap times before our race. We were waiting for that point and got lucky that it was a 40 lap race instead of 30 or so."
Watt was also impressed, as we all were, with Grosso's all-out performance. "He put on a heck of a show on the outside and it was fun for me just watching him! He actually started helping me because all the guys he passed then went up to try his high line and I got them down low."
The following night Ryan backed up his central PA statement with another career first back in modified country, winning just up the road from his home at Grandview Speedway during their Traffic Jam / House of Thunder 40 lap Halloween Special.
Watt was fortunate enough to draw the front row for this one, and outraced track champion Mike Gular to the front early on. Although Gular did make a few strong challenges on restarts, Watt was a powerhouse all race, even extending his lead once he started knifing through lapped traffic and cruising to another $5,000 payday on the weekend.
Although Ryan has prior Grandview checkers to his name, including a weekly Saturday night win earlier this year, this was the first Thunder on the Hill victory of his career.
"I feel…well this is just unbelievable right now," Watt told me after Grandview. "The past two nights, really the last three weekends racing between Bridgeport (King of the Big Blocks winner and now 3 time defending point champion) and even Oswego (won Super DIRT Week consolation race from dead last) where we had fun, winning three of four is pretty crazy."
It really does seem like Ryan, his family and team are having a great time on top of this run they're on lately. "I gotta thank car owner Ron Roberts and Fay as well," Watt noted. "They give me the opportunity and the equipment to run around to all these special shows in addition to the Bridgeport schedule, and it's top notch equipment for us to compete with the best of the best."
And if anyone reading this follows Ryan's racing page on Facebook or knows the Watt's or their crew personally, you are very aware of how much of a family affair this racing passion is. "I have to thank my wife Lesley and son Logan for all the time they put in and help with washing the cars and getting everything ready." I can personally attest that Lesley is non-stop in the merchandise portion of the business, always right out front with apparel at all of Ryan's races.
And Logan has already fully contracted the racing bug from his parents, as I believe he still holds the overall season win lead over his dad with all his quarter midget successes in 2018.
"And I gotta thank the crew, I have a great crew and a big crew, and we all like to have alot of fun doing it." Watt continued. "Anybody who is around us knows it's alot of fun for us, but we enjoy the success just as much."