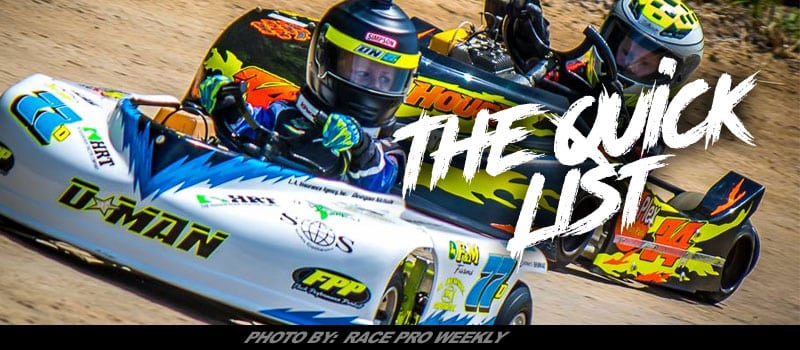 Quick List By: RACE PRO WEEKLY – KINDERHOOK, NY – Five-year-old Deegan Nichols just completed his first year behind the wheel, racing a go-kart in upstate New York.  He was able to visit victory lane three times and is looking forward to a bigger and better 2018 racing season.
Now, on to "The Quick List"…
Tell us a little bit about yourself. Who is the real "Deegs"?
I'm 5-years-old.  I am in kindergarten.  I like to race, play outside, play with my little sister.  My favorite food is bacon.  My favorite color is red.  My favorite dirt drivers are Keith Flach, Stewart Friesen & Brett Hearn.  My favorite NASCAR driver is Chase Elliott.
What is your favorite part of getting to race?
My favorite part of racing is the trophy.
Was 2017 a good year in your eyes?
Deegan: Yes it was a good year because I won!!!

Dad, Jim: We are very proud of Deegan for a great first year. He finished this year with three wins and several top 5's. We saw a huge improvement from his first week until the last.
What did you do to make it successful?
I was a good boy, raced fast, won a few races
Where do you feel you could have improved?
I can still go faster, I need to hold the pedal all the way down during the race
How long have you been behind the wheel of a racecar?
This was my first year behind the wheel of my own but I've been driving 4-wheelers, snowmobiles and have been climbing in and on race cars since I was a year old.
What made you interested in the sport?
It's all I've ever known.
How important is family to your racing?
I Love my Dad, my Mom, Grampy, Brileigh, Nan & Poppy.  They always come racing with me.
Do you like to travel or stick close to home with your racing? Which makes you a stronger driver?
Deegan: Caroga Creek Speedway is my favorite track.  It's along ride.

Dad: Lebanon is the closest track we have raced at and Caroga is the furthest. With moving up a divison this coming season, we hope to travel more this past year which will make him a better driver going to different race tracks.
What are your goals for 2018?
Deegan: My goal for 2018 is to go "super really fast"

Dad: Our goals this year with moving up to the next class are to continue making Deegan a better driver, return to victory lane, and most of all, have fun as a family. We would like to thank all of our sponsors for helping us make Deegan's dream a reality. F&M Farms, M. Keneston Corporation, T.W. Contracting, David Browe Paving & Sealcoating, Flach Performance Products, L.A. Insurance Agency, Grand Premier Tire & Custom Wheel, Hudson River Tractor, Flach Development, BC Public Relations, Albany Marble, SOS Autobody, Moran Racing Products, & Boomers Performance. We would also like to thank Grampy, Nan & Poppy, Grandma, Aunt Sheenie, Uncle Mark, The Slattery Family, The Crews Family, Josh Flint, The Moran Family, The Martin Family and anyone else that has helped us along the way. We are looking forward to 2018!!