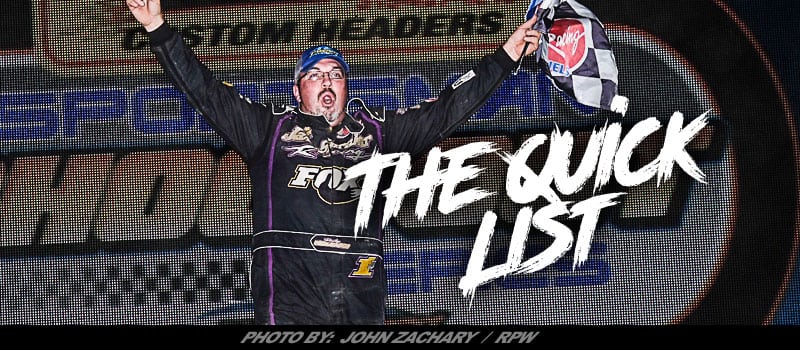 Quick List By: RACE PRO WEEKLY – GLOVERSVILLE, NY – There aren't many race fans in the Northeast that aren't aware of Rocky Warner.  The driver who has won over 70 times in the last three seasons is set to make the move to the Modified division in 2018.
Now, on to "The Quick List"…
What was your favorite car, of all-time, that you've had the chance to race?
I'd have to say that my favorite car I got to drive was Stewie's (Friesen) back-up car during McDonald's weekend a few years back.  The car quit out in the feature but I got to run with a childhood hero (AJ Romano) and set one of the top five fastest times during the heats with all of the big names there…
Was 2017 a good year in your eyes?
2017 was definitely a good year but I would've liked to finish out the season a little stronger.  We were off the whole month of October when you want to be your best….
What did you do to make it successful?
We are successful because we are a team.  I have a great bunch of guys who keep me going…
Where do you feel you could have improved?
I feel we could've improved at the end of the season…put some better runs together
How long have you been behind the wheel of a racecar?
I've been racing nearly 20 years all together…street stock for the largest portion…10 years of it
What made you interested in the sport?
I had always been around racing, but my Dad got me into it at the age of 15
How important is family to your racing?
Family is very crucial to a successful racing career.  Having their support means a lot and is a great confidence builder…
Do you like to travel or stick close to home with your racing? Which makes you a stronger driver?
I like to travel and I truly believe that's what gave us an advantage in the Sportsman division.  Seat time is crucial to being successful
What are your goals for 2018?
With moving up to Mods, my goals are basic for 2018.  I want to put together some solid runs with the Big Block and hope for a solid year with the 358.  I want to be able to drive it in the trailer each night.